Hard-to-find hikes in Hoosier Nation
Categories: Outdoors
Hiking is one of the best things you can do in Monroe County. Many of us have our favorite go-to hikes, but for those of you looking for something new, or something off the beaten path, here are some special hikes you might not have heard of. Or maybe everyone has told you about them, and you're embarrassed that you've never been. Either way, here are some helpful tips to get you out in the open. 
Hickory Ridge Lookout Tower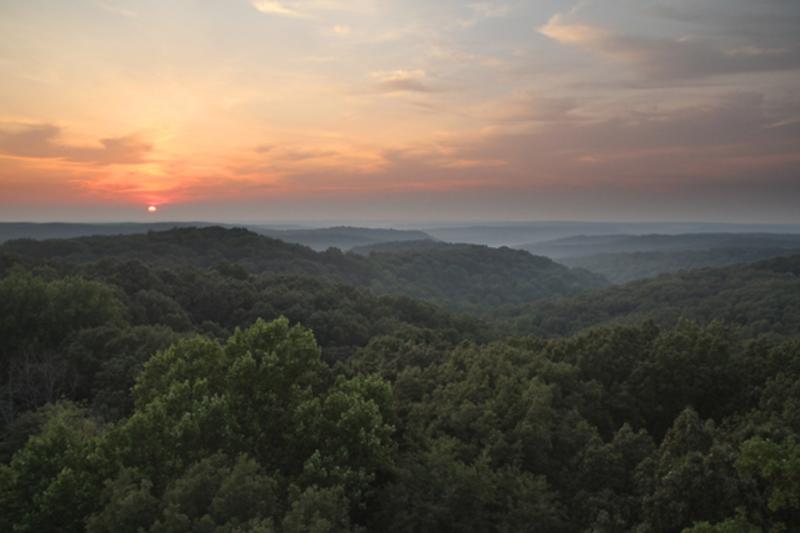 About: Once built as a sentinel to protect the forest from wildfire, the 110-foot-tall fire tower is one of Bloomington's most popular destinations. But that doesn't make it any easier to find. It does, however, make it totally worth the trek. The view of the Charles C. Deam Wilderness is stunning in every season, from the vibrant fall colors to a blanket of white snow in winter. The rolling hills make the vista look almost mountainous (at least for us Midwesterners). Check out this cool history of the fire tower from the US Forest Service.
Tips: The biggest tip we can provide is that it takes a while to drive there, and even when you think you should be there by now, keep going. It's worth it. The fire tower is at the beginning of a trail, right in the parking lot, so you can climb all 123 steps at the beginning or end of your hike (I suggest the beginning!).
Directions: From Bloomington, head east on 3rd street. Turn right (south) onto 446 and take it out past the causeway. After you pass Chapel Hill Rd on your right the next road is Tower Ridge Road. Turn left. Drive on this tight, gravely road for longer than you think you should. Finally, just when you're about to give up, the parking lot with the fire tower will be on your left! You can't miss it.
Beanblossom Bottoms Nature Preserve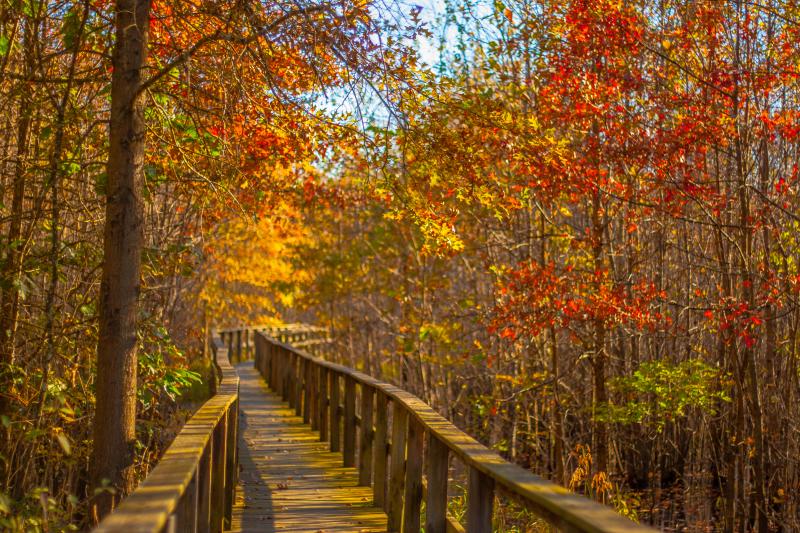 About: This is a hardwood wetland protected by the Sycamore Land Trust. It's home to all sorts of Indiana wildlife, including the endangered Indiana bat, Kirtland's snake, Great Blue Heron, rare orchids, and at least 15 different endangered or threatened animal species. Look for a bald eagle nest and the frog pond, and listen for all sorts of birds that keep our local ecosystem healthy. The trail is 2.5 miles.
Tips: The trail is moderate to rugged. You can avoid some sogginess by walking along the raised boardwalk, but wear boots if you want to get up close and personal with nature.
Directions: From SR 37, head west on 46 toward Ellettsville. At the McDonald's, turn right onto Union Valley Road and drive 2.5 miles until you get to Delap. Turn right. Keep to the right as you get to the first two Y intersections, then at the third Y head left onto Woodall Rd. In about 1.4 miles, you'll see a small gravel parking lot just after the bridge
Leonard Springs Nature Park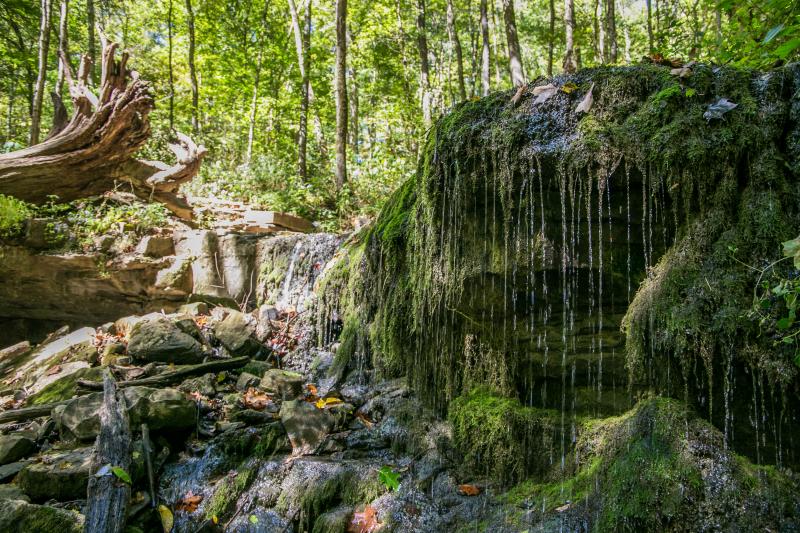 About: I love this hike because it's pretty quick while taking you through a rather diverse landscape including springs, caves, and hills. Make sure to take the little jaunt off the main path up to the overlook above the water, which used to be Bloomington's source for drinking water. Whether or not it's filled in with water, it's a great view.
Tips: Dogs don't usually like this hike because of the 92-step grated staircase at the entrance (or exit, depending on how you start since it's a one-mile loop). Because of the water, it can get kind of buggy in the summer, so pack some bug spray.
Directions: From State Road 37, take the 2nd Street (SR 45) exit and head west. Turn left onto Leonard Springs Road. When the road turns at Fullerton Pike, turn left to stay on Leonard Springs. You'll see a sign on your left to turn into the parking area, which is small.
Cedar Bluffs Nature Preserve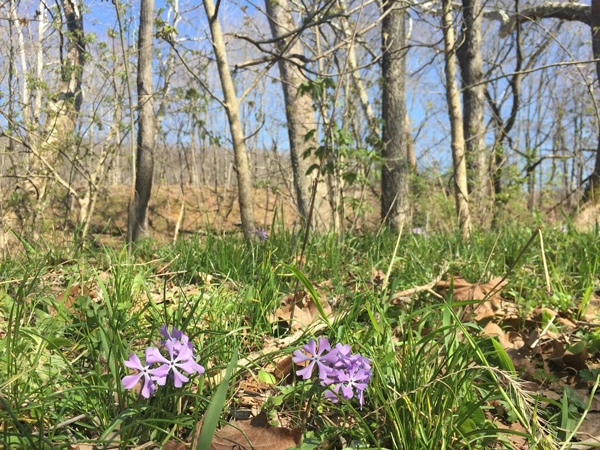 About: This is a perfect place to visit in spring because of its lavish wildflower display. Because of the harsh living conditions caused by thin soils and southern exposure on the 75-foot-tall limestone bluff, only those species well adapted to very dry conditions can survive here, like flowering spurge, nodding onion, and hoary puccoon (gotta love those names!). The trail is only a mile long, but the rocky terrain makes it a bit challenging. We recommend hiking with a friend. Bonus: This trail is a lot less busy than some of the more popular hikes around town, so if you're looking for solitude, come to Cedar Bluffs.
Tips: Cedar Bluffs is southwest of Bloomington off of 37 S. Follow these directions from the Nature Conservancy (click on the Visit tab). Make sure to bring a map, because sometimes the wayfinding signs are vandalized are removed. Plus, you want to make sure you're staying on the preserve and not straying into the adjacent private property. If you stick to the trail, you'll be fine. It sounds complicated but it's worth the trek!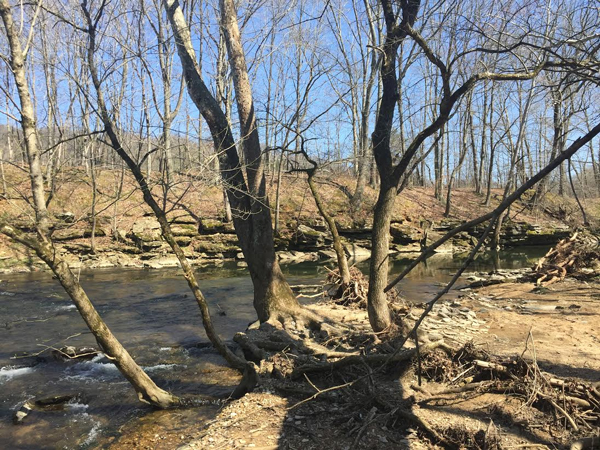 Directions: take State Road 37 south from Bloomington. Turn right on Smithville Road. Turn left at the T and immediately turn right onto Ketcham Road (basically you make a little S). After about 2.5 miles, you'll see Cedar Bluffs Road to your left but continue past it for another half mile. Look for the easy-to-miss Cedar Bluffs sign on the left. Park on the north side of the road (same side as the preserve sign), even if you see cars on the other side of the street. If you cross the bridge and/or get to Thrasher Rd, you've gone too far.
Flatwoods Park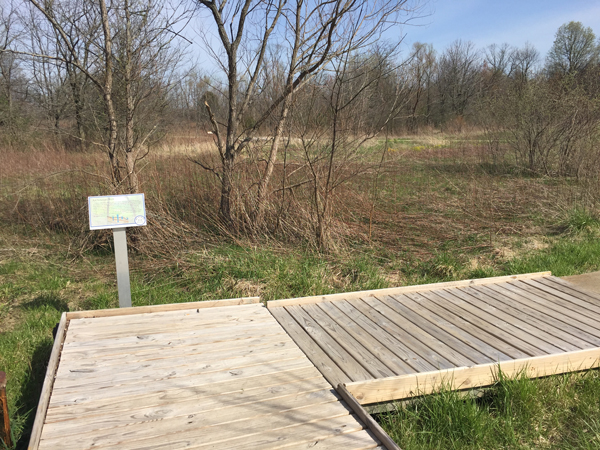 About: It's the largest park in the Monroe County Parks system, and is named for the flat land it sits on that originated as a lake bed in the Ice Age (wow!). It's located a bit west of Bloomington, in Gosport. It contains osage orange trees, wildflowers, and the headwaters of McCormick's Creek. You can find more info on finding the trails from the Hoosier Hikers Council.
Tips: Since some trails are paved (and it's flat), it's a great place for people with varying accessibility needs, or if you're taking a break during a conference or work day and need some time in nature without getting your shoes dirty. The non-paved trails can get muddy when it rains.
Directions: Coming from Bloomington, head west on SR 46 and drive through Ellettsville. You'll pass the stone sign, then downtown Ellettsville, and then keep to the right to stay on 46 W. You'll come to Richard's Small Engine on your left, and across the street from that is a sign that says you're coming up to Flatwoods Rd. Don't turn just yet; the next left turn about 50 feet ahead is actually Flatwoods (turn early and you'll be at Richard's Small Engine!). Head down Flatwoods for about a mile, and just after the little bridge, you'll see a sign for the park on your left.
What did we miss? Let us know your favorites in the comments.