Make the Most of Your IU Graduate Student Experience
Categories: The IU Student Perspective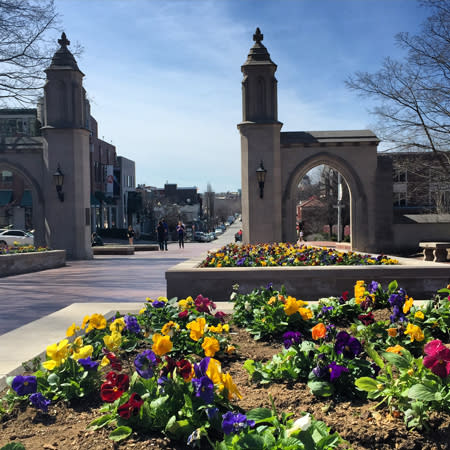 Indiana University is a great school in so many academic fields, so grad students come from all over the country and the world. Many of you might not know that your new home city is just as fabulous as your new school. As an IU graduate alum (SPEA represent), I learned some things about making the most of my time here in Bloomington -- and fell in love with the city so much that I'm still here! Here are some of my tips to help you get the most out of IU and Bloomington.
1. Wells Library isn't the only place to study.
Because Bloomington is full of students (they make up half our city's population), studying in unconventional places is common. Wells is fabulous and no one is allowed to deny that if you ask me, but coffee shops like Hopscotch, Scholars Inn Bakehouse, Rainbow Bakery, Soma (they have a quiet room in back!), and more are all hot places to open a book or a laptop. I also loved the Monroe County Public Library for studying (and now for pleasure reading, which you can forget about while in school). It's right on Kirkwood so it might be closer to your house than many campus locations. Change your scenery and you'll be inspired.

2. Find the bars where townies go.
You might not feel like you fit in at Kilroy's or Dunnkirk (but if you do, that's cool too). Some of the locals' and grad students' favorite bars are Atlas, the Bishop, Cardinal Spirits, The Back Door, and the Upland brewery and tasting room on the west side. Check out these nightlife ideas and impress your new collegiate peers with your elevated coolness factor.
3. Encourage your friends to visit in the off-season.
While the undergrad students tend to go home and stay with their families over long breaks like winter break and summer, a lot of grad students stay in town. That's a great time to invite your friends and family to visit you in Bloomington and enjoy less traffic, shorter lines in restaurants, and special discounts or lower rates in hotels. Plus, it's absolutely gorgeous here in winter when the square is illuminated by thousands of lights!
4. Branch out of your department sometimes.
Even though it will break our hearts when you eventually leave Bloomington, be sure that you make some friends outside of your department, including with us locals. It will give you a respite from school drama when you need it, and no one knows Bloomington better than the thousands of people who came here for school and somehow never left.

5. Make the most of your GA stipend and student discounts.
Another great thing about living in a college town is the plethora of student discounts. Most performing arts organizations offer student discounts, including on-campus shows like operas and theater, plus off campus at Cardinal Stage Company, some shows at the Buskirk-Chumley Theater, the PRIDE Film Festival, and many other events (just ask!). And if you like sports, you get great deals on those tickets as well -- I recommend the women's basketball team, and don't forget to wear cream and crimson!
6. Get involved on campus.
While all the above stuff is about what to do in the city, don't forget that you are a part of campus! Take advantage of everything that IU offers, like your free gym membership and exercise classes at the SRSC, free buses around campus (and your ID gets you on city buses for free!), academic help, free concerts at the Jacobs School of Music, and so much more. Plus, most departments have professional organizations and grad student clubs so you can build your career and meet like-minded people.
If there are any students or alumni out there, share your tips in the comments!