I was floored by "Grounded"
Categories: Arts & Culture
My wife and I love the arts with all our hearts, but you could never call us theater buffs. But we'll never pass up free tickets, and since Visit Bloomington is a proud sponsor of Cardinal Stage Company, we were lucky enough to attend the preview night of their new play, Grounded, last Friday. And we were totally blown away.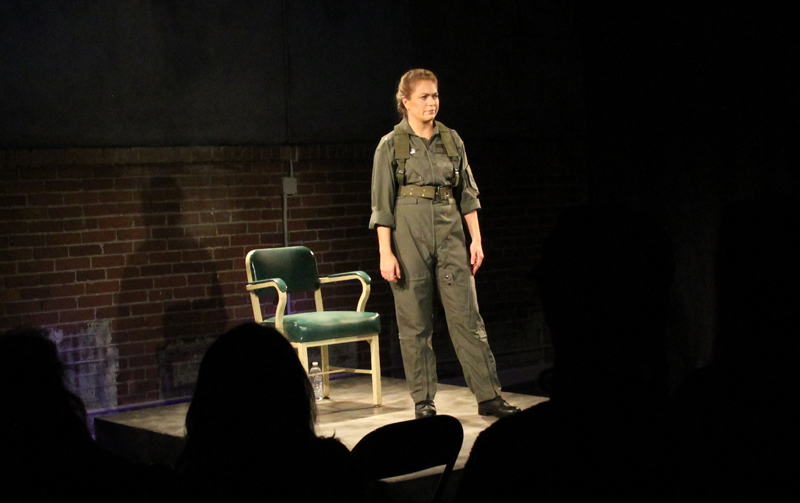 This one-woman show about a fighter pilot in the Iraq and Afghanistan wars genuinely moved us peaceniks who honestly don't think too often about our armed forces and what they go through. I'm not sure what impressed me the most -- actress Greta Wohlrabe's complete immersion into the character for all 70 minutes of the play, the skill with which she delivered the most extensive monologue I've ever heard, or the touching script that moved at a perfect pace. It was also a lot funnier than I expected, which helped lighten the load of an otherwise heavy topic. But don't expect Neil Simon, folks; I teared up at the end.
If you're expecting a long patriotic soliloquy about courage and camaraderie and America, you'll be disappointed. This play takes an honest look at modern warfare and how it has changed even in the last ten years, as drones replace fighter jets and much of the control moves stateside. However, Grounded is also supportive, not particularly critical, of American soldiers and their lives, and takes a comfortably compassionate and unconventional tone.
Grounded was a Top 10 London Play of 2013, and opens on Broadway this April starring Anne Hathaway. I just can't say enough good things about it, so I'll stop myself from getting carried away by giving you the important info so you can go buy your tickets before they sell out.
What: Grounded by Cardinal Stage Company
When: February 6-22, Wednesdays through Sundays
Where: Rose Firebay in the Ivy Tech John Waldron Arts Center downtown
Tickets: Buy online here (it's cheaper on weeknights!)
p.s. The play has strong language and adult content, so the age recommendation is 16+.