Indiana Festival Theatre: The Taming of the Shrew
Categories: Indiana University, Arts & Culture, B-town Giveaways
This is the first in a three-part series of posts about the Indiana Festival Theatre's summer productions. William Shakespeare's classic comedy The Taming of the Shrew is currently being performed at the Wells-Metz Theatre on the IU campus. The show will continue through July 27 and we've got a voucher good for two tickets for one lucky B-town Blog reader!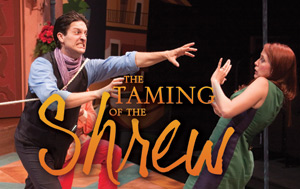 In Shakespeare's day, "comedy" meant only that the lead character didn't die. Here, it means that the fun button has been punched and turned up loud, " said The Atlanta Journal-Constitution about this play.
This is Shakespeare's take on the classic battle of the sexes as a desperate father insists that his eldest daughter, the temperamental Kate, find a husband before the fair younger sister may marry. Enter the passionate, cocksure Petruchio who spirits Kate away to "tame" her. Crockery shall be thrown!
So, how do you win the tickets? Simply comment on this blog post! Yep, that's it. Tell us what you love about Bloomington in the summer. Every comment has a chance to win and a winner will be chosen this Thursday, July 12, in the afternoon, so you've got two days to get entered!
Well, what are you waiting for?