Indiana Festival Theatre: You Can't Take it With You
Categories: Indiana University, Arts & Culture, B-town Giveaways
Congratulations to our winner of two tickets to The Taming of the Shrew last week!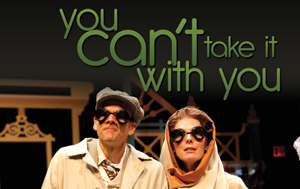 This week, we've got another voucher good for two Indiana Festival Theatre tickets - this time for the production of You Can't Take it With You, which opened last Thursday and runs through July 29,
This fun, family centered comedy features the unconventional Sycamore family and the mayhem that ensues when their daughter's fiance arrives with his prim and proper parents for an introductory dinner on he wrong night (can you say awkward?). Fireworks fly with the quirky behaviors of the Sycamores collide with the Kirbys' buttoned-up attitudes... and the audience discovers the universality of family and  learns that sometimes our family eccentricities are the ties that bind. 
So, you know the drill this time, right? Simply comment on this blog post for a chance to win. Tell us about your favorite memory or experience in Bloomington involving family (or close friends - what can we say, we're flexible!). Each comment has a chance to win and a winner will be chosen this Thursday, July 19, in the afternoon, so you've got two days to get entered! 
Be sure to share your comment on Facebook, so your family and friends can enter to win, too!