Tuesday, January 13, 2015
It's Hip to be Square Dancing
Categories: Arts & Culture, Family Fun, Live Music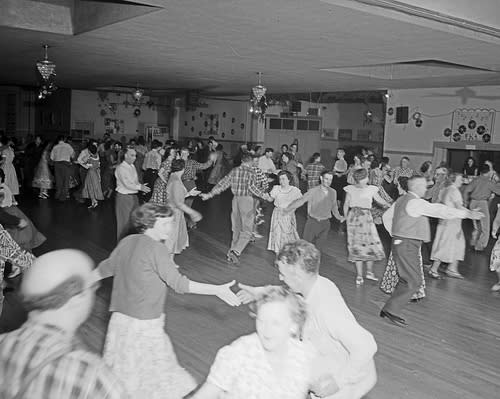 Before you jump to conclusions about what you think a square dance is...have you ever actually been to one? Have you heard a top-tier old-time band fiddling and plucking away while a hundred happy people of all ages spin and swing around the dance floor?
It's your lucky week, because the Third Annual Old-Time Square Dance takes place this Saturday night, right here in Bloomington at the Harmony School. To get a better idea of what to expect, I called Tamara Loewenthal, who's kind of a big deal in the local old-time music and dance scene.
It's great for beginners

Whether you've been do-si-do-ing for decades or you've never set foot on the dance floor, you will have fun. It's quickly accessible because the caller (that's Tamara) teaches you all the steps, and then continues to call the dance the entire way through. So you're not worrying about what your next step will be. And if you mess up, no sweat. You can just jump right back in and keep dancing.
It's about community

Tamara says that what makes square dancing so fun is the community you build around it. "It's a really fun and joyful activity," she explains. "Being right isn't as important as the experience you're having with the group." It's not about perfectly executed footwork, it's about swinging and moving and flowing with the group. The energy picks up and you get in sync with your "square" (your couple and the other one you're dancing with), and then it really takes off.
It's better when you dance with lots of people

This, she says, is a really important part of making the most of a square dance. You'll have more fun if you come with an open mind and a willingness to change partners. Many newbies feel shy and want to stay partnered with the person they came with throughout the evening, but changing partners after each dance is part of the culture of many types of folk dance. As Tamara says, "it broadens your circle. It's a community builder."
It's high-energy fun

Tamara Loewenthal has been calling dances for 30 years, and she says her favorite part of it is helping a big group of dancing people navigate pathways through the dance. As the caller, the responsibility is in many ways on her shoulders to help everyone succeed - which is why she adds, "you have to have a bit of a sense of humor."
PLUS: don't forget to really listen to the band! Extravaganza Band is playing for this event, and it's full of some really amazing players who are well known across the Midwest and the country for their musical prowess. It's a full old-time band, which includes two fiddles, a guitar, a banjo and a bass. What could be better?!
Event Info
3rd Annual Old-Time Square Dance with Extravaganza Band
Harmony School, 909 E. 2nd St., Bloomington
Saturday, January 17
8:00 pm - 11:00 pm
Admission: $7 general admission or $5 for Bloomington Old Time Music & Dance Group members
And don't miss the Percussive Dance Extravaganza, a performance featuring Fiddle 'n' Feet and the band Pieces of Eight! Thursday, January 15 at the Ivy Tech John Waldron Arts Center in downtown Bloomington, 7:30 - 9:30 pm
photo credits: (#1) black and white square dance credit Seattle Municipal Archives; (#2) Tamara Loewenthal and a dancer with Fiddle 'n' Feet; (#3) event poster for the Percussive Dance Extravaganza from Fiddle 'n' Feet