Jersey Boys at the IU Auditorium
I got to see Jersey Boys last night at the IU Auditorium, and the main thing that stuck out to me is how many well-known hits those guys had over the years. IIt follows the rise (and fall?) of Frankie Valli and the Four Seasons in the 1960s and beyond. If you don't think you know Frankie Valli's voice, just listen to this recording of Big Girls Don't Cry, and you'll know who I'm talking about.
Jersey Boys is in Bloomington at the IU Auditorium through Sunday, March 8, and in case you don't know how great the show is, here are some stats:
4 Tony Awards (including Best Musical)
2 Outer Critics Circle Awards (including Best Musical)
2 Drama League Awards (including Best Musical)
1 Grammy Award for the original cast recording
#1 on Billboard's Broadway Albums Chart
And when you see the show, you'll know why. The singers are perfect for their roles, the script is engaging and clever, and the production quality is through the roof. The hardest part about watching this show live is trying not to sing along. Here's a montage of the show (different cast, same awesomeness):
At a media event yesterday, I spoke with the men who play Frankie and Bob (the composer and a singer). Neither knew anything about Bloomington, but they were excited to stay here and had a great dinner at Upland Brewery the night before, so they got off on the right foot.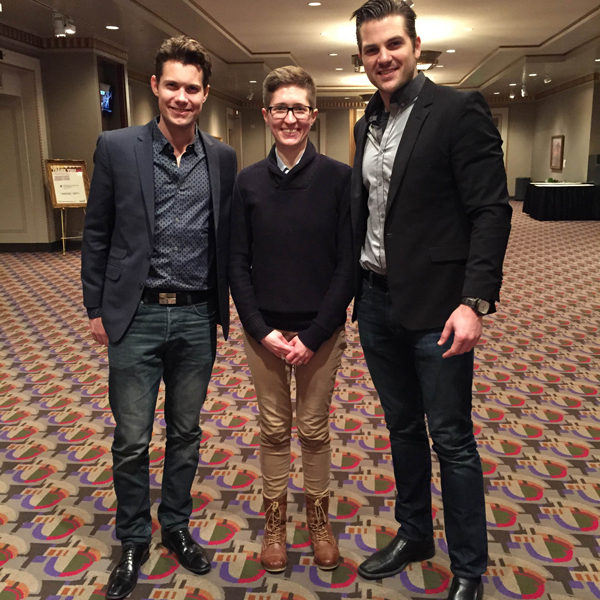 Both agreed that their favorite part of the show is in the first act, when the Four Seasons sing together for the first time and realize that they might have something big. Seeing the show, it's immediately clear which scene they're talking about -- the group's sound onstage was perfect, singing "Cry for Me" in stunning four-part harmony.
In fact, my favorite role in the show was Bob Guardio, because he has such great songs and a great voice. Drew, who plays this part, had a sore throat yesterday so I recommended Soma Coffeehouse's amazing Dr. D's Tonic, which I take whenever I feel a cold coming on (I have one on my desk now!). Here I am meeting two of the Four Seasons!
A few things I feel like I should mention -- the show is set mostly in the 1960s, and there are a few jokes that felt antiquated to me. Also, there's some talk of sex and plenty of swear words, so the guys in the show consider it PG-13.
Show Details
Title: Jersey Boys
Location: IU Auditorium
Dates: March 3-8
Tickets: www.iuauditorium.com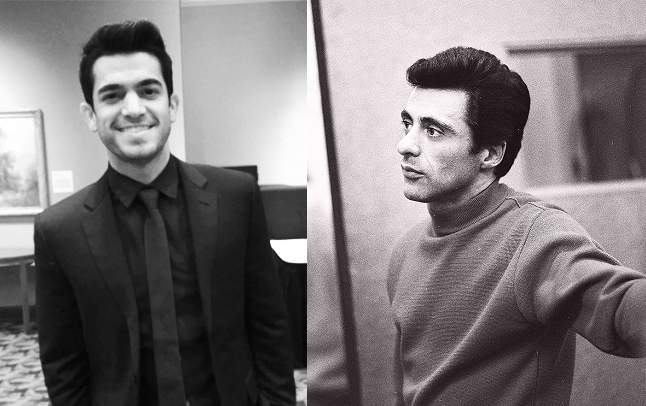 Hayden (left) plays Frankie (right)