Know Before You Go: Granfalloon
Categories: Events, General, Arts & Culture
The Basics
Who is hosting the event? Granfalloon is an annual festival hosted by the IU Arts & Humanities Council.
What is the event? Granfalloon is a multi-day festival of art, music, and scholarship inspired by iconic Hoosier author Kurt Vonnegut. The festival includes an academic conference and musical and theatrical performances.
When is the event? Granfalloon runs May 9-12. Check out the specific times here.
Where is the event? Festival events take place at venues on the IU campus and throughout Bloomington including Lilly Library, Buskirk-Chumley Theater, Bloomington City Hall, WonderLab Museum, Ivy Tech Waldron Arts Center, The Bishop, The Bluebird, Night & Day, Unitarian Universalist Church of Bloomington, and Upland Brewpub. Check the Granfalloon website for specific locations.
Why is there this event? Granfalloon is a celebration of one of the Hoosier state's most famous authors, Kurt Vonnegut. Its goal is to bring together artists of all kinds.
How can I attend the event? While some events are free, you can purchase tickets here or through the specific venue's website.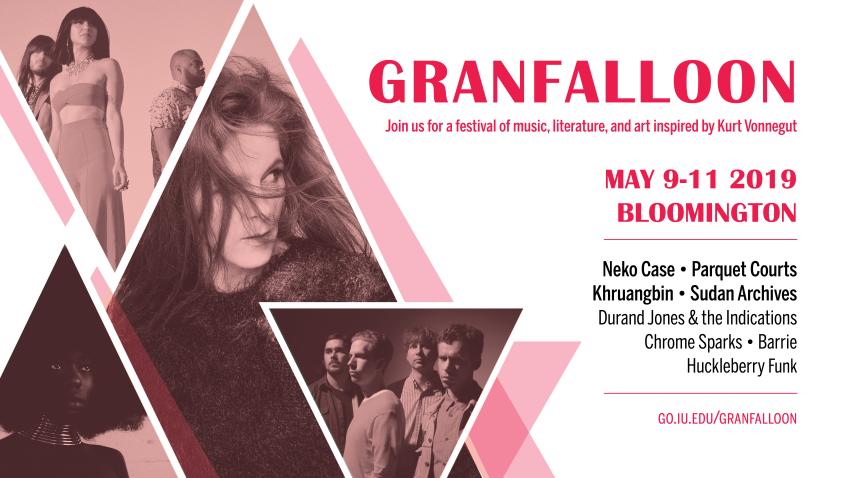 Granfalloon 2019
Granfalloon occurs each May, keeping at its heart the ethos of Vonnegut's life and work: promoting civic engagement, encouraging independent thought, and championing art and creativity as essential to the spiritual life of individuals and the health of our democracy. 
Granfalloon 2019 features musical performances by renowned bands from across the U.S., academic panels and keynote addresses from leading Vonnegut scholars, and creative activities presented by IU and the Bloomington community. Guests include Neko Case, Dave Eggers, Parquet Courts, Khruangbin, Sudan Archives, Durand Jones & The Indications, Barrie, Huckleberry Funk, and more. 
The festival brings together creative groups and organizations from across Bloomington such as Cardinal Stage, Upland Brewing Company, Secretly Group, Voces Novae, and more.  
The full festival schedule can be found here. Tickets can be purchased here. 
Other Things to Do
The Hyatt Place has reserved a block of room for Granfalloon guests coming from out of town.
A number of local restaurants, coffee shops, and bars have developed special menu items in celebration of the Granfalloon festival, including Upland, Soma, Hopscotch Coffee, Rainbow Bakery, and C3.