Tuesday, February 25, 2020
Know Before You Go: Indiana Heritage Quilt Show
Categories: General, Events, Arts & Culture
The Basics
Who is hosting the event? The Indiana Heritage Quilt Show is run by a committee of volunteers who work year-long to put on this annual event.
What is the event? The 29th annual Indiana Heritage Quilt Show showcases over 150 remarkable quilted works. The Quilt Show also holds workshops for all skill levels, a merchants' mall filled with sewing and quilting supplies, and many quilt-related exhibitions around town.
Where is the event? The Indiana Heritage Quilt Show will be at the Monroe Convention Center.
When is the event? The annual event will take place on March 5-7, 2020. The Quilt Show will be open 9:00 am – 5:00 pm on Thursday and Friday. Saturday's hours are 9:00 am – 4:00 pm.
How can I attend the event? The event is open to the public. It is $10 per day or $20 for all three days. Tickets for children ages 7-12 are $2 and kids 6 and under are free. Cash and major credit cards are accepted.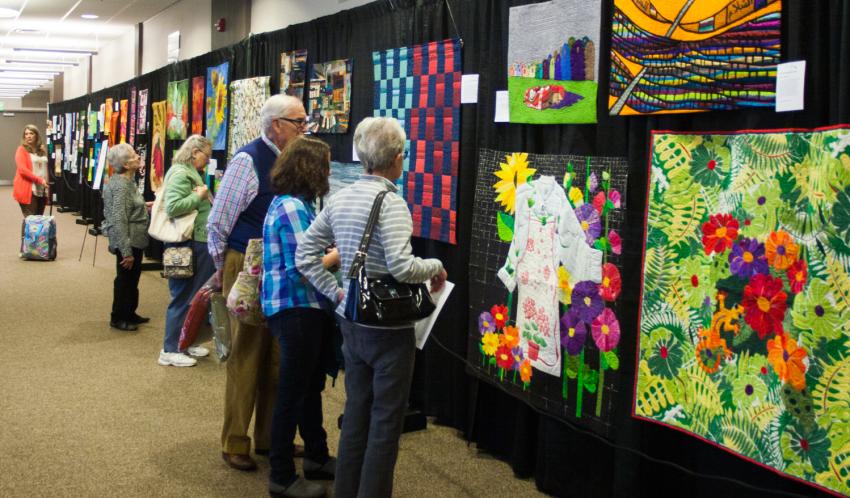 The Quilts
The quilts at the Indiana Heritage Quilt Show are from all around the world. There will be over 150 judged quilts on display with 53 of those quilts being sent by first-time entrants. M.C. Bunte is this year's featured artist. Stop by her exhibit as she showcases her series "People, Places, Things."
The quilt sizes range from 1' x 1' to 10' x 10', with nationally recognized judges, judging in eight categories.  Quilters can walk away with 1st, 2nd, or 3rd place or the highest honor Best in Show and a monetary award. 
Want to get in on the action? The Indiana Heritage Quilt Show holds workshops for the public! To attend, come in a day in advance to save your spot in the workshop. Check out the workshops and faculty here.
Other Things to Do
There will be food and drink at the event, but there will be a free shuttle to other community exhibits. The Monroe Convention Center is located downtown, so you are in the heart of it all. There are plenty of restaurant, shopping, and entertainment options within walking distance of the Quilt Show. To see what other events are happening that weekend, click here.
Make a trip out of this event and stay the night! Courtyard Marriott, Fairfield Inn & Suites by Marriott, Holiday Inn Express & Suites, Home2 Suites, and TownePlace Suites by Marriott are all offering special rates. Simply call and let them know you are staying for the 2019 Indiana Heritage Quilt Show.