Life on the Water in Bloomington
Categories: Outdoors
As summer rolls around in Bloomington, the days are about to get sunnier and hotter. Thankfully, you can beat the heat by staying near the water in If you're looking for fun specifically for kids, check out our summer fun recommendations for families!
Boating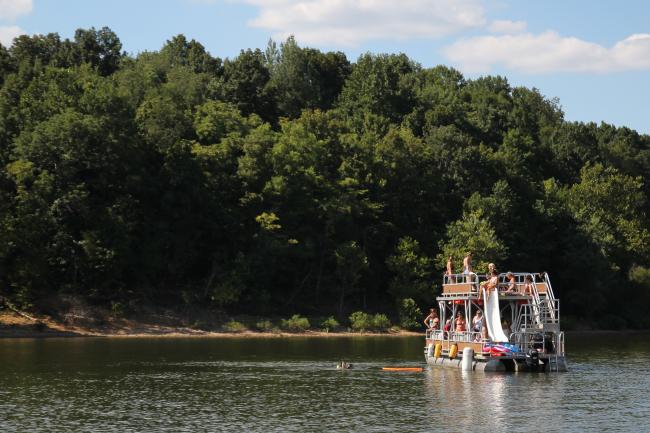 Monroe Lake
Whether you're looking for a party on a pontoon boat, a day spent speeding around with a tube tied to the back, or some fun on jet skis, the Lake Monroe Marina has something for you. If you're looking to fish, bring your tackle box and try your hand at catching some of the largemouth bass or walleye that call Monroe Lake home.
Griffy Lake Boat House
Smaller than Monroe Lake, Griffy Lake is a popular spot for families who want to canoe and kayak in a lake where no motorized vehicles are allowed. Rent kayaks and canoes by the hour, or bring your own boat and fish around the scenic preserve. Check out Griffy's page for special events, like family night paddles and glow paddles around the lake after sunset.
Lake Lemon
Lake Lemon is an incredibly popular spot for fishing, so bring your boat and come on down! The scenic lake is further away from the hustle and bustle of campus life, so it's the perfect place to head if you're looking to canoe or kayak in peace and quiet. Make sure to purchase a fishing or boating license from the DNR if you plan on doing either.
Swimming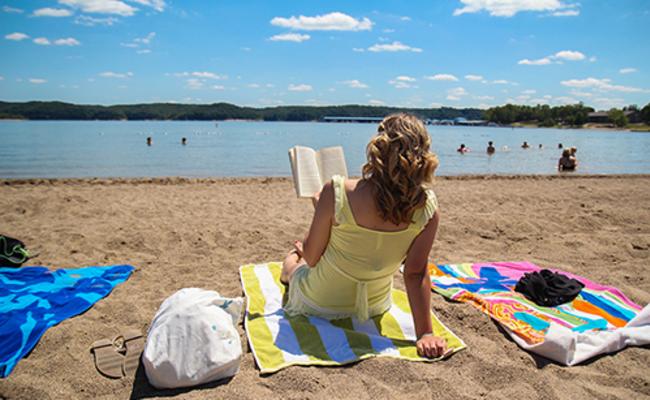 Paynetown and Fairfax State Recreation Area
Located on the beautiful Monroe Lake are some of the area's most popular public beaches--the Paynetown and Fairfax State Recreation Areas. These beaches are the perfect places to head if you're staying at the nearby Fourwinds Lakeside Inn or camping at one of the nearby campsites. Head over for a spontaneous beach day, or check the events calendar to see special events the naturalists have planned.
Riddle Point Park
The low levels of boat travel on Lake Lemon make Riddle Point Park a great swimming area to head off to if you're looking for a beach experience without coming into contact with many boats. The shelter house near the beach area is available for rental if you want to host a special event, and the giant shade trees near the beach are perfect for picnics on the water.
Hardin Ridge Recreation Area
The hilly ridges that give Hardin Ridge its name will make you feel like you're swimming in a lake next to the mountains, rather than the forested country of Southern Indiana! Visit this beach for some summer fun and scenic views in the Hoosier National Forest.
Bryan Park Pool
If you'd rather dip your toes in water of the chlorine-treated variety, head over to the Bryan Park Pool. Splash pads, water slides, diving boards, lap lanes, and a huge pool are all waiting for you to come by and cool off in. Lessons for everyone from those who can't yet put their heads underwater to competitive swimmers are also available at this pool.
IU Outdoor Pool
Located right at the corner of 17th Street and Fee Lane is the IU Outdoor Pool. Here, you'll find a 50-meter pool for lap swimming or free swim, a kiddie pool for the little ones, and even diving boards and a diving well with a 10 meter jump to try, if you're feeling adventurous. The IU Outdoor Pool is heated, so don't worry if you're looking to do some early morning laps--the water's fine!
Hiking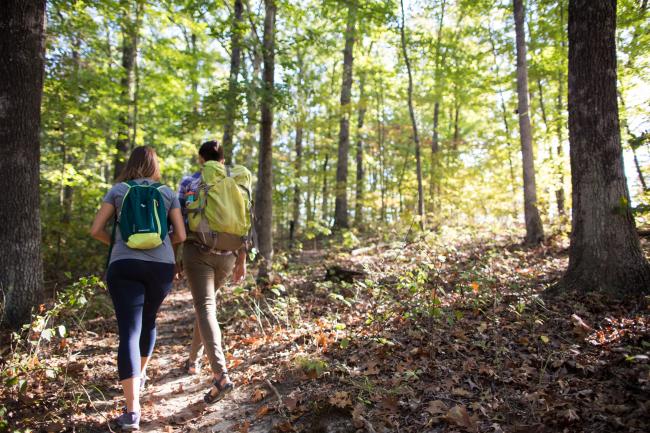 Griffy Lake Nature Preserve
The Griffy Lake Nature Preserve provides over 10 miles of hiking trails, ranging from easy to moderate, which allow you to adventure around the lake and through the protected lands on this 1,200-acre nature preserve. With everything from paved to rugged routes, there's a hike for everyone.
Monroe Lake
Easy, moderate, and accessible trails alongside the water make your days boating at Monroe Lake even more fun. Make sure to check out the interpretive trail and see if any naturalists are giving trail talks by checking the event calendar on the DNR website!
Where to Eat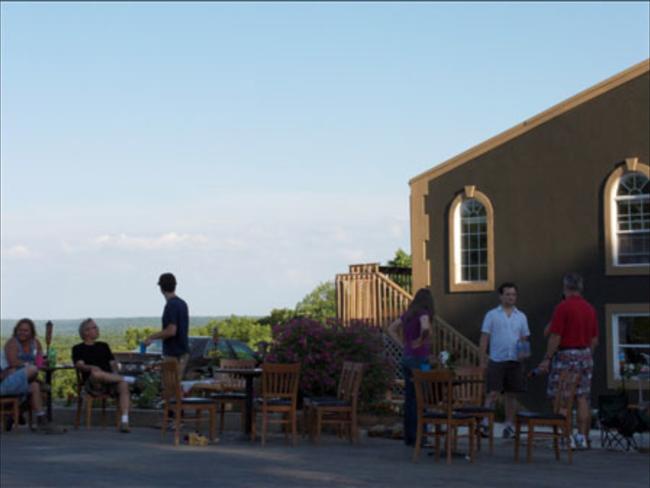 Port Hole Inn Bar and Grill
Live music, ribs, catfish, cold drinks, and more await at the Port Hole Inn Bar and Grill, right off Lake Lemon. This is the place to be if you're looking for a relaxed atmosphere and a place to kick back after spending your day in the sun.
Scenic View
Overlooking Monroe Lake is the beloved Scenic View, named aptly for its sweeping vistas of the lake. Check them out for live music from 6 to 9 every night, mimosas during weekend brunch, and some home-cooked food any day of the week.
Windjammer Bar and Grill
Located at the Fourwinds Lakeside Inn, the Windjammer provides lakeside dining for those staying at the Fourwinds or just dropping in for a meal. Ribs, fish and chips, nachos, and more adorn their contemporary American menu.
Trailhead Pizzeria
Trailhead Pizzeria is a pizza lover's perfect after-lake stop. Another stop with live music, Trailhead has local acts most nights of the week, and they will even deliver to campgrounds around the lake!
Where to Stay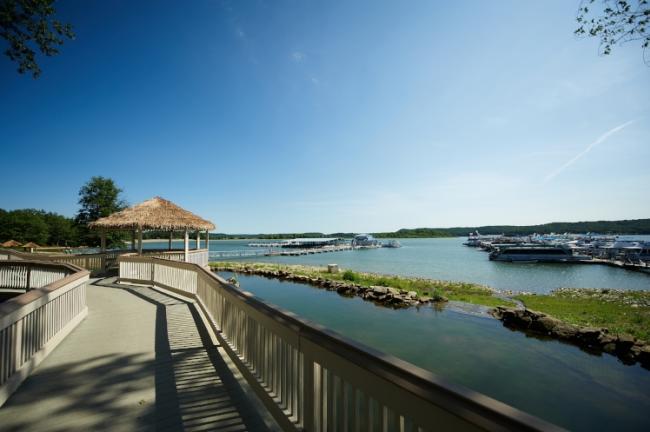 Fourwinds Lakeside Inn & Marina
Fourwinds Lakeside Inn is located right on the water, at the edge of Monroe Lake. With a heated pool, free breakfast, mini gold, and it's own marina, the FourWinds gives you an elevated waterside experience, all while being in the middle of Monroe County.
Scenic View Lodge
The Scenic View Lodge is located on the ridge where the Scenic View Restaurant overlooks Monroe Lake. The lodge sits right next to Hoosier National Forest land, giving you ample hiking opportunities, and the sunrise view you'll be greeted with every morning is sure to take your breath away.
Lake Monroe Village
Located close to the Fairfax State Recreation Area, Lake Monroe Village has something for everyone. With cabins, campsites, RV hookups, and wireless internet, your family will be glamping in style and comfort, all a short drive away from the lake.
Jellystone Park at Lake Monroe
Deluxe lodges, guest cabins, RV hookups, and primitive camping are all available at Jellystone Park. With trails, outdoor pools, a scenic waterfall, wireless internet, and activities for the kids, there are endless opportunities for fun at Jellystone Park. Make sure to check out the on-site water park and keep an eye out for a chance to meet Yogi Bear and Boo-Boo!
Lemon Ridge Lodge
The beautiful Lemon Ridge Lodge is located on the edge of Lake Lemon, 15 minutes from downtown Bloomington and the Indiana University campus. The wraparound porch gets you out in nature while staying in the comfort of your cabin, and guesthouses on the property let you bring everyone for a weekend getaway.
Lake Lemon Guest Houses
The Lake Lemon Guest Houses com equipped with everything you'll need for a weekend on the water, including personal docks and kayaks for each house. Rentals can accommodate anywhere from 4 to 12 people and come with hot tubs, wireless internet, and even pets are welcomed!
Hoot Owl Log Cabin
Right between Bloomington and Nashville, a short drive from Lake Lemon or Monroe Lake, you'll find the Hoot Owl Log Cabin. The location is close enough to everything to be the perfect spot for events like graduation or the Fourth of July Parade but is secluded enough to make you feel like you're in your own little world.