Local support for a Bloomington treasure
This is a guest blog post written by Courtney Packard, Media Director at Blueline Media Productions.
Treasure Chest Hobbies (located at 122 S College Ave) truly is a local treasure. The humble hobby store is nestled in the heart of downtown Bloomington and has been part of the community for the past 30 years. Opened in 1982 and operated by Harold and Rosie Evans (married 65 years this August!), Treasure Chest Hobbies boasts an array of hobby toys including model trains, RC cars and planes, and rockets. Both the shop and its offerings are reminiscent of simpler times, when building with your own hands reigned supreme and instant gratification was abandoned in favor of carefulness and precision.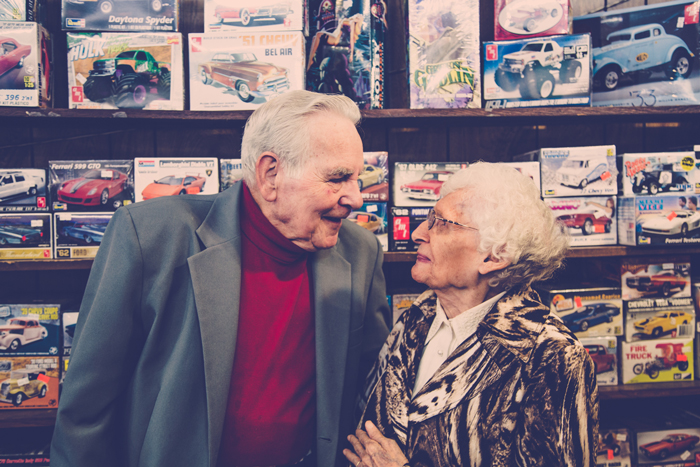 Despite renewed fondness for vintage and warm feelings of nostalgia that seem to permeate today's culture, business is slow at Treasure Chest Hobbies. The influx of smart technology and the advancement of video game systems make model-building seem like a thing of the past, and it's hard to keep up. In 2015, the push to shop local has never been stronger, but many mom-and-pop shops are still having difficulty competing with retail giants.
In true Bloomington fashion, the community is rallying together to offer Treasure Chest Hobbies assistance with marketing initiatives. Spearheaded by Blueline Media Productions, the shop's next-door neighbor, a grassroots digital campaign is currently underway to tell the shop's story and provide support.
Bloomington visitors and residents are invited to check out this local treasure and maybe ignite an interest in the hands-on hobbies that have fascinated people for many years. On July 10, Treasure Chest Hobbies will celebrate Christmas in July. The shop will stay open until 7pm and will offer face painting, music, and a holiday celebration.
For more information about Treasure Chest Hobbies, please visit them on Facebook.