Made in Bloomington
By Erica Sagon
A new type of crafting and artistry has become popular recently, and as a hub of creativity, Bloomington has a wealth of makers and opportunities to build and buy hand-crafted works.
Bloomington has happily grown into a hub for indie, handmade goods — think along the lines of a quirky cross-stitch or a little crochet cactus for a window sill or a monster-shaped pillow.
But this isn't just a place to find handmade goods for sale. Bloomington is also home to the artisans themselves, known as "makers" — independent artists whose work often falls somewhere in between fine arts and crafting. Shops, markets, festivals and collaborative work spaces allow the maker culture to flourish here.
The best-known spot to scoop up indie goods is Gather :handmade shoppe & Co:, located on the downtown Square, with a fine-tuned mix of contemporary handmade pieces that have a modern, functional edge, mostly from the Midwest. Inside is the stuff of Etsy dreams, but in a brick-and-mortar shop. You'll find a mix of merchandise from a cute illustration of Indiana to handmade soaps to pretty pottery, as well as other home decor, jewelry, wall art, toys, apparel and gifts, with a good dose of Indiana and Bloomington specific items.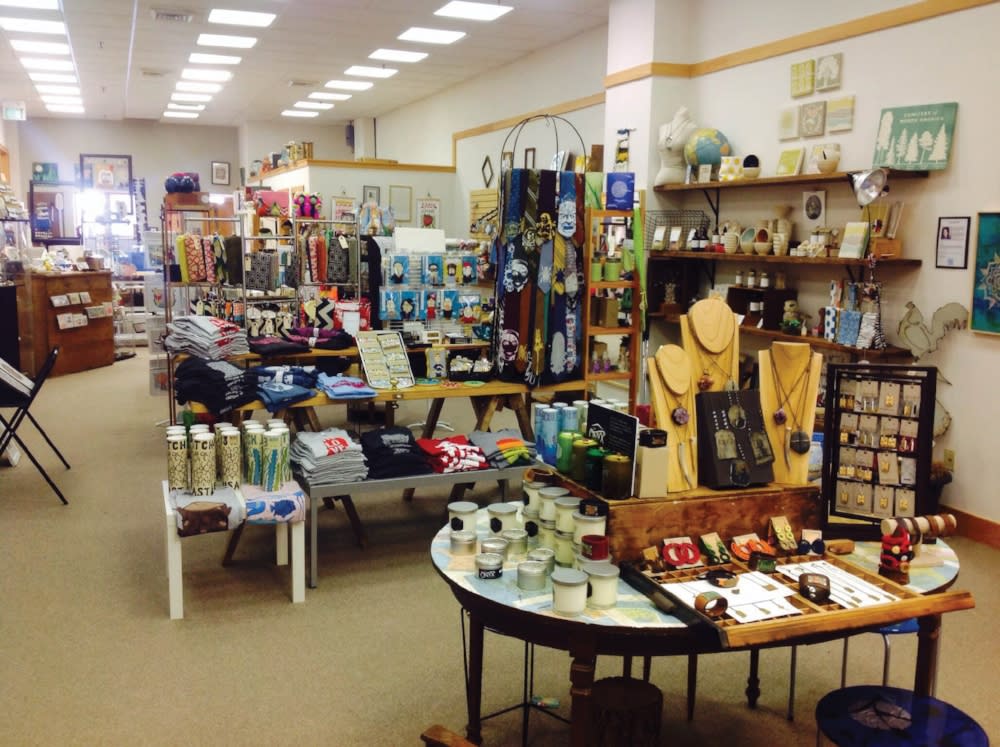 "You can take a little bit of Bloomington home with you, and find something you can't get anywhere else," says Talia Halliday, owner of Gather. "We're a little bit different than other [cities]. I don't like to use the words 'hip' or 'trendy,' but we have our finger on the pulse of what is 'right now.'"
Halliday opened Gather a few years ago after testing the waters with a pop-up shop. Gather is known for its monthly craft nights and
bi-monthly "crafternoons." "The makers in Bloomington really love our town," says Halliday. "We really love our community, and we're really active in our community." Halliday is an artist herself who runs Conduit Press, crafting blank journals from recycled paper, reclaimed leather and found objects, and also hollowed-out hardbound books for storing various items.
Meanwhile, co-working spaces like Artisan Alley and Bloominglabs add a manufacturing and technology spin to the makers scene, and regularly open up to the public. Bloominglabs is a maker space where members and guests can meet up monthly to share tools and ideas, and socialize with other makers. There isn't a certain type of "product" they build; it's all about the creative process of making. They also produce the annual Makevention event, where attendees can see demonstrations, try their hand at making, and purchase items from makers.
Makers can also be found working out of places like the I Fell building downtown at 4th and Rogers. Bloomington preservationist Cynthia Brubaker restored a historic car dealership from the 1920s and turned it into a collaborative workspace that houses artists, including jewelers and painters. I Fell has 14 spots for artists to rent, plus a communal co-make space and two galleries that are open to the public on First Fridays, which allows enterprising artists and makers to sell their pieces. "It's key to have art that people find accessible, in terms of looking at it and being able to own it, too," says Brubaker, who is a watercolor artist.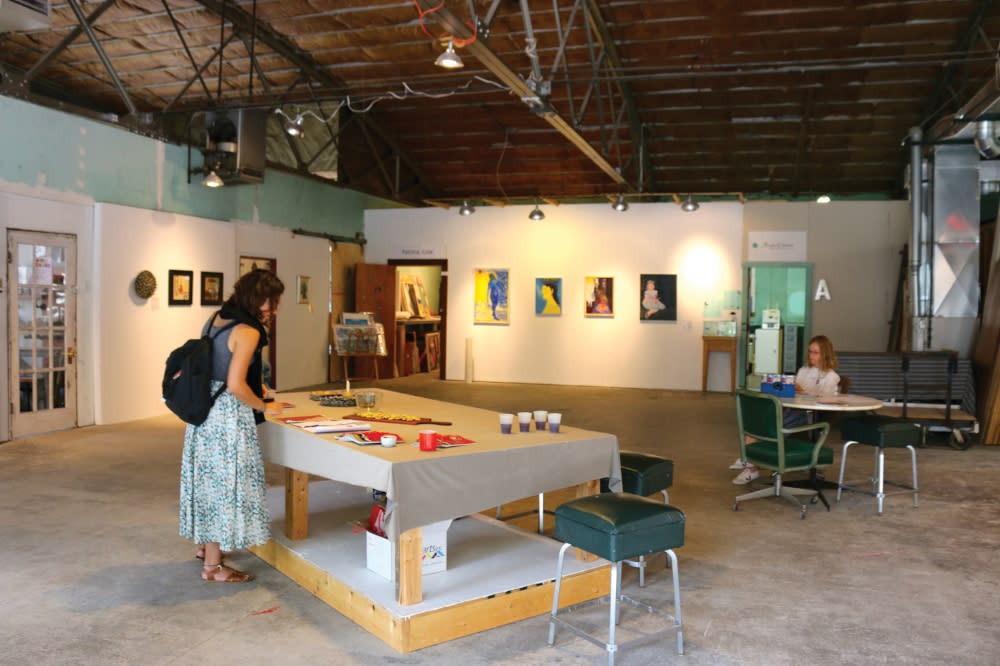 Regular festivals and markets in Bloomington give shoppers even more variety from local and regional makers. Makevention is one, held in August at the Monroe Convention Center. Another is the Bloomington Handmade Market, a biannual indie craft show, started in 2009 to give makers a new kind of place to sell their work. Their goods — say, a cross stitch with a curse word — wouldn't exactly fit in at a typical art show. The market now happens twice a year: once in the spring and again the second Saturday of November. The November market at the Monroe Convention Center is the larger of the two, with 70+ vendors and 4,000+ shoppers. Halliday, of Gather, was a vendor from the start and now is an organizer. "Much like the farm to table movement, the Handmade Market introduces people to the people who make their things," Halliday says. "It's even better to meet the artist and shake their hand and really know that you're supporting someone."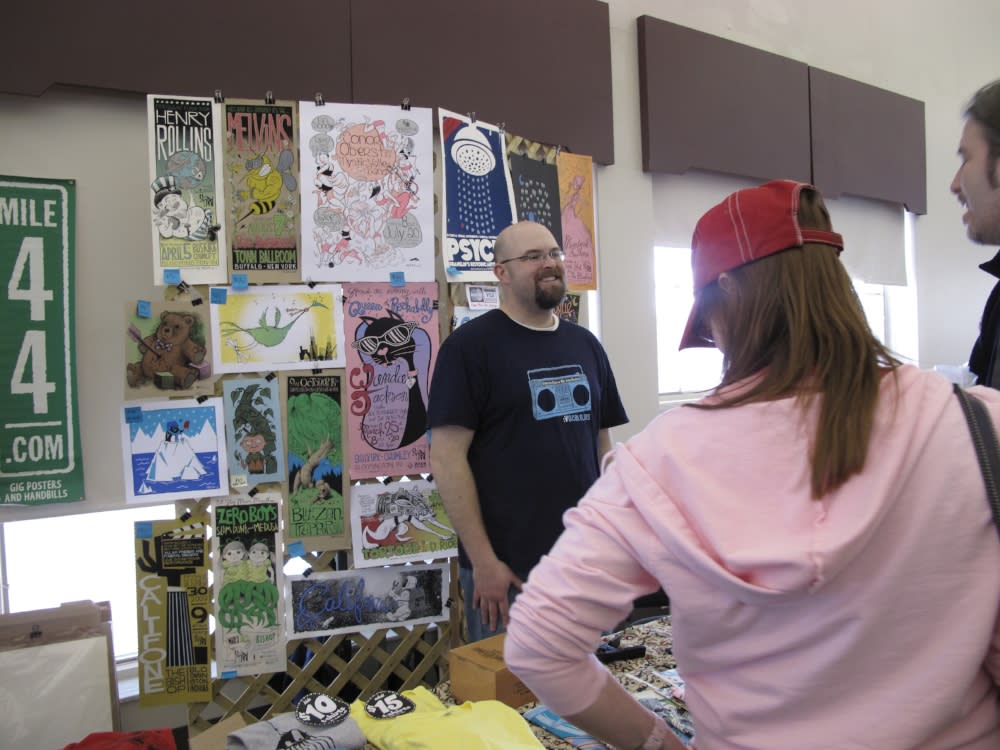 Get to know these 5 Bloomington Makers
STARSPRINKLE SUPERCOLLIDER   |   starsprinklesupercollider.com
Husband and wife Joshua and Cecily Allen make up this artistic collaboration inspired by nature, fantasy and a love of storytelling. He's an illustrator with a whimsical take on animals and surreal creatures, and she's a jeweler whose hammered sterling necklaces, earrings and bracelets have an ethereal quality.
DEW CAFE   |   instagram.com/dewcafe
Houseplant enthusiast Kris Robinson shares the love by making new and repurposed vessels for plants. These sweet little containers — think rustic concrete pots, wrapped macrame hangers, canvas bags — are perfect for filling with succulents and small plants on a window sill.
badkneesTs   |   badkneests.com
Screenprinter Jim Bek makes eco-friendly, retro-looking Ts with simple sayings, like "Read Harper Lee/Listen to John Prine/Be a Good Human Being" and "Pretty Good Dad." The touch of dry humor (and water-based ink) is what makes these so loveable.
PRESS PUZZLES   |   presspuzzles.com
These hand-crafted wooden jigsaw puzzles are a far cry from the puzzles you'll find on the shelves at a big-box store. Artist Marc Tschida crafts them from birch and oak lumber, and cuts each piece one at a time using a scroll saw. Many are Bloomington-themed, offering iconic views of the city and Indiana University's campus.
TOYS BY JEAN ELISE   |   toysbyjeanelise.com
Adorably illustrated toys and games by Jean Elise will remind you of simpler times: Cloth play money, mix-and-match stacking blocks, a Young Naturalist's Kit with a twig pencil, notebook, magnifying glass and box for storing specimens. She even makes a few treats for grown-ups, like Indiana beer coasters.
Dew Cafe
MAKERS MARKETS
Festivals, shows and maker spaces that are open to the public

Bloomington Handmade Market   |   bloomingtonhandmademarket.com
This indie handmade market happens twice a year: In the spring (2017 date TBA) at Fountain Square Mall and in the fall, always the 2nd week of November (Nov. 11, 2017) at the Monroe Convention Center. The November market is the larger of the two, featuring 70+ juried vendors.
The Stone Mill Market   |   stonemillmarket.com
You'll find makers goods plus antique and vintage items at this market, which happens four times a year.
A Fair of the Arts   |   bloomington.in.gov/afair
Local and regional artists convene at the Bloomington Farmers' Market the second Saturday of each month during market season.
Bloominglabs   |   bloominglabs.org
A hackerspace (aka makerspace) shared by artists who build projects both collectively and individually. 1609 S. Rogers Street, Building 4, open to the public on Wednesday evenings from 7-10pm
Makevention   |   makevention.org
An annual celebration of the do-it-yourself spirit that brings together local and regional makers including crafters, inventors, tinkerers, builders, designers, gadgeteers, artists, engineers, scientists, and everything in between.
Artisan Alley   |   artisanalley.com
A place for artists of all kinds to work together, plus ongoing Art Market & Open Studios events and workshops.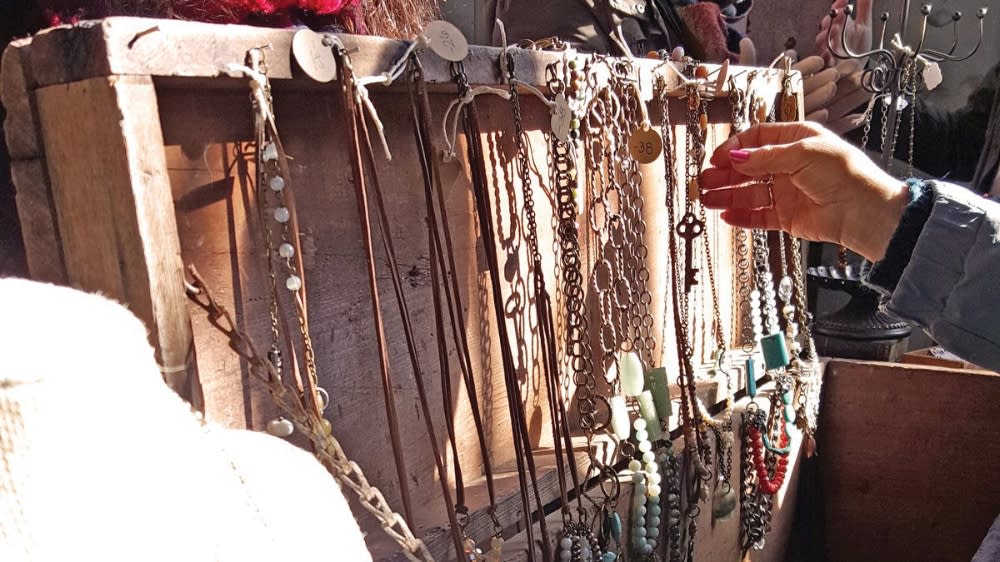 WHERE TO SHOP
Bloomington shops that sell indie, handmade goods

Gather :Handmade Shoppe & Co:   |   gathershoppe.com
116 N Walnut St, Bloomington, IN 47404
I Fell   |   ifellbloomington.com
415 W. Fourth St.
(open to the public on First Fridays)
By Hand Gallery   |   byhandgallery.com
101 W. Kirkwood Ave., Suite 109
(inside Fountain Square Mall)