Make the most of Bloomington Open Studios Tour
Categories: Arts & Culture
Bloomington Open Studios Tour is a two-day event where visitors are invited to take a free, easy-to-navigate self-guided tour of 27 artists' studio spaces throughout the Bloomington area. It's a unique opportunity for art lovers to meet 45 different artists, get an intimate look at creativity in action, and acquire artworks. You've never seen anything like it!
BOST organizer Michal Ann Carley wrote this guest blog post to help you get the most out of your weekend. Learn more about Michal Ann at the bottom of the page.
Saturday, June 6, from 10 AM - 6 PM
Sunday, June 7, from 10 AM - 4 PM
www.BloomingtonOpenStudiosTour.com
BOST Must-Dos

Pace yourself. Know that you have two whole days to explore. You can spend as much time as you like at any studio. Visitors often find that they have become engrossed in a conversation about inspiration or intrigued with a process and 2 hours have gone by.
Look at the Booklet and the beautiful website first to figure out which artists' studios you want to visit. What artwork looks compelling? What processes are you interested in or new to you? Are you interested in collectives or group presentations?
Know that you will probably spend more time at a studio than you intended. Plan your trip and but also let it unfold organically over as much time as you have.
Look at the maps to find studios that are clustered. Out-of-town studios are still quite close and take 15 minutes or less from the city center to drive there. The scenery is beautiful on the way.
Wear walking shoes.
Bring your wallet. Many artists these days take credit cards, but bring checks too.
Studios are not museums! Feel free to ask the artist any question you have about their work, ideas, processes, or equipment. Most objects can be touched and examined. The artist wants to interact with you and would love your feedback!
Be inspired! Many of the artists offer group or private classes. Just ask!
Enjoy the snacks and beverages to help you on your way.
Our free full-color Educational Booklet is full of artist images and locations, navigational maps, messages from our sponsors and partners, and website information. It can be found at the Visitors Center on North Walnut (here at Visit Bloomington), downtown Bloomington's art galleries, and artists' studios. On the day of the tour, studio locations will be clearly marked with red balloons and yard signs.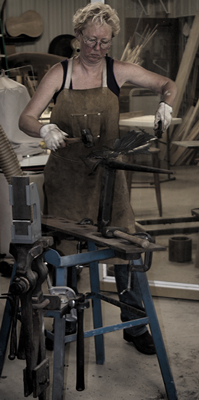 Please don't:
Don't touch sharp objects.
Don't flip switches on the equipment.
Don't put your fingers in wet paint.
Don't photograph without permission.
Don't lean on or sit on works of art unless invited to.
Don't be shy with questions!
This project is supported in part by the Bloomington Arts Commission and Visit Bloomington.
Michal Ann Carley (right) is an artist blacksmith and glass torchworker at her studio Luna Song Designs. She creates sculpture and architectural ornament by forging and fabricating steel and designs and creates jewelry of her glass beads. She is represented in Indiana by the Venue Gallery and Hoosier Artists Gallery. Formerly, she was a professor of art and art history and director and curator of university art museums. As a member of the BOST Steering Committee, Carley is the grant writer and public relations liaison. She is delighted to be among the 45 artists exhibiting in this year's Tour.