Marc Summers comes to Bloomington for theater and film
Categories: Arts & Culture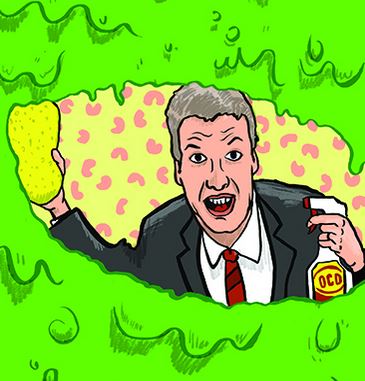 Yes, you heard right. Marc Summers -- whom you may remember from Nickelodeon's classic game show Double Dare or Food Network's longest-running show to date, Unwrapped -- is in Bloomington rehearsing for the world premier of his autobiographical play at the Bloomington Playwrights Project. In between rehearsals, he's starring in a documentary (On Your Marc), tasting pizza around Bloomington, and appearing on shows like The View (that one's not in Bloomington).
Everything in its Place: The Life and Slimes of Marc Summers opens at the Bloomington Playwrights Project (BPP) on April 1 and runs through April 16. It's likely to sell out every show, so get your tickets as soon as you're done reading this.
The film and theater crews are understandably busy, but I was able to catch up with them for some questions about what Marc is up to, how awesome the play and film will be, and what it's like to take the physical challenge.
Chad Rabinovitz, Artistic Director at BPP which produces new plays and sells out all its shows, describes the show as a one-man-show directed by a guy (him) who normally loathes one-man-shows. That's because they're usually pretty formulaic, which photos projected on a screen and a long narrative about some guy's life. This show is different. It's got audience interaction, two performers -- including Marc and someone who plays every single other character, and stories told in ways you'd never expect.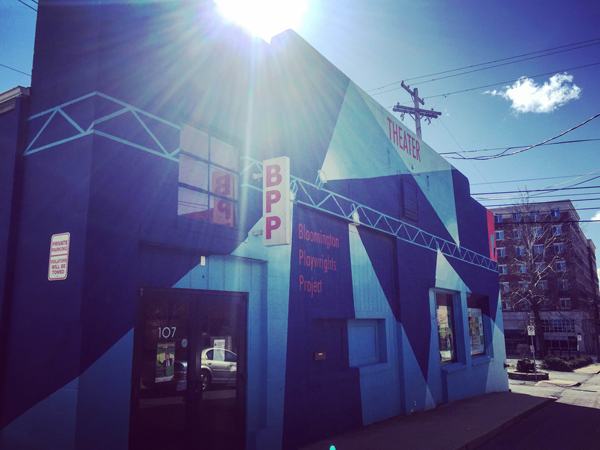 outside the BPP on 9th Street
One of the central themes of the play is Marc's lifelong battle with obsessive-compulsive disorder, or OCD. Imagine how hard it is to be covered in slime day after day on TV when cleanliness is ingrained into your mind. But despite the problem of mental illness seeming invisible to many people, Marc has been open about it his whole career. Mathew Klickstein, director and producer of the documentary On Your Marc, suspects that being on camera is a sort of safe space for Marc, removing himself in a way from any troubles and taking him to a different zone. So the camera crew filming rehearsals might be more of a help than a distraction.
And the camera crew sure is happy to be there. In addition to Mathew, I talked to Josh Yawn (producer), Russ Furry (director of photography), and Eric Cupps (associate producer/sound recordist) and they all gushed about what a great guy Marc is. In fact, Josh Yawn met him at age 15 when he created a web profile on AOL (16 years ago!) and said he wanted to be in TV like his idol Marc Summers. Marc happened to find the site when he was "googling himself, or whatever the equivalent of Google was then," says Josh, and actually called Josh and introduced himself. They've been friends ever since.

the camera crew interviewing passersby on what they know about Marc Summers
Miraculously for a man as accomplished and famous as Marc Summers, everyone talks about how down to earth he is. BPP director Chad says Marc is one of the most trusting actors he's ever worked with, and also the first celebrity they've ever had onstage (they've worked with celeb playwrights in the past). As BPP's assistant director Jessica Reed explains it, "I picked him up from the airport and by the time we got to Bloomington, I felt like I'd known him for a long time."
Just writing a list of Marc Summers' accomplishments makes me tired. He hosted Double Dare for more than 500 episodes and 11 seasons of Unwrapped. He raised kids. He produces a show on the Food Network. He just got over leukemia, which isn't a whole lot of fun. And what have I done? Yesterday I made blueberry muffins.
Anyway, there's also a lot of praise in store for the artists working behind the scenes on the play and movie. Chad, writer Alex Brightman, and Marc have been working on the script for a year and have been rehearsing tirelessly to perfect it -- Chad says they expect to make changes, even cut whole scenes, up until opening night ("alcohol helps"). The film crew is up just as early as Marc is, driving to his old high school in Indy (my alma mater, North Central High School!) at 4:45 am. They've also had their share of fun in Bloomington, and everyone seems to mention the pizza.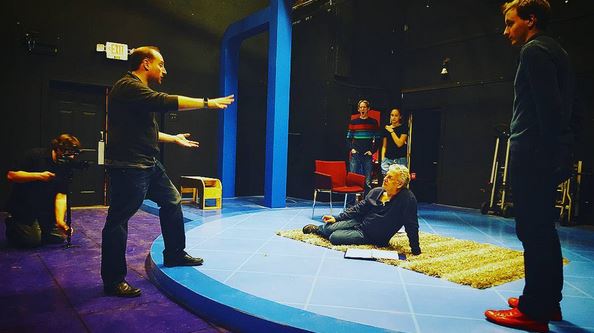 Chad and Marc rehearsing on the set; photo by @marcsummersmovie
Director/producer Mathew explained to me why they like filming in Bloomington: "Everyone talks about New York and LA, but I've found over the last couple years that something really special is happening in college towns around the country right now. There's such a bubbling energy here that you can't find in the bigger cities, where everyone's in a rush and worrying about money. Everyone really works together here." I agree; it's why I love to live here, and have family and friends come visit.
So get your tickets to the show, and get excited to celebrate Double Dare's 30th anniversary in October!