Tuesday, December 29, 2015
Mary Poppins impressed this teenager
Categories: Arts & Culture, Family Fun
This is a guest blog post written by high schooler Zoe McAfee.
Last night I went to see Cardinal Stage Company's Mary Poppins. The show was amazing, full of energy and warmth. The audience was engrossed from the start, especially the children watching. As a child, I loved Mary Poppins. The songs and the magical story were always a big hit in my house. Seeing the musical come to life at the hands of the actors was incredible.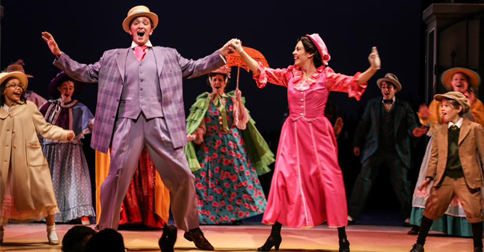 The acting was phenomenal. The kids in the show were extremely talented. I was surprised by the vocal strength of the child actors. Despite their age, they held their own against their older, more experienced counterparts. The youngest was only 5 years old, but still danced and sang along with the company. The choreography, vocals, and acting were so impressive. Every actor was a thrill to watch. Their obvious enthusiasm for the piece was infectious. As I looked around the theater, people were laughing and having a great time. The kids in the crowd were filled awe and excitement when Mary flew through the sky at the start of the second act.
After the show, I went next door to Blu Boy (a delicious hand-crafted chocolate shop/cafe) and had a steaming latte that I took with me as I wandered around Bloomington's square. The lights were up, as they are every winter, streaming from the courthouse to the surrounding buildings.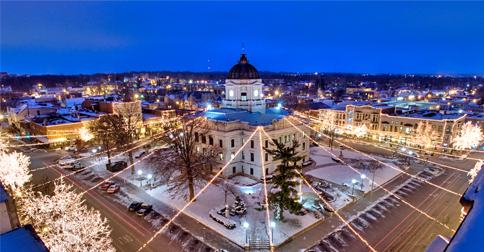 Bloomington's arts community is rich and diverse. You can count on having visual, as well as performing arts events every weekend. Go see this super(califragilisticexpialidocious) show -- it's running from now through January 3rd.
See Mary Poppins Live
Mary Poppins runs through January 3 at the Buskirk-Chumley Theater. Buy tickets online or at the BCT Box Office on Kirkwood. Show times include 2pm and 6pm on January 1, 2, and 3. Tickets range from $14.95 to $34.95.