Thursday, February 9, 2012
Meet The Boy in the Bathroom
Categories: Arts & Culture, The IU Student Perspective
The Boy in the Bathroom opened with a bang on Thursday, February 2nd at the Bloomington Playwrights Project. The three shows last weekend were all sold out, and for good reason! This charming musical stars Evan Mayer as David, a college dropout who suffers from an extreme case of OCD and hasn't left the bathroom in over a year. This may sound depressing, but the play is actually very entertaining and humorous with his mother's (Lisa Kurz) sarcasm and Julie's (Indiana University freshman Maddie Shea Baldwin) cheesy knock-knock jokes.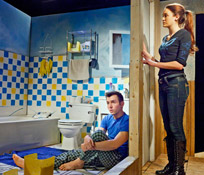 Julie is hired by David's mom to clean around the house, and at first she thinks David is just a weirdo (who wouldn't-he sleeps in the bathtub!), but they end up falling in love as they tease each other and play board games through the bathroom door. She begs David to come out and run away with her, but is it enough? Find out for yourself! Do not miss this opportunity to see this clever production of The Boy in the Bathroom that is sure to receive a standing ovation time and time again.
The show runs through February 18. See www.newplays.org for more information or to order your tickets. 
This guest blog was written by one of Visit Bloomington's current Visitor Information Specialists, Kelsey Bussen. If you've called the Visitors Center recently, you may have spoken with Kelsey, who is currently pursuing a degree in Tourism Management from Indiana University.