Thursday, August 25, 2016
Monsters in Bloomington!
Categories: Family Fun, Indiana University, Arts & Culture
The Pokemon Go! craze hit Bloomington big time. Now that students are back in town there are even more people taking it to the streets to hunt for these little monsters. They have been spotted downtown, in the Showalter Foundtain on campus, Dunn Meadow, and one even hangs out in the Visitor's Center. 
This monster craze got me thinking about the origins of Pokemon and the link between monsters and other cultures. Cue the new exhibit exhibit MONSTERS! at the Mathers Museum of World Cultures. Monsters are extraordinary or unnatural beings that challenge the predictable fabric of everyday life. This exhibition looks at monsters from around the world, discovering who they are and what purposes they serve in various cultures, as different images of monstrousness emerge from the dark recesses of human imagination. The exhibit will be on display at the museum through December 18, 2016. I don't know if they planned this exhibit with the launch of Pokemon Go! but what genius timing.
"In Japan today, folkloric monsters are commonly called yōkai, which has broader implications than our English-language monster. Yōkai can refer to all sorts of strange and monstrous things. It can just mean an unexplainable phenomenon like spooky sounds in the night or fireballs flitting around a graveyard. But it can also refer to demonic creatures in the water or the mountains, or even to real animals such as foxes that were said to have dangerous shapeshifting abilities. Some yōkai look like humans and others are actually household objects, such as umbrella and musical instruments, which have taken on a life and agency of their own. In a sense, yōkai is simply a group label for a range of mysterious things that might be translated as spirits, goblins, phantoms, specters, sprites, shapeshifters, demons, fantastic beings, mystical occurrences, deities, and perhaps most commonly, monsters. With so many different types of yōkai, it is not surprising that some of them can be murderous, some merely mischievous, and others can actually bring about good fortune.
Such creepy and anomalous phenomena and creatures have long appeared in folktales, legends, and local belief systems. For hundreds of years, they have also been part of popular literature, art and drama. More recently, yōkai are extremely popular in contemporary media, such as manga, anime, film, and video games. In many cases they are no longer the stuff of horror but the rather the stuff of play. What is scary can also be cute, what was frightening can become fun. And in these various media, yōkai have also started to travel around the world: with the international popularity of Pokémon and new games like Yokai Watch, perhaps we can no longer call yōkai "Japanese" monsters."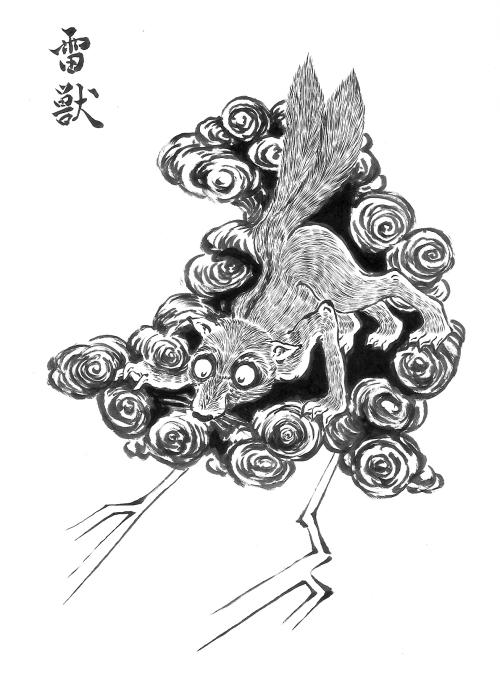 Raijū thunder beast: The raijū, or thunder beast, is said to come down to earth with a lightning bolt during a thunderstorm. Lightening scars on trees were sometimes attributed to the machinations of raijū. Although they are not very well known today, raijū were exceedingly common during the Edo period (c. 1600-1868): numerous documents, illustrations, and even mummified bodies record their appearance throughout Japan. In these materials, raijū come in a wide variety of sizes and shapes, ranging from squirrel- or weasel-like creatures, to something more akin to dogs or large cats.
Save the date for Mather's Museum Halloween Family Fun Fest: Monsters! On Sunday, October 30; 2 to 4 p.m., celebrate the Halloween season by making monsters, playing monstrous games, and hearing special Halloween stories (at 3 p.m.). There will also be a special scavenger hunt through the MONSTERS! exhibition. The event will be free and open to the public.