Morel Hunting in Bloomington
Categories: Outdoors
It's that time of the year again in Bloomington. No, I'm not talking about the warm weather, blooming flowers or chirping birds. I'm talking about mushrooms - more specifically, morels. If you've never hunted, found or eaten a morel mushroom, then you're truly missing out on one of spring's most eventful and delicious fleeting mysteries. 
Where to Begin
I'd recommend going morel hunting with someone who has experience in finding and identifying these fungi. If they're really nice the'll show you their secret patch (we've all got one or two). The Hoosier National Forest south of Bloomington is ideal morel territory but they can be found almost anywhere. Regardless of where you go, do make sure you have permission and bring plenty of bags just in case you stumble into a goldmine (morels in some stores can go for as much as $200 per lb.). Though they are fairly easy to recognize, there are a few lookalike mushrooms that will leave you with a bad stomach ache at best (some can be fatal), so if you're not absolutely sure it's a morel, better to leave that one in the woods.
Here's what you're looking for: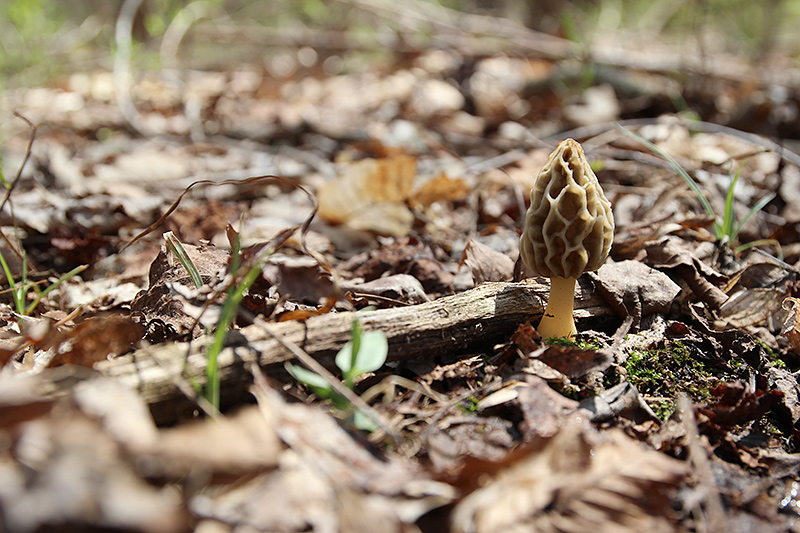 The Hunt is On
There are many theories about where to look for these elusive mushrooms. Some say to search near elm trees, others say oak trees, still others say may apples. The truth is they can be found almost anywhere; forests, fields, backyards and gardens. There is no exact science to where they grow (yet) but there are a few general rules that will get you headed in the right direction.
1. They like to pop up on warm days after spring rains (mid April - early May)

2. They like well drained, soft soil rather than marshy areas or hardened mud.

3. They like to grow near standing dead trees with decaying underground roots.

4. Early morels will grow near the edges of fields and on south-facing slopes where the sunshine is plentiful. As the season progresses they'll be found deeper in the woods.

5. Morels usually grow in groups, so cover plenty of ground and when you find one slow down and search the area thoroughly.

6. Remember the spot - it is very likely that they will come back next year (especially if you pinch off the stem of the mushroom and leave the roots undisturbed).
Bring a bottle of water and a snack, pick a sunny day and plan on doing more walking than picking. Even if you return empty-handed, it's still not a bad way to spend a warm spring afternoon. Happy Hunting!