Wednesday, January 8, 2020
Celebrating Monroe County's Past & Present
Indiana is a state rich with tradition. For years, people have lived, played, and traveled through the lush forests, sweeping valleys, and rolling rivers of our Hoosier heartland. But it's not just the natural wonders that make Indiana so special--the people here are truly one of a kind.
 
Bloomington is no exception to this rule. Since being established as a city in 1818, Monroe County's seat has proved itself a worthy destination for visitors from all walks of life. Home to creative minds and Nobel Prize winners, 46 National Historic Places, and a Big 10 college celebrating its bicentennial, this little city is full of history that's shaping tomorrow.
Indiana University, Indiana's first college, celebrates 200 years of operation in 2020. Bloomington has grown alongside IU since the university's beginning as a humble, one-building seminary with 12 students. Thanks to IU, Bloomington has been home for notable figures such as World War II correspondent Ernie Pyle, the revolutionary Dr. Alfred Kinsey, and the first female recipient of the Nobel Memorial Prize in Economic Sciences, Elinor Ostrom.
These hometown heroes have drawn attention far and wide to the ingenuity that Hoosiers throughout the years have lent to Monroe County. Bicentennial celebrations will be honoring these and other notable alumni through ceremonies planned over the coming months. If you've ever wanted to explore the people and history that have made IU such an integral part of Bloomington, now is the time to do it.
2020's celebration of Hoosier classics includes bringing new life to a symbol so closely tied to the state that it graces Indiana license plates -- the covered bridge.
In the 1800s, wooden bridges were covered to help protect them from the elements. Often times, these bridges were on secluded rural roads, near farms and woodland homes. As building strategies changed and wood was phased out, the need for covered bridges went away. Now, there are less than 1,000 authentic covered bridges in the United States.
In 2019, Monroe County welcomed its first covered bridge after the last bridge prior was lost to arson in 1976. An authentic reconstruction of an 1885 bridge, using original materials, the Cedar Ford Covered Bridge now stands over the Beanblossom Creek, just a short drive north of Bloomington. Indiana has the third most covered bridges of any state in the U.S. and the Cedar Ford Covered Bridge, which took over 19 years to reconstruct, is the 90th in the nation.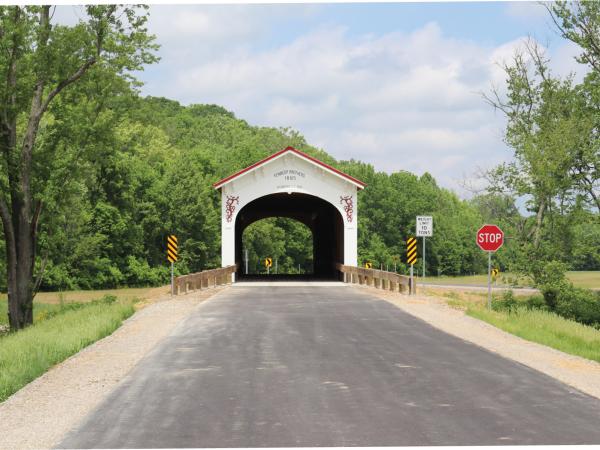 Regaining a covered bridge brings a piece of history to life again in Monroe County. A drive along the scenic road that leads to the one-lane wooden structure harkens back to simpler times and encourages visitors to sit and admire the craftsmanship that went into the restoration. Stop along the banks of the creek and take in a piece of history on your Sunday drive.
Monroe County's industrial history will also be showcased and reimagined in 2020 attractions.
Integral to economic and social expansion in Indiana were railways. Indianapolis was the link between east coast businesses and Chicago, as well as the center of urban transit between cities. During the height of its rail days, from about 1840 to mid-1860, Indiana ranked second in the nation in interurban rail transit.
Bloomington also had a hand in Indiana rail history. Where the B-Line Trail currently runs through the town, the Monon Railroad used to carry passengers from all over Indiana, Illinois, and Kentucky. All over town, remnants of the rail heyday are still evident in the train overpasses and whistles heard as shipping freights barrel down railroads on the East and West sides. After 112 years of service, the last cart departed the McDoel Railroad Switchyard in 2004. The former commerce and transit hub sat vacant until plans were put in place to breathe new life into this piece of Hoosier history.
Community gardens, event spaces, outdoor stages, playgrounds, a skate park, and more all adorn the area where trains formerly deposited goods and people to Bloomington. The more than 65 acres of Switchyard Park aims to be a gathering space for the community while restoring flora in the previously industrial area. Located right next to the B-Line and local businesses, the park's placement lends itself well to getting a glimpse of the community without ever using a car.
As you plan to adventure over roads new and old to get to your favorite Monroe County destination, don't forget to plan for some incredible experiences seeing the past and present come together in Bloomington.