NEW Visitbloomington.com
Categories: Arts & Culture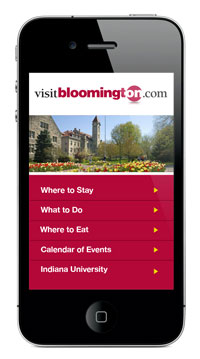 You may have noticed that we haven't been posting as often as usual here on our blog or on our various social media accounts. Well, I'd like to let you all in on what's been taking up so much of my time lately... 
If you haven't been to our website lately at www.visitbloomington.com, now is a really great time to go check it out. We launched a brand-new and much-improved version of the site last Thursday during National Tourism Week. 
There's a lot to see on our new site, so take some time to explore, and don't forget to view the mobile version on your smartphone or other mobile devices while you're at it! It's a huge improvement over our old mobile site and will allow visitors to have on-the-go information about what to visit and, maybe most importantly, where to eat when they're in town! The new mobile site also has all of our event calendar listings too, just in case you're looking for a performance to attend. 
Once you're finished looking around, we'd love to have your feedback, in fact, we've created a special survey to make it easy!