Wednesday, December 11, 2013
New Year's Eve 2013
Categories: Live Music, General
There are several great New Year's Eve packages and special events in Bloomington this year. If you haven't made plans yet to welcome in the New Year, get your friends together, book your room(s) and come celebrate with us in B-town! Here's the rundown on some of the fun things on the calendar for the holiday - more info on these and other events can be found on our Event Calendar. 
The Bluebird hosts New Year's Eve with Murder By Death and the Vallures! Tickets for the show are only $15 per person. 
The Root Cellar Lounge at FARMBloomington will host an 80's Dance Party to ring in the New Year, beginning at 9 pm. No cover charge. 

Kilroy's Sports Bar presents Pam Thrash and the Retro Crue with rock and pop music spanning four decades! The music starts at 10 pm. 

The Limestone Comedy Festival presents New Year's Eve with Geoff Tate at The Comedy Attic. Shows are at 8 and 10:30 pm. Late show attendees will also receive party hats and favors, giveaways and a champagne toast to welcome in the New Year.

The Players Pub will host New Year's Eve with everyone's favorite party band - The Dynamics! The music starts at 8 pm.
Fourwinds Resort has not one, but two parties to choose from! They've got your all-inclusive New Year's Eve party in the Admiral Room, complete with live music from Hank Haggard, a prime rib dinner buffet, open bar, champagne toast, and a New Year's Day breakfast - all for only $149 per person. If you're looking for something a little more low key, they've got you covered at the Windjammer Lounge with live music from Kenny Kipp, complimentary hors d'oeuvres, a full cash bar and a champagne toast at Midnight, for only $20! Both parties come complete with beautiful views of Monroe Lake.
Eagle Pointe will host a New Year's Eve celebration at the Eagle's Nest, featuring live music from Soul Stricken with a champagne toast at midnight. Tickets are $10 in advance and $20 at the door; doors open at 8 pm.
FARMbloomington will present three seatings with three price points - a three course meal at 6:30 pm for $45 per person; a four course meal at 8 pm for $50 per person and a six course meal at 9:30 with champagne for $75 per person. Call 812-323-0002 for reservations.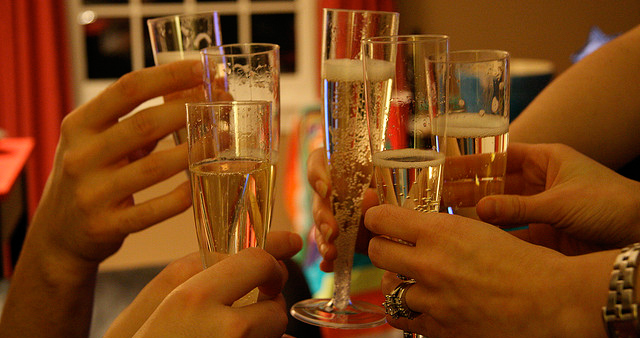 After the celebration, try these events on Jan. 1 to start off the New Year (and your fitness resolutions) on the right foot: 
Monroe Lake will host a First Day Fitness Trail Run/Walk at Fairfax State Recreation Area - start time is 3 pm. The registration fee is only $10 and there's no DNR entrance fee during winter. 
The Hangover 5K will kick off at 9 am on the west side of the courthouse square. The event is free, just bring your used outdoor gear to donate to Gear Going Global! This is a Mountain Folk Adventure Series event.
If you need a room, be sure to check our Specials Page for lots of special winter rates from area hotels - all in one place. Happy New Year!
Photo Credit: Chris Kelly
Flickr Creative Commons