Thursday, September 5, 2019
No Passport Required
Categories: Wine & Culinary

By Shelly Westerhausen
While cities nationally are turning their attention to building a food scene, Bloomington has been enjoying a thriving restaurant culture for decades. What makes Bloomington's food scene extra unique is our extraordinary selection of over 80 international restaurants. We've compiled a guide for a few of the more popular ones to help you figure out which is best for your next meal. 
TASTE OF INDIA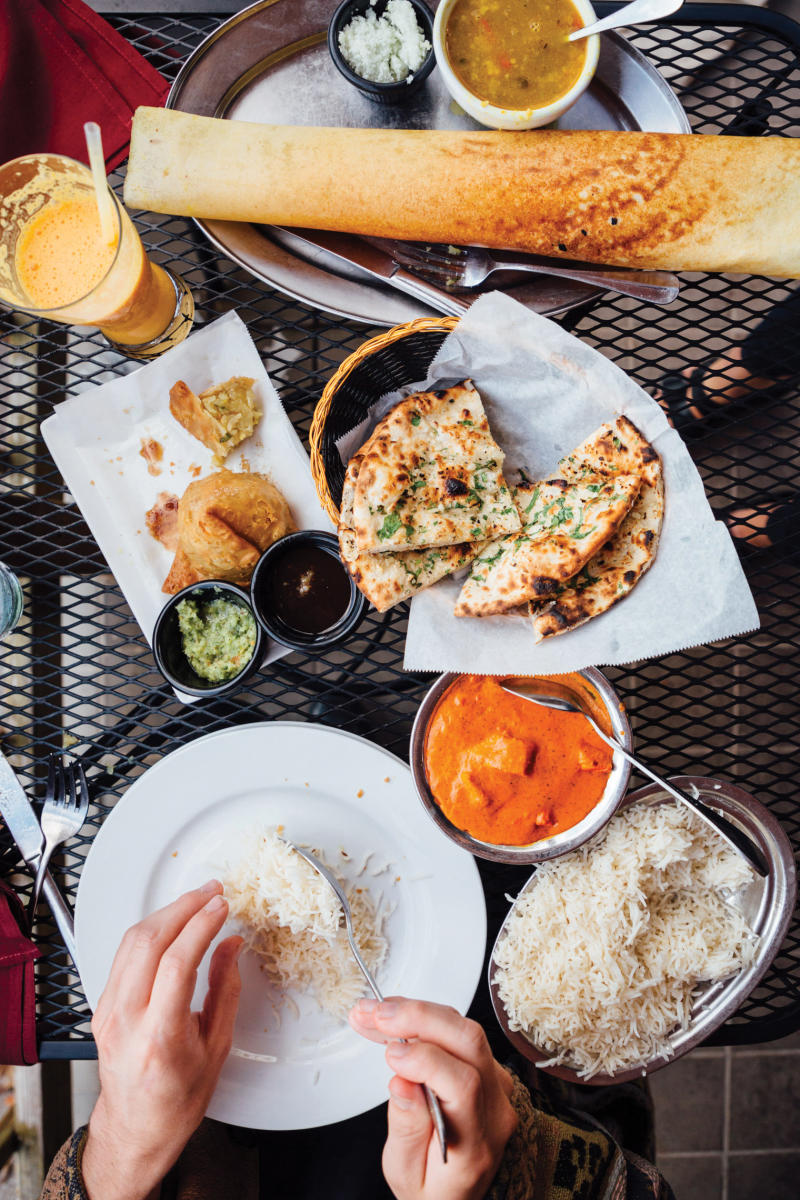 316 E. 4th St.
Cuisine: North and South Indian
This place is a must for anyone with a passion for international cuisine. The staff is always very friendly and they have a large outdoor seating area perfect for warmer months. If you have a vegetarian in your party, try out this place, as their vegetarian selection is extensive. 
To order:
Meat-lover: The Butter Chicken features chunks of chicken cooked in a rich and creamy tomato sauce that is served with a helping of basmati rice. Make sure to get a side of naan (such as garlic) to dip into your meal. 
Vegetarian: Enjoy the Chana Masala which has chickpeas and tomatoes cooked in a flavorful herb and spicy sauce and served with a side of basmati rice. If you are feeling extra hungry, get the vegetable pakora (lentil flour battered vegetables) as an appetizer. 
Pro tip: Plan to come in for lunch as their lunch buffet is a favorite among locals. It features a rotating menu of 2 appetizers, naan, 2 kinds of rice, 4 vegetarian (and often vegan) entrees, 2-3 meat entrees, a dessert, and an extensive salad bar. 
Other Indian cuisine options: Amrit India and India Garden
SIAM HOUSE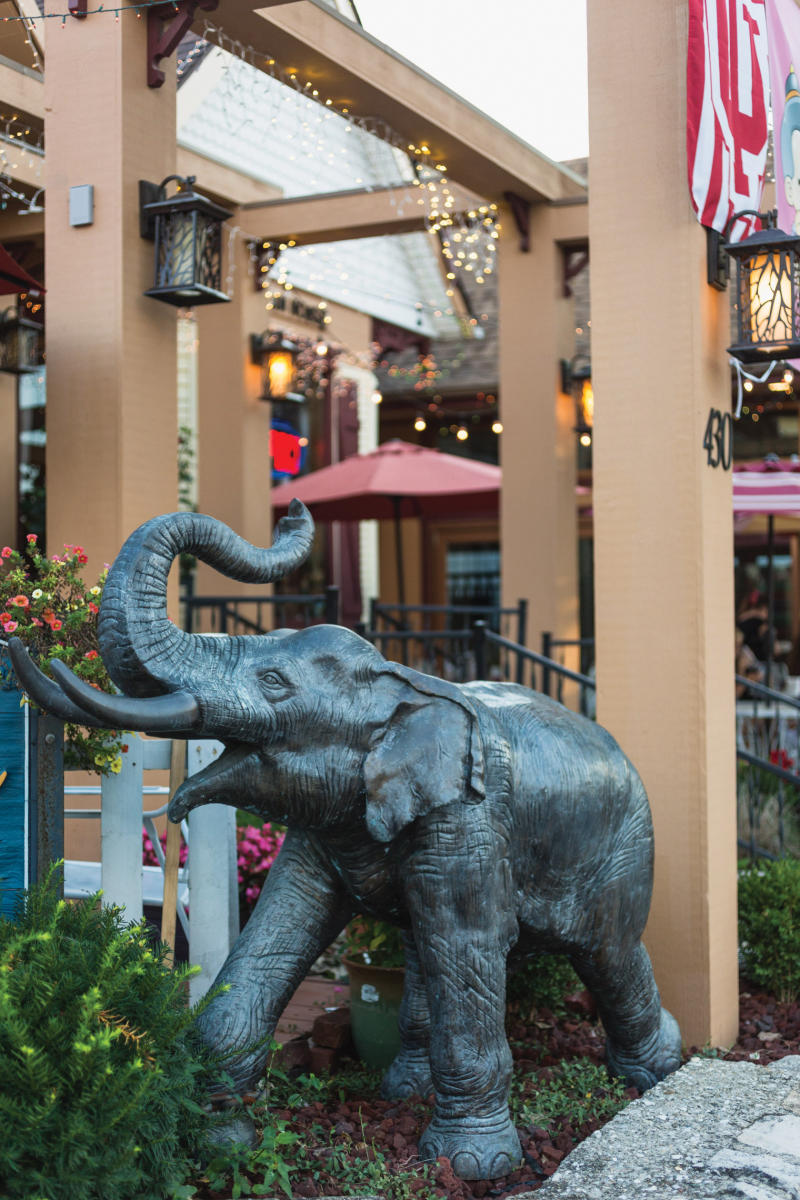 430 E. 4th St.
Cuisine: Thai 
A staple on 4th street, this Thai spot has a large wine selection in addition to its addictively delicious dishes. Look for the big elephant statues guarding the sign to know you've arrived at the right place. 
To order:
Meat-lover: The Pad Thai is a rice noodles dish cooked in an addicting tamarind sauce which comes sautéed with vegetables, peanuts, egg, and your choice of chicken, beef, pork, or tofu. Be warned – these noodles are so good that you may have to come back for seconds on your trip! Interested in a starter? The Tom Kha soup (try it spicy!) is a perfect winter warmer. 
Vegetarian: The Yellow Curry with Tofu is a slightly sweet and spicy curry made with coconut milk, potatoes, carrots, and onions and served with a large helping of rice. 
Pro tip: This place can fill up fast on the weekend and during big community events that attract a lot of people downtown, so make sure you head here with plenty of time or get take-out and enjoy it on one of the many tables scattered around the nearby Indiana University campus. 
Other Thai cuisine options: My Thai Café, Bangkok Thai Cuisine, and Anyetsang's Little Tibet
IRISH LION
212 W. Kirkwood Ave.
Cuisine: Irish
This warmly lit 1882 restored pub has some of the best vintage charm in Bloomington. This is a must if you are looking for a place to enjoy a drink (such as a yard of Guinness or a scotch) and appetizer (get their legendary Blarney Puffballs which are deep-fried potato balls made with cheese and garlic). They also have a full food menu if you want to stay for
a meal. 
To order:
Meat-lover: You can't skip out on trying the Mutton Pies of Abbeyfeale which is a baked bread bowl filled with their famous Celtic Stew.
Vegetarian: For being an Irish restaurant, this place actually makes a pretty fantastic Fettuccine Alfredo. If you're looking for something on the lighter side, their seasonal vegetable medley can be a great option as well. 
Pro tip: Stop by here on a rainy afternoon and enjoy a warming Irish coffee or dark beer and a few deep-fried Blarney Puffballs.
LE PETIT CAFÉ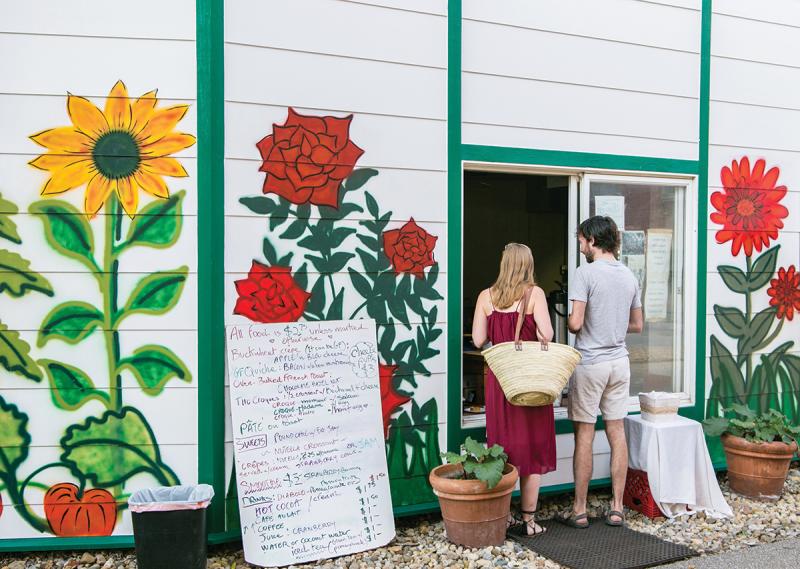 308 W. 6th St.
Cuisine: French
This small café is run by a quirky French couple that welcomes you into their restaurant in the same inviting way someone would welcome you into their home for a dinner party. The setting is intimate and the perfect option for a romantic date night. 
To order: 
Meat-lover / Vegetarian: Their menu changes daily so walk in with an appetite for anything. They usually have four main entrée options to choose from (one is vegetarian) and they build their menu around what is in season. 
Pro tip: If you are in town on Saturday morning in the summer, stop by their take-out window around the side of their building for a selection of crepes, quiche, pâté, and French pastries. 
TURKUAZ Café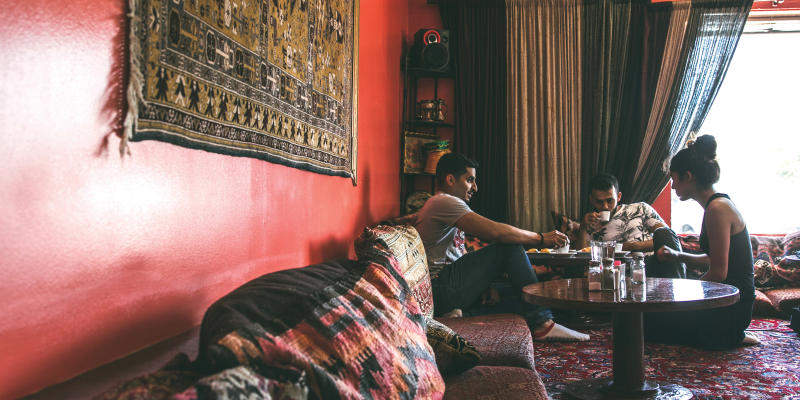 301 E. 3rd St.
Cuisine: Turkish
Kick off your shoes and settle into a low table at this cozy Turkish café. Their food is delicious all year round but their hearty dishes and addicting lentil soup make this a favorite wintertime spot. All entrees are served with three small salads and a lentil soup so come hungry! 
To order:
Meat-lover: Their specialty is lamb so you can't go wrong when ordering any of their lamb dishes, such as their Lamb Turkuaz Kabob, which is served like a thick stew with rice and the flakiest of bread. 
Vegetarian: They are well known for their Pides (also known as bread boats) and for good reason – they are flaky and stuffed with a variety of vegetables and meats. Turkuaz has over 10 different vegetarian varieties so there is sure to be one to fit your appetite.
Pro tip: Make sure to enjoy a glass of steaming hot Turkish black tea with your meal and save room for baklava! 
Other Turkish cuisine options: Anatolia and Sofra Café
KOREA RESTAURANT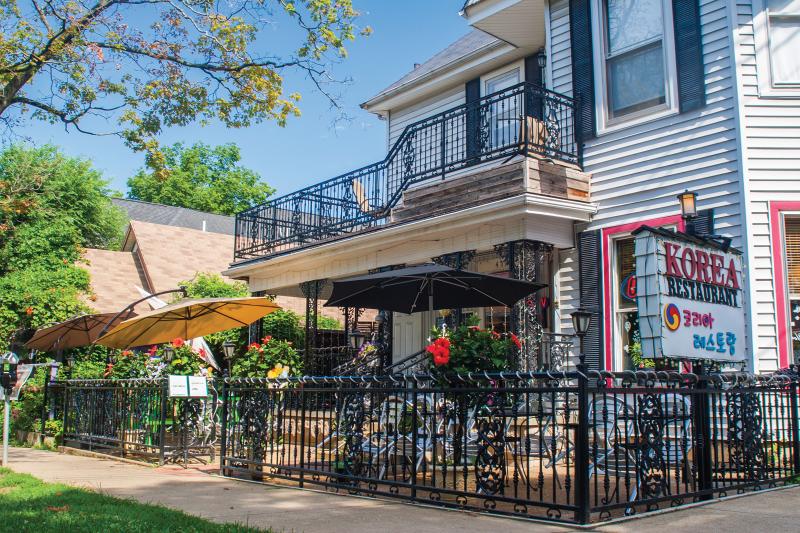 409 E. 4th St.
Cuisine: Korean
Tucked into an old house on 4th Street, this is an adventurous spot worth checking out, whether you are new to Korean cuisine or an expert. Their menu is easy to read with both Korean and English translation for dishes along with photos and a separate vegetarian section. 
To order: 
Meat-lover: Get the Bibimbap (hot or cold) with spicy pork for a fun rice dish topped with an array of vegetables, kimchi, an egg, and herbs. It comes out in a big bowl for a stunning presentation and you'll just need to mix it all together before enjoying. 
Vegetarian: The Rice Cake Soup is loaded with rice cakes (small rice discs that have the texture of dumplings), glass noodles, herbs, and spices. The serving portion is huge so come hungry! 
Pro tip: Head there for lunch to enjoy many of their best dishes for a discounted price (most under $9!). 
Other Korean cuisine options: Mama's Restaurant, Do Asian Fusion Cuisine, and Toto's Uncle Cafe
RESTAURANT AMI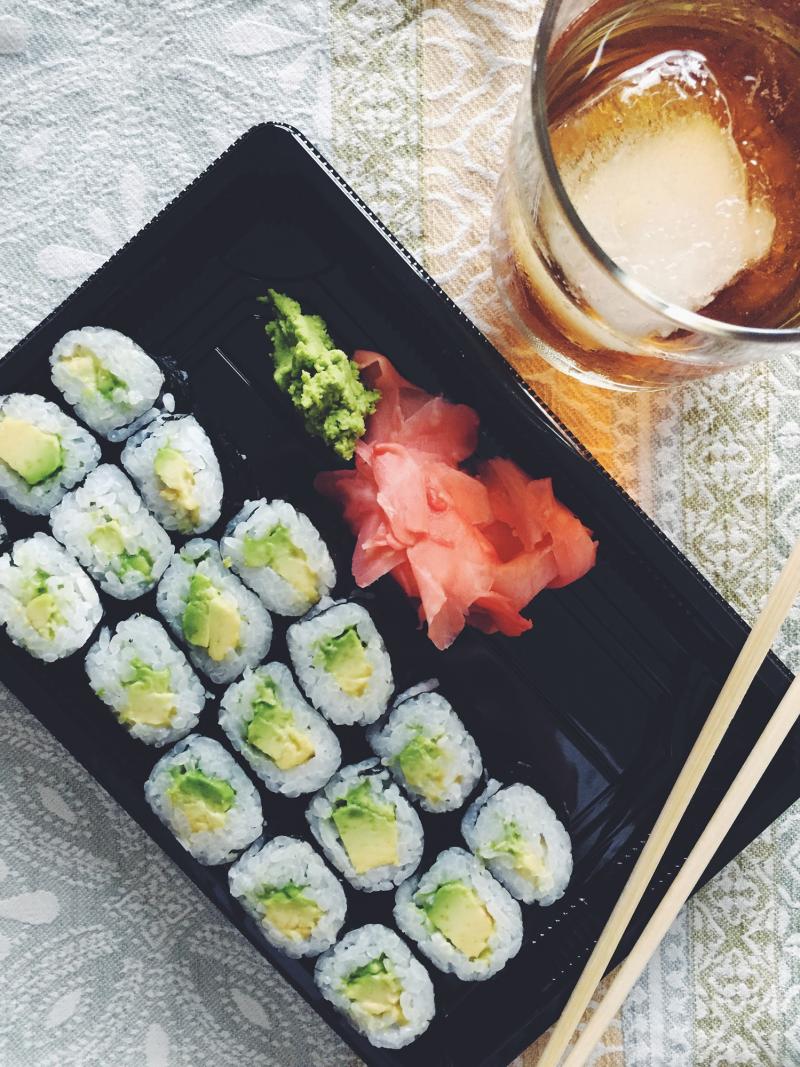 1500 E. 3rd St.
Cuisine: Japanese and Sushi
Ami is known around town for their elaborate sushi rolls. If sushi is not your thing, they also have Japanese entrees that showcase both rice and noodle dishes. 
To order:
Meat-lover: Their long list of chef special rolls can be overwhelming but you also can't go wrong with any of them. The ultimate rainbow features a variety of fish for a unique flavor with each bite. 
Vegetarian: They have an array of maki (vegetarian) rolls that are fantastic. If looking for something outside of sushi, the curry rice is served in a thick sauce filled with vegetables. 
Pro tip: Parking can be tricky since it's very close to campus so try to go in the summer when the students are gone or plan to walk a little distance to get to the restaurant. 
Other Japanese and sushi options: Z & C Teriyaki & Sushi, Asuka Japanese Restaurant, Domo Steak & Sushi, Japonee, Mr. Hibachi, and Homie Hot Pot & Sushi. 
Amor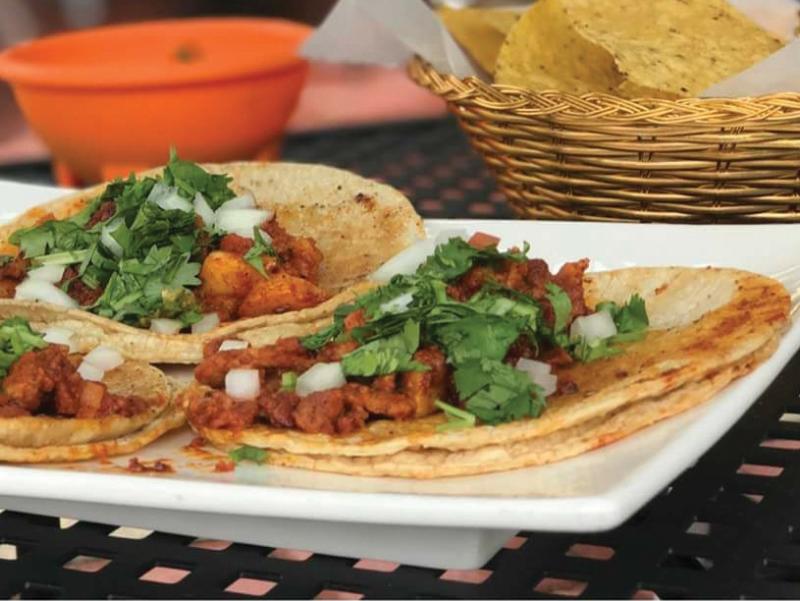 309 E. 3rd St.
Cuisine: Mexican
Located within walking distance of the square, this restaurant offers large portions and a wide selection of tacos, Chimichangas, burritos, salads, and other Mexican fares. 
To order:
Meat-lover: Devour the Burrito Azteca which is a jumbo burrito stuffed with veggies and your choice of meat, covered in cheese sauce, and served with sour cream and guacamole. 
Vegetarian: The vegetarian fajitas are not only served in a very generous portion but come out of the kitchen steaming hot and deliciously seasoned.
Pro tip: Order a glass of Horchata (spiced rice milk) for dessert. 
Other Mexican cuisine options: Juannita's  Restaurant, The 3 Amigos Restaurant, La Charreada, El Ranchero, and Viva Mas.