Record Store Day in Bloomington
Categories: Live Music, Arts & Culture
Guest post by Heath Byers, co-owner of Landlocked Music
On April 22nd 2017, record stores around the globe will open their doors to long lines of customers eager to buy new music on vinyl records, CDs, DVDs, and cassette tapes. It will also be the largest sales day of the year for every one of these stores. Don't be confused- there is no new album from Kanye or Adele, no lost Beatles album has been found, and no, Led Zeppelin hasn't reformed. It's the happiest day of the year for music lovers everywhere- it's the 10th annual Record Store Day.

Record Store Day started in 2008 with a simple concept. In a time where physical media and stores of all kinds are disappearing at a quickening pace, let's celebrate the stores who choose to embrace the object- and the artists and customers who support them. Record Store Day started modestly, with only a handful of releases and a small group of die-hard fans showing up for this novel idea. But with every passing year, this "holiday" has grown larger and larger. This year, The List, as it has become known as, is hundreds of items long- and surely has something for everyone.

Here in Bloomington, we can't count on Metallica showing up to play on our tiny stage and sign autographs for every fan, instead, we make our own fun. At Landlocked Music we make an effort to include events to satisfy a wide range of musical tastes. In years past, we have had some truly remarkable and memorable moments. In 2009, the City of Bloomington officially proclaimed the day, and we hosted Mayor Mark Kruzan to DJ an all vinyl set of music at our store.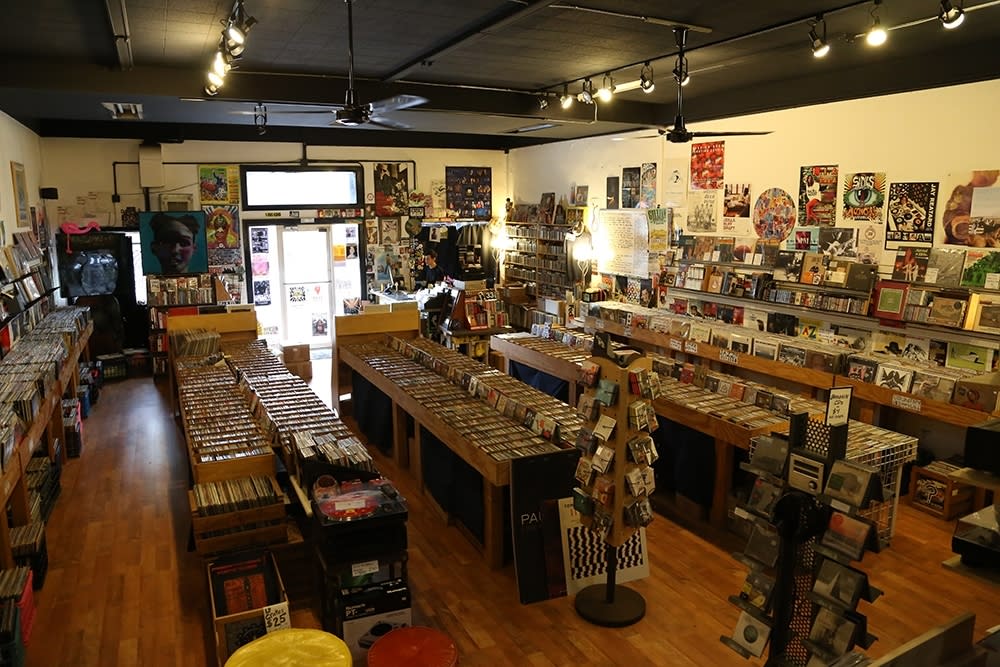 Record Store Day at Landlocked has always meant highlighting up-and-coming local bands and performers. We start our day off with several hours of DJs to keep the shoppers (and employees) energized. Our DJs are usually a mix of total amateurs and seasoned regulars- but always playing nothing but records from their personal collections. We've had jazz DJs, country DJs, punk DJs, Father/Son, and Professor/Student DJ duos. It's always eclectic and always fun. In this year's DJ lineup we have: 

11:30   Mat Alano-Martin, co-founder Limestone Comedy Festival
12:30   Caroline Marchildon, publicist, Secretly Group
1:30     DJ Spikes
2:30     Jar from WFHB 

Our live acts have also represented a wide spectrum of music tastes over the past decade. Lots of the local acts from years past have broken up or moved onto greener pastures, and some are still going strong. We've had acoustic folk, electronic dance, garage rock, country, soul, world, indie pop, and a marching band. This year we have our first ever comic, along with some great local musicians:

3:30     Comedy w/ Kristen Lucas
4:00     Peter Oren 
5:00     Daisy Chain
6:00     Manneqin 

Kristen is the winner of the 8th Annual Bloomington Comedy Festival, hosted by the Comedy Attic. Peter Oren is a singer-songwriter that has a new album coming out later this year on Western Vinyl that we are very excited to hear. Daisy Chain is a mesmerizing group of ladies (and gents) with a modern sound and fantastic vocal harmonies. Manneqin will finish out our celebration with their scuzzy new-wave punk. 

But wait, there's more! For years, we've partnered with Rhino's to set up an on-site screen printing shop. We will have a special Record Store Day design ready to be printed. Bring your own shirt or get one from the screen printing booth. All proceeds benefit Rhino's Youth Programs. 

In case you haven't figured it out yet, Record Store Day is just an excuse to have a big ol' party for music lovers. You don't have to be a hipster music geek to come, we have all-ages and genders of people hanging out all day long. Its a great way to meet people and hear something new.
In between hangs at Landlocked, check out a couple of other record stores in town.