Monday, December 16, 2013
Shopping at Gathering Means Supporting Local Artists
Categories: Arts & Culture
When you shop at Gathering you're buying from real people in the Bloomington community.
When you purchase that Knit Turban Headwarmer today, know that you're supporting an amazing woman who's working on her PhD in Rhetoric and Composition, who has style and sass you wouldn't believe, who can talk circles around any literary genius and whose smile warms the room.
When you decided to buy that wee little one-eyed monster today for your niece in Florida, know that you're supporting one of the funniest/funnest couples I've ever met, who happen to not be able to stand the smell of fish and whose airways might close up if one of them gets too close to a cat. The better half of the couple can also sew a mean bear costume (and did for the all male school she teaches at).
When you tried on that awesome shirt today that stands for something we should all stand up for ("We Like You Here") know that you're not just supporting a cause (which is an amazing cause by the way) you're also supporting a working artist, who is also a teacher, who is also an amazing friend, artist advocate, and business person.
When you bought that Buckle Beanie and matching Scarflette . . . know that you're supporting an entire family - yes, that's right - you're supporting a single mother and her two little girls and you're making their Christmas and know that those two little girls have the best smiles and the most amazing giggles of any little girls I've met, and I've met a few.
When you purchase on a whim those everyday saints at the counter, the cards you'll be sending to favorite gals across the states - know that you're encouraging a young mother of three to be what she really is - an artist!
You're telling all of us that we're doing it right, that we're talented, that we're worth something, that we belong. Thank you for supporting Bloomington's artistic community!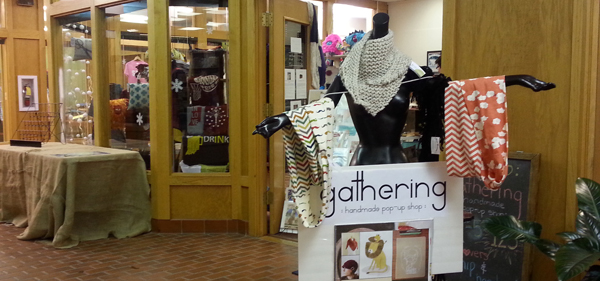 Gathering is a pop-up shop featuring over 70 handmade artists from the Midwest and beyond. Gathering is housed in Suite 125 of Fountain Square Mall from November 23 - Dec 24. Each weekend there is an event, generally on Friday evenings, celebrating family, fun, and art. This weekend, Friday Dec 21, Gathering will host Family Night where families can come join us for last minute holiday shopping, a kids' make and take activity as well as a photo booth sponsored by local photography studio Infinite Borders. Be sure to follow Gathering on Facebook to find out where they'll pop up next! 
Special thanks to our guest blogger, Talia Halliday, a Bloomington book artist whose passion has become supporting the arts community that has helped form her into the artist she it today. Talia is founder and shopkeep of Gathering, and owner/artisan of conduit Press.