Thursday, August 29, 2013
Show us your #gameday photos!
Categories: Indiana University, B-town Giveaways
Instagrammers - we told you to be on the lookout for a new #visitbtown Instagram challenge and here it is! We're celebrating fall and the Indiana University game day experience in Bloomington, and we'd like to see YOUR photos!
Throughout the month of September, simply tag a photo on Instagram with both #visitbtown and #gameday to show us what you love most about visiting Bloomington for fall football games (or soccer games, or volleyball... well, you get the idea). Of course, we'd love to see photos from Memorial Stadium, but don't be afraid to show us your other game day rituals in Bloomington. Do you have a favorite game day restaurant? Love the cute B&B you stay at for every game? Share those details with us!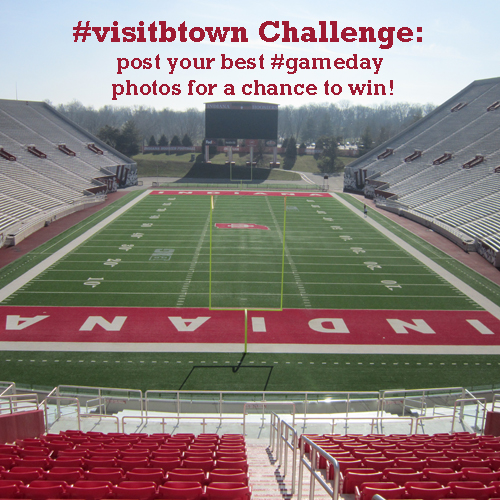 All photos posted in September with both hashtags will be eligible for prizes, including restaurant gift cards and a few IU Football tickets. Winning images will be reposted on our VisitBtown Instagram account throughout the month. Good luck!