Wednesday, February 15, 2012
So, what is this Pinterest thing, anyway?
Categories: General
You've been seeing references to Pinterest for awhile now. It pops up in your Facebook news feed when your friends pin something, you've seen links on Twitter, maybe you've had friends rave about it. If you're Pinterest-curious but just don't know where to start, don't worry - we've got your crash course, right here.
Pinterest is the hottest social site of 2012. They've got over 10 million registered users, their number of daily users has increased by more than 145% since the beginning of this year and they're still in an invitation-only beta stage. So, what exactly are these millions of people doing on Pinterest?
Being inspired. Getting organized. Shopping online. Collecting ideas. Uploading photos. You see, Pinterest is like a giant digital cork board. You can create as many boards as you want for any categories you want. Planning a wedding? Having a baby? Remodeling your house? Need ideas for a science project? Planning a vacation? No idea what to make for dinner tonight? Pinterest to the rescue! Simply create a board for each of these topics, download the pin-it add on for your browser and start surfing the web or uploading your existing photos.
Take a look at how Visit Bloomington is using Pinterest. We've got a board for IU Basketball, of course, but we've also got a board just for local beer and wine, one for foodies, family travel ideas, local music and more. We've even got a board dedicated to famous (or semi-famous) people who have ties to Bloomington and/or Indiana University. You can even create boards that multiple people can pin to, such as our Staff Pins board. That could come in handy if you're planning a girlfriends' getaway or a vacation for the extended family!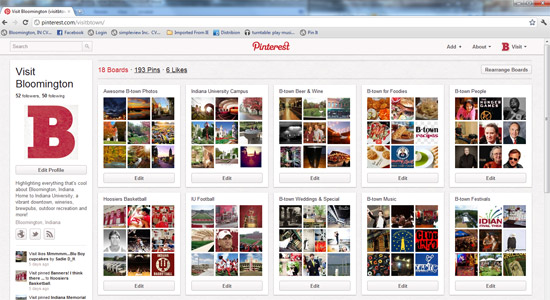 If you think you're ready to take the Pinterest plunge, here's our little gift to you. Instead of requesting an invite through the site itself and waiting days or weeks to get it, simply email us and I'll be happy to send you an invitation to join us on Pinterest. Happy pinning!