Splash into Summer!
Categories: Outdoors, Family Fun
The bustling pace of the Indiana University campus has begun to slow and summer has arrived in Bloomington, bringing with it steamy temperatures and sticky humidity. 
So, how can you beat the summer heat? Here are a few great options for staying cool during your trip to Bloomington: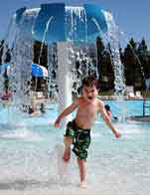 City of Bloomington Pool Facilities - 812-349-3781 
Bryan Park Pool, located on South Woodlawn Avenue, is open 3-7 pm Monday through Friday and 11 am to 7 pm on weekends until June 8, then daily throughout the summer from 11 am - 7 pm. The facility offers a zero-depth activity pool for small children, two waterslides and more!
Mills Pool, located on West 14th Street, is also open from 3-7 pm on weekdays and 11 am - 7 pm on weekends until June 8, then daily from 11 am - 7 pm. Features include a zero-depth activity pool for small children, water basketball, a waterslide and picnic area.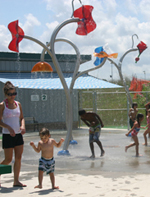 Indiana University Outdoor Pool - 812-855-9584
The IU Oudoor Pool is located on Fee Lane, just north of 17th Street. Open daily through Sept. 5 to both students and non-students alike, the IU Outdoor Pool features open swim times, lap swimming, volleyball and pool side relaxation. Discounted multi-day punch cards are available.
Karst Farm Park Splash Pad - 812-349-2800
Open daily through Sept. 12th, this Monroe County Parks facility is a great way to splash the day away! The facility is located west of Bloomington in Karst Farm Park and offers lots of fun water features on a concrete pad, rentable shade canopies and an adjacent picnic area with playscape.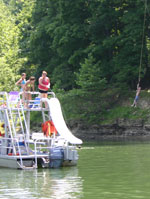 Lake Monroe - 812-837-9546
For the ultimate in summer fun, head for Indiana's largest lake - over 10,700 acres of water await you at Lake Monroe! The lake has two on-site boat rental facilities and unlimited opportunities for fun in the sun including boating, fishing and swimming and even a nature center.
So head for Bloomington to splash into summer... 
and don't forget your swim suit!