St. Patrick's Day Specials in Bloomington
Categories: Wine & Culinary, Events, General
Disclaimer: Due to the ongoing COVID-19 pandemic, we realize some visitors may not currently feel comfortable dining inside restaurants. In the meantime, please support your favorite local restaurants with carryout or delivery instead! Be prepared to wear face coverings, practice physical distancing, and call ahead as hours of operation may be different than posted. Above all, thank you for supporting Bloomington's restaurants and shops.
Lá fhéile Pádraig — Happy St. Patrick's Day! Everyone's Irish on St. Paddy's Day, and Bloomington is no stranger to celebrating the iconic cultural holiday.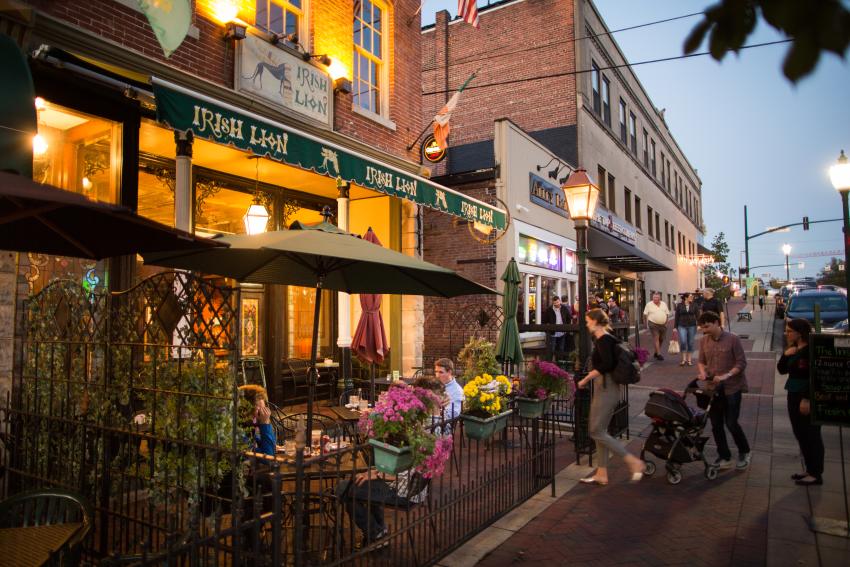 Irish Lion
If you can't make it to Ireland, heading to Irish Lion is the next best thing. While the authentic Irish restaurant will not be serving green beer, they will be serving pints of stout in Guinness Imperial pint glasses, which you can keep, while supplies last. In addition to the pint glasses, the restaurant is also giving away t-shirts, party favors, and more. Traditional Irish meals, including bangers & mash, corned beef & cabbage, Celtic stew, coddle, fish 'n' chips, Shepherd's pie, Blarney puffballs, Reubens, and more, will be served all day, along with a variety of drink specials.
Irish Lion recommends making a reservation if you plan to visit the pub for the holiday. If you're not ready to celebrate in person, the restaurant is offering a carryout party package that you can order online, which includes Irish food favorites, St. Patrick's Day party favors, and more.
 
Uptown Cafe
Uptown Cafe is celebrating the Irish by serving up corned beef and sautéed cabbage with a side of horseradish sour cream for lunch and dinner. They're also offering two Irish-inspired cocktails: the Tipperary (Powers Irish Whiskey, Vya Sweet Vermouth, Green Chartreuse, Angostura, and Orange Bitters) and the Gaelic Maid (Drumshanbo Gunpowder Irish Gin, St. Germaine, lime, and cucumber).

Lennie's
Lennie's is offering an Irish-themed three-course menu on both March 16 & 17 from 4:00-9:00 pm. Appetizers include potato leek soup, cod cakes, and Irish pub cheese & soda bread. Choose from stout beef stew, stout seitan "beef" stew, and corned beef & cabbage for your entree. For dessert, enjoy an Irish whiskey cake. Don't forget to order a Bloomington Brewing Co. beer to wash down your St. Paddy's Day fare.
 
Yogi's
Yogi's is starting the celebration as soon as the sun rises with a St. Paddy's Breakfast Club! Starting at 8:00 am, Yogi's will serve slow-cooked corned beef brisket with swiss cheese, seasoned cabbage, and a tangy Irish dressing. Drink specials include $3 Jamesons, $3 Tropical Bombs, $3 Whiteclaws, $4 Irish Car Bombs, $5 Guinness pints, $5 Three Olives Doubles, and $5 PBR and Jameson shots. Don't forget to grab one of their limited edition St. Patrick's Day t-shirts on your way out the door!
 
Truffles
In the mood for a fine-dining experience? Head over to Truffles this St. Paddy's Day. The restaurant is serving house-made corned beef with cabbage, root vegetables, and soda bread. You'll definitely want to save room for dessert, which is a house-made pistachio cheesecake. Is your stomach grumbling yet, or is it just us?
 
Smokeworks
If you're craving a sweet, boozy treat that would make for an incredible photo on the 'Gram, look no further than Smokeworks this St. Patrick's Day. While the restaurant isn't serving a complete Irish-themed menu, they are serving a spiked milkshake called the St. Paddy Wacker. The shake is made of white rum, gold rum, ice cream, Woodruff syrup, and Lucky Charms. Head to their Instagram to see just how photo-worthy the treat is!

Nick's English Hut
Are you seeking out festive green beer? Nick's has you covered! The pub is offering $4 24-ounce green-dyed Bud Light, in addition to $3 Jameson shots and $5 Guinness pints. Want some grub to go with your beer & spirits? Order their corned beef with cabbage, potatoes, and parsnips for $13.99.
 
Feast Market & Cellar 
In the mood for an incredible Irish dinner? Look no further than Feast Market & Cellar. The restaurant is offering a special menu on St. Patrick's Day from 5:00-9:00 pm, which includes deep-fried deviled eggs and an Irish bread & cheese plate to start, as well as corned beef short ribs & cabbage, an Irish patty melt, a Reuben sandwich, and a double-cut pork chop with Irish whiskey glazed carrots & cabbage main course options. 

Two Sticks Bakery
Looking for a fun way to celebrate the holiday with your kids? Stop by Two Sticks Bakery for shamrock-shaped sugar cookies on Tuesday and Wednesday! Be sure to arrive early, as their sweets fly off the shelves at an impressive rate.
 
Switchyard Brewing Co. 
If you want to celebrate St. Paddy's Day very casually, head over to Switchyard Brewing. The brewery is serving an Irish-themed pizza all month, called the Irish Goodpie: cabbage, sweet potatoes, basil, and pesto. Order a flight to wash down the 'za, and be sure to raise a glass to the Irish legend himself.

La Una Cantina
Craving Mexican food, but also want to celebrate the Irish? Stop by La Una Cantina! The restaurant will serve three special St. Paddy's themed shots: the Nutty Irishman, the St. Peppermint Patty, and the Baby Guinness. Grab some tacos, toast to the Irish, and enjoy a delicious meal inspired by various regions of the world.

Upland Brewing Co.
Upland is celebrating St. Patrick's Day for the better part of the week! Stop by Wednesday through Saturday for their newest Switchback release, Export Stout, and pair it with their house-made Irish entree: slow-cooked Champagne Velvet braised brisket with potatoes O'Brien, flash-fried cabbage, fresh rosemary soda bread, and a Bad Elmer's Porter mustard. If you want to experience the meal but aren't quite ready to dine-in, Upland is offering a carry-out option.

Cardinal Spirits
If you're in the mood to celebrate from home, Cardinal Spirits has just the thing for you. Starting on Tuesday, the distillery is offering a cocktail-to-go: the Green-Eyed Lady. The drink is made with their Tiki Rum and Valencia Triple Sec, plus kiwi syrup, lime juice, and mint. Bonus: proceeds from the cocktail sales will benefit IU Health Positive Link, a local organization that provides primary care and holistic services for those impacted by HIV in Indiana.
 
Crazy Horse
Seeking great Irish food and drinks at great prices? Head to Crazy Horse this St. Paddy's Day! The pub is offering three different Irish meals, all for $12: corned beef & cabbage, a Reuben sandwich, and an Irish coddle bowl. Drink specials include $3 Jameson, $2.50 Paddy's Irish Whiskey, $5 Irish Car Bombs, $7 20-ounce Guinness pints (bonus: you get to keep the glass!), and $3.75 green beer pints.