Staff Picks: Best Spring Break Ever!
Categories: General
Every year about this time, we start getting antsy. Winter has lost its snowy luster and is more like a heavy ice block weighing us down. So when March hits, we start thinking about spring, and spring break; a chance to take a little breather from the hum-drum that's been playing monotonously since we blew the kazoo at New Year's Eve. It's time for a vacation! Vacations are good for the soul, they let us relax, experience new things, un-experience the daily battles of everyday life and basically just refresh our spirit.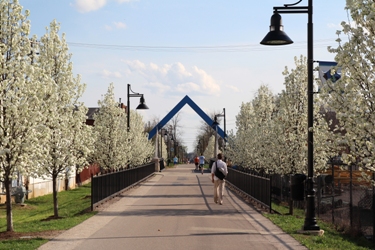 The blooming B-Line trail in spring.
Since it's that time of year, I asked our staff to share some of their favorite spring break experiences. This post may be a bit of a departure from our typical stuff, in that we won't just be talking about Bloomington area activities.  I mean, some of us will (because some of us never get to go on spring break trip *sigh*) but we're broadening our horizons, as travel often does, and remembering any fantastic getaway.  So here goes.
Erin - Las Vegas, my senior year at IU.  We stayed at New York, New York, I gambled for the first time in my life and couldn't believe you had to pay people to give you hand towels in the bathrooms at the clubs.  I still remember the view of The Strip from the balcony of the Foundation Room at Mandalay Bay. 

Teal - I don't have many memories of taking Spring Break vacations with my family, my Dad was a teacher and our spring breaks never lined up.  Even when I got in college I preferred to stay in Bloomington (and work at our visitor center's front desk!) to pick up some extra work shifts and save my money.  IU spring break is one of those magical weeks in town when you can walk into Village Deli or Wee Willie's without a long wait for breakfast or have a chill night at some of the bars for a night out. 

Mike - We drove down to Gulf Shores, Alabama in 2014. We rented a drama-free house there on the beach with my wife, four daughters and two dogs.

(Drama free with that many women and animals? That is pretty amazing.)

Marcia - It's been a while but my best spring break was in Jacksonville, Florida. Staying in a house near the beach, drinking fruiting drinks and taking in the sun!

Abby- When I was a sophomore at Earlham College, three friends and I went on an epic hiking trip in the Great Smoky Mountains for spring break. We trained by carrying heavy packs around campus, packed a ton of food, and made the best mix CD I think I've ever heard, then drove down to Tennessee for 6 days. The biggest lesson I learned was to buy an official map from the National Park -- the one we had was wrong, and ended up taking us through 37 rivers & streams and way off the trail. We even heard a bear at night!

Ryan - In my senior year of high school we drove  a '79 Buick down to Florida packed with 7 people and only returned home with 6. He made it back eventually but we're not sure how... 

(I don't think we want to know how!)

Julie - Only once did I go somewhere for spring break and it wasn't that awesome so I'll just say that staying home (especially in Bloomington) for spring break is very relaxing, with less traffic and crowds, and somehow, the weather is always beautiful that week, as if Mother Nature is showing mercy on us poor, pitiful souls that don't get to go anywhere. And it's always cold and rainy the following week, which, I think, is retribution for the tropical debauchery that surely took place during some other person's spring break.

Laura - I can name that spring break in five words: sand, water, sun, books and family!
Our staff is a fascinating bunch, aren't they? Some grand adventures, some relaxing getaways, some peace and quiet at home - all great ways to spend a spring break. And if you're thinking of coming to Bloomington this spring, here are all the reasons why you should most definitely do that. No matter what, get out, travel if you can, and enjoy this non-winter time of year!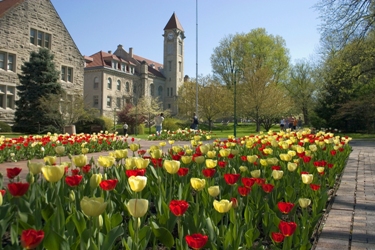 Tulips bloom on the beautiful IU Campus.