Staff Picks: Fall Foliage
Categories: Outdoors
Is Bloomington any more beautiful than in the fall?  One could make the case for the lovely spring scenes with magnolias and tulips, or the canopy of twinkle lights covered in a light snow, or even the lush green canopy of summer.  But to me, this Tree City USA town was meant to be covered in bright reds, oranges and yellows.  And because this is a community that makes green space a priority, there are probably hundreds of places that offer a gorgeous autumn view; even in the middle of town you'll see rows and rows of trees!  And don't even get us started on campus- it's gorgeous this time of year, with trees and mums literally everywhere. I mean, seriously, look at this picture of the Sample Gates- gorgeous!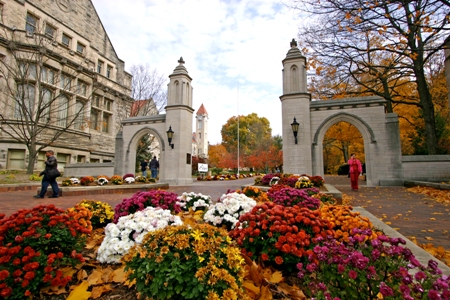 But there are some lesser-known places that offer an especially lovely view of the fall foliage.  So this month, our staff shares their special little spots for taking in the grandeur of fall in Bloomington.
Teal - My favorite way to enjoy the fall & changing of the leaves is a drive down N. Old State Rd. 37 out into the country.This drive isn't complete without a stop for some locally made (award-winning) apple cider from Musgrave's Orchard! If you're looking to stretch your legs, head a little further down the road and go for a hike in the beautiful Morgan-Monroe State Forest. A perfect afternoon in Southern Indiana!

Mike - My favorite place to see the fall color is the Hoosier National Forest around Monroe Lake, Hardin Ridge and of course from the fire tower in the Deam Wilderness. There is no more majestic timber view anywhere period.

Jordan - Around the dam at Monroe Lake. The water always looks much calmer in the fall. Add the changing leaves to that and you've got a pretty incredible scene.

Laura - West side rules! You never know what vistas you are going to come upon as you wind your way through the western portion of Monroe County.Filled with hills and hollers that make leaf watching absolutely beautiful, I would take Harmony Road south off of State Road 45 west (don't be afraid to get lost), have your camera ready and be prepared to be amazed !

Steffi (our intern this fall, and a Bloomington native, so she knows her stuff!) - I like the trail near High Street and Winslow Road. But I also like going to the IU driving range and looking at all the trees over the horizon. And while driving, I've noticed High Street (east of 2

nd

Street) is always really pretty, almost like driving through a tunnel of golden leaves!

Abby - I like to head to Leonard Springs Nature Park since it's an easy one-hour hike, and I can't make excuses about not having time to hike. The thick woods are beautiful, and they look out onto a nice little reservoir. It's never packed with people whenever I'm there. Sometimes I bring my dogs, but beware that there's a big staircase of metal grates and they usually don't like to walk on that, so you might want to head down the trail the other way and double back before you get to the stairs if you have canine hiking buddies.

Ryan - I like road farming: driving around aimlessly on country roads until lost then hope your phone still has a signal. Or grab a blanket, head over to Bryan park and lay on your back under any colorful tree except a walnut tree (ouch). Canoing or kayaking on Lake Griffy is a good way to see the fall colors.

Erin - One of my favorite urban places to see leaves changing is on 4th Street - or "International Restaurant Row" as the locals call it. The way the large trees drape over the street and show their orange and yellow leaves is really something magical, especially in the late afternoon sun.

Julie - Lower Cascades park is amazing in the fall. There are so many big, old trees, plus some cool limestone shelters and picnic tables. You can walk the trails back to the waterfall for a wilderness-in-the-city experience or just hang out at the sweet playground with the kids and enjoy the backdrop of trees.

Marcia - My pick is Monroe Lake via boat. It's so peaceful to be riding along and see all the fall foliage and wonderful colors of fall. The hillsides provide a blanket of never ending color.
So many options! You can drive, boat, canoe or hike in every corner of Monroe County and see beautiful autumn colors. And as Ryan noted, "these scenes go well with pumpkin flavored everything." So grab a pumpkin latte, cupcake, or a real pumpkin and enjoy the fall in Bloomington!