Monday, November 10, 2014
Staff Picks: Family Feasts
Categories: Wine & Culinary
Maybe it's just me, but the month of November is dominated by one thing: food. Yes, there's shopping and football and even basketball, and, oh yeah, family, but really, the one thought that's constantly floating through my mind is food. After all, Thanksgiving is the big-daddy holiday this month. (And I recommend checking out our blog post about restaurants that are open on Thanksgiving, in case cooking turkey ain't your thing.) But any time is a great time to get together with the family for a meal. So this month, our staff is sharing their favorite restaurants for group gatherings.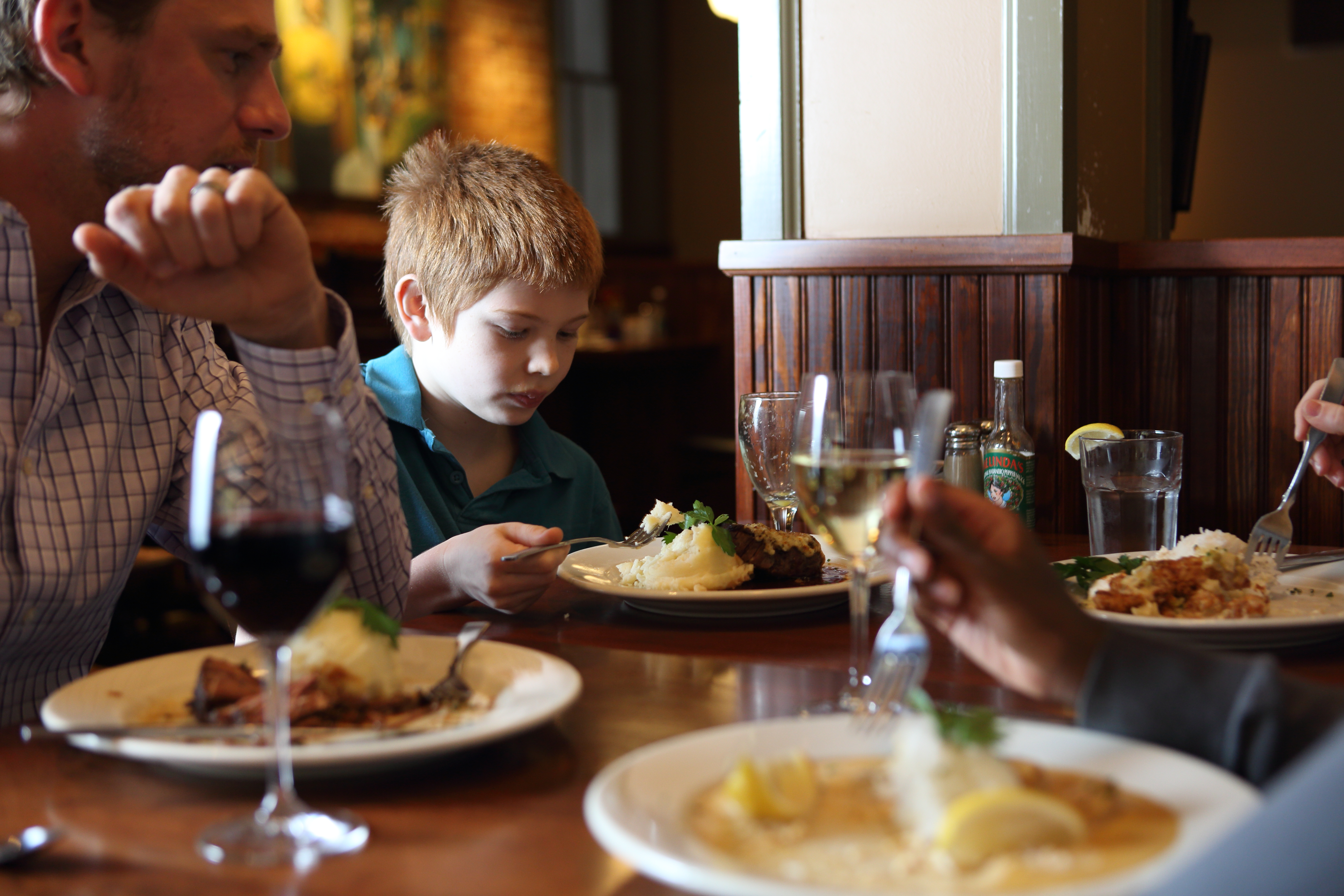 Erin - There is a great oak table that's perfect for family dining at Uptown Café. 

It comfortably seats six and I like it because it reminds me of the dining room table at my parent's house. 
Steffi - Whenever my family and family friends all want to go out together we will normally go to Casa Brava or Mother Bear's. At Casa Brava, they'll provide endless chips and salsa which is always perfect for a group, plus they have large enough sections to accommodate a larger party. Mother Bear's also has tables for a larger party and they have a variety of sizes of pizzas, so it's great for a group to share and try different pizza options in a casual atmosphere. Don't forget the breadsticks as well!
Laura - My newest exciting, delicious, dining discovery is Max's Place, located downtown on the square. I initially thought this was just a pizza place, but quickly discovered the menu is varied with tons of salad and sandwich options. (You can't go wrong with the pizza though). There is a small bar in the back for those over 21, but the reason I like this place is in the main dining area there is lots of room to spread out with tables available for larger groups/gatherings, and most importantly for some, very family friendly before 10pm. There are several video games tucked in the corner for the kids to enjoy. Later in the evening they have live music so gather with your friends and enjoy the entertainment with a few craft beers, or come earlier and let the kids play. Either way you can't go wrong.

Teal - There's nothing better than brunch, except maybe sharing brunch with friends and family! The perfect place is  Chapman's Restaurant  for their brunch buffet on Saturdays and Sundays from 10am-2pm. My favorite place to sit is in one of their back rooms that you can reserve for bigger groups. They have huge floor to ceiling windows that go the length of the room and partially around another wall. It's magical to watch the snow fall while you're sitting cozy eating chocolate chip pancakes and catching up with loved ones! Did I mention there's live piano music most weekends? It doesn't get any better than that.

Ryan - FARMbloomington has something for everyone from an amazing seasonal 

vegan plate to (presumably delicious) meat pies, and bison steaks. 

The Owlery

 also has vegetarian comfort food that satisfies (most) carnivores too. For after dinner treats be sure to check out 

Rainbow Bakery

 and 

Hopscotch Coffee

!
Marcia - I'm going to go with Lennie's. It's small but large enough to accommodate a small to medium size group. Atmosphere is cozy and warm. It's sophisticated but easy going. The tables are such that you can talk without shouting or being limited to the person sitting next to you.

Mike - With four kids we love Max's Place for a family dinner because they have great locally made pizza that all of us enjoy. The Crossroads and the Homey Roasted are two of our favorites. They have live music and there are always families in there having a good time, plus it's located on the square in downtown Bloomington and that's the coolest place in the world.

Jordan - If you're looking for a hidden gem, Mike and Dana's is it.  Have you ever eaten a multi-course meal in a warehouse and been hugged by the owner as you walked in?  That's exactly the type of atmosphere you'll get. Located on Industrial Boulevard and spotted only by a small sign that says "This is the Place" above the door, the owners will make you feel like family as soon as you come through the door.  Don't worry about what you'll be having for dinner, because the menu changes every night.  Just know you'll be stuffed! Want to have your favorite glass of wine with your dinner?  You can! You have to bring it with you though... At Mike and Dana's, other than soft drinks, it's BYO Drink.  Reservations are a must, as they're only open for dinner on Monday and Saturday nights, and will serve about 30 people per night.  Have dietary restrictions?  No worries!  Call ahead and let them know, and they'll be more than happy to make something special for you.
Abby - My no-fail crowd-pleaser restaurant is Turquaz Cafe on 3rd Street and Washington. It's a small Turkish restaurant with the best food in the world. You can sit on pillows on the floor around low tables in the traditional style, or in chairs and booths at the regular tables if that floats your boat. I always get the Turquaz Beef Kebab which has more food than you can possibly imagine, plus a never-ending cup of black tea, and of course I finish it off with baklava. Bonus: BYO wine!
Julie - Bub's Burgers is great for the entire family! They can push tables together for a large group, kids get little goodie bags to keep them happy before the food arrives and the burgers are delicious (plus there's other stuff for non-burger eaters). And they have a cute ice cream shop for dessert! And for casual pizza nights, I go with Bucceto's, because their sweet lil' razorback is fantastic!
Get togethers just got a lot easier with this helpful list. So call up Aunt Esther and Cousin Christopher and have a delicious meal together! That's what November is all about.