Staff Picks: Holiday Shopping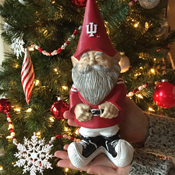 Finding the perfect gift is sometimes difficult, especially for those folks who seem to have anything and everything their little heart could ever desire (my mom for instance). And sometimes it's tough to find something that's really special, that will precisely convey the sentiment of "I think you're awesome" or maybe "You're alright, but I feel obligated to buy you a gift." No matter who you're buying for, the best way to get a gift that will stand out as unique and thoughtful is to shop local. Fortunately, Bloomington has a number of wonderful retailers to help! This month, our staff is giving this present to you: our favorite places to find gifts.What a treat!
 
Laura - Greetings is one of my favorite local places to buy gifts. They have fun, quirky items and you can find something for the whole family. T-shirts galore; you can't miss out on any that poke fun of in-state rival Purdue! Plus tons of other great t-shirts to choose from, in all sizes and styles. From IU Gnomes to beautiful jewelry and rows of greeting cards, if you are looking for that off-the-wall, funky gift at a reasonable price, I bet you can find it here!
Jordan - Tracks on Kirkwood is a great place to do some holiday shopping. Where else can you get a Beatles album for your old man and some nice, low-cost, IU and Bloomington gear for the rest of your family? The variety of music, movies and apparel makes it easy to find something for the whole family.
Teal - I like to multi-task as I do my Christmas shopping! There's no better place to do this than at all the great museums in town, and most of them have free admission. My favorite has to be the IU Art Museum on campus! You can wander the galleries looking at world-class art, then have a coffee and peruse all the fabulous items in the Angles Café & Gift Shop.
Maybe you're looking for a great coffee table book or something from a local artist or business? Head over to the Monroe County History Center for books on Indiana wineries, microbreweries, monuments, state parks, and more. They also have lots of locally made food items, cook books, and authentic replica quills, ink, bonnets and more from the 1800's.
Last on my list is for the kids (or kids at heart). WonderLab is fun & educational, and their gift shop is no exception! They have something for kids of all ages, including classic toys like Lincoln Logs or science kits and tech toys. (Teal is a serious shopper!)
Ryan - Indiana Running Company for running clothes, stocking stuffers and shoes. J.L. Waters for camping gear, fancy outdoor clothes, flashlights, maps, and field guides. The Army & Navy store is good place for stocking stuffers - gloves, hats, pocket knives and backpacks. And Bloomingfoods has some cool gifts like travel coffee mugs, cooking equipment and wine!
Marcia - I like By Hand Gallery in Fountain Square Mall and Apropos on the west side of the square for unique jewelry and other gift items for the hard-to-buy-for. Goods for Cooks for unique cooking items that are hard to find or offer a one-of-a-kind usage.
Mike - I have five women to shop for and my go-to places are Global Gifts, Cactus Flower and Greetings. They have a lot of handmade and unique, but inexpensive, jewelry and other fun merchandise that my family likes.
Carol - The Convention Center to purchase Downtown Bloomington Inc. Gift Certificates - the perfect gift for many on your list, including Santa himself. Good at almost 80 shops, restaurants, and services, the certificates can be purchased in $10, $20, and $50 denominations. We've been doing this for several years now and believe that it is a great way to support our wonderful downtown businesses as well as offering a way to please that person on your list who has you stumped. (This may be the best idea yet!)
Abby - If your family likes eating, and I guarantee they do, then you should check out Goods for Cooks on the square. They have such a diverse array of kitchen goodies, I could spend hours just admiring the geniuses who invented all the perfect utensils and pots and such. The friendly, knowledgeable staff makes you feel right at home, and the tasty food samples only sweeten the experience!
Julie - I love the downtown galleries. There are beautiful pieces of art from local and national artists, and at varying price points. And I'm also a fan of gift cards for experiences, like passes to the Comedy Attic or a local theater production. Those experiences are priceless!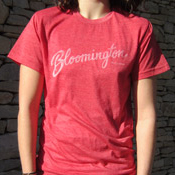 Now that you have this helpful advice, there's no reason your holiday won't be merry! And of course you can always stop by the B-Town Store, located in our Visitors Center on North Walnut Street, to find some locally made items, including cool t-shirts like this one. Happy holidays!