Staff Picks: Romantic Restaurants (and Other Date Night Spots)
Categories: Wine & Culinary
Ah, mon amour, ce restaurant est romantique! For those who don't speak French (and I don't either - thank you Google translator) this month's blog is all about romantic date restaurants. We can't get around it: February 14th is just around the corner and that just brings all the hearts and flowers and chocolates to mind. Of course we've already got a blog post about great things to do for Valentine's (or Galentine's) Day, but this post is going to tell you about the restaurants we love to take our loves to, the ones that invite romance. Oui, se il vous plait!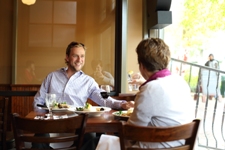 Erin - It can be really hard to get into a restaurant on February 14, so my suggestion is to take your sweetie to brunch on Sunday, Feb. 15 at No Coast Reserve on the east side and indulge in the champagne bottle service. Couple that with some oysters and you've got yourself a Sunday Funday.

Ryan - I recently had the stuffed winter squash with wild rice, hazelnuts and sautéed greens at Finch's and can't stop thinking about how good it was. The ambiance is perfect for a romantic evening and their beer and wine selection is an added bonus. For a less expensive option you can't really go wrong with The Owlery. For dessert, hit up the Rainbow Bakery for vegan and gluten free treats.

Mike - My favorite date place is not a restaurant. My wife and I are big music fans and we love going to shows at several Bloomington venues such as The Bluebird, Deer Park Manor (their Americana series is awesome!), Video Saloon and the Buskirk-Chumley Theater to name a few. But our very favorite place to see live music is at The Bishop. We call it "rock-n-roll date night" when we go out to see music and The Bishop is a small, dark, sort of grungy room where the music can be incredibly loud and always wonderful. Most of the shows there are $15 or less with local, regional and national touring bands playing there several times a week. We've seen some of our very favorite artists including Austin Lucas, Damien Jurado, Richard Buckner and many others. The Bishop has a great beer selection too and it's a cool place to hang out any time.

Laura - C3 is my newest exciting discovery. The service, the atmosphere and last but not least, the delicious food and drink make this a "must" for any date list. The wonderful small plate options make it difficult to choose, but that's what makes it great, order several to share. My particular favorites are the filet sliders and the grilled cheese and soup, comfort food at its best. The cocktails are bold, and for some you might need to be a little adventurous, but there is a wide variety to choose from so everyone should be able to find something they will enjoy. There is also a nice wine selection with the "Wine on Tap" being another interesting concept with several choices. So whether it's a date or you just want to join some friends on the patio, C3 is a place you will want to gather.

Teal - I just love everything about Oliver Winery Downtown's tasting room! The atmosphere is perfect for a romantic night out or drinks with the girls. The soft lighting is just right for unwinding and sipping my usual Blackberry wine, or my new favorite cocktail, the Moscato Momi. Their small plates are great to share; I'm partial to the cheese and charcuterie ones. Then top off your evening with one of their decadent desserts, I recommend the Chocolate Peanut Butter Cup Cake! 

Abby - My favorite place for date night has always been Finch's Brasserie on Kirkwood Ave., just a few steps from the Sample Gates. It's one of the nicest restaurants in town and is worth every penny. I think the servers can read minds - offering impeccable wine recommendations paired with dishes you never knew you'd love so much, like orange-glazed duck wings. The ambience is perfect for a romantic evening.

Julie - I am not a fancy-shmancy type of gal by any means, but when my hubs and I go out for a really special date, I love to go to Restaurant Tallent. It's a sophisticated place, which is a nice change of pace for us, as we are normally wrestling kids over take-out at home. The food is always seasonal and always delicious, and in February, they feature homemade pastas and other Italian dishes, which I love. On a not-so-fancy date night, we hit up the Comedy Attic. The comedians they bring in are top-tier and there's nothing more romantic than laughing together.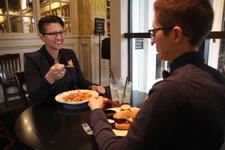 Bloomington has so many romantic options, no matter what your definition of romance might be.  So have a romantic dinner, stop off for a drink of local wine or beer, pick up some chocolates at BLU Boy and you are all set until next February.