Staff Picks: Sledding, Skiing and Skating
Categories: Outdoors, Family Fun
Winter in Bloomington is fickle. Sometimes it's mild and rainy,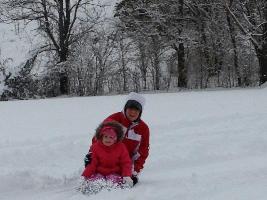 sometimes is frigid cold and snowy. And it can go from one to the other in a matter of days (or sometimes hours). I prefer a snowy winter, when it's less than 30 degrees and the big, fat snowflakes cover the tree canopy so the city looks like a crystallized dream. And the snow covers the ground too, so the hilly landscape then becomes a race track for sleds! And skis, but we're talking the cross country type, not the downhill variety. We thought it'd be fun to share some of our favorite wintertime activities, and the best places to do them.
Jordan - When I was little, we used to go sledding down the hill next to the Monroe Lake Dam. It's extremely steep, so walking up it can be a pretty daunting task, but it's totally worth it. If the snow is right, the plastic saucer type of sled is the most fun...you spin all the way down!

Ryan - I'm a fan of the IU RTP (research and teaching park) for winter hikes because without all the leaves you can get some good views of lake Griffy and the surrounding area. Hike north from the parking area towards Griffy on Huckleberry Ridge trail (.9 miles). Also Leonard Springs is a good pace to see some cool frozen waterfalls (but those steps can be dangerous in icy conditions).

Erin - If there's no snow but you still want to get in on winter sport activities, ice skating at Frank Southern is the perfect opportunity.  It will be a memorable experience and is one that you can easily enjoy with friends, family and/or children. 

Mike - I like to cross-country ski and here are a couple of spots good for that, snow-shoeing or a winter hike. Cascades Golf Course and the Indiana University Golf Course are both wide open, hilly and perfect for cross-country skiing. The IU cross-country running facility is also great for skiing and of course a winter run or hike.

Abby - I'm embarrassed to say that I've never been sledding in Bloomington, so I'm no expert on area hills (though I did buy a sled this year so I'll follow my colleagues advice in this blog). But one thing I love to do is explore the woods when snow has just fallen. My favorite trail is Grubb Ridge Trail in the Deam Wilderness off of State Road 46. The forest feels so quiet and clear when it snows, and the trail is easily wide enough that you won't get lost hiking on it even when it's covered in a fluffy white blanket.

Julie - I love to go sledding and a great place to do it is at the IU Sailing Club and Rowing Center at Lake Lemon (off South Shore Road). There's a nice hill that ends in a long, flat landing, with plenty of space to slow down before you reach the lake. The hill isn't too tall, so kids can make the climb and not get too scared when they reach the top. The view of the icy lake is gorgeous too of course.

 
We're missing a couple of staffers in this blog (they don't sled, ski or skate, apparently) so here are a couple of other options to round out our list. Tri-North Middle School has a great, but very popular hill (there's usually no snow left after the first day). There's construction at the bottom of the hill right now, so sled with caution. Karst Farm Park has some lovely open space with small, rolling hills, which is great for cross-country skiing, and maybe some small sled runs. 
If you've got some suggestions for good places to sled, ski, skate or any other fun snowy activity in the area, feel free to share it!