Staff Picks: Summer Swimming
Categories: Outdoors, Family Fun
July in Indiana means scorching hot days with humidity high enough to be visible by the naked eye.  I'm sweating just thinking about it.  So what does one do to keep cool during these unbearably hot days?  Go swimming, of course!  We're lucky, around here there are plenty of places to go swimming, each with their own unique assets.  So our staff has provided their favorite places to cool off during the summer months.
Mike- The spillway on Monroe Lake is my favorite place to go swimming.  It's free, easy to access, not a lot of people are around, and you can take your dog with you.

 

Jordan- Lake Monroe of course!  The side west of the causeway is great for wakeboarding and tubing, and the east side is good if you want to relax a bit, since it's the idle zone and a little more quiet. 

(Jordan's answer hinges on having access to a boat-but if you don't own one, there are several boat rental places at the lake! Also, the official name is Monroe Lake, but most people reverse it, like Jordan.)
Julie- The splash pad at Karst Farm Park is fantastic for families.  It's not so much a swimming hole (there's no pool, or even pooling of water) but the sprayers are great for cooling off and young kids can take part, which is awesome.  They have a playground right next to it as well, so kids can get wet then dry off zooming down the slides.  And maybe best of all, it's free!
Laura- Hardin Ridge Recreation Area at Monroe Lake is my favorite.  It's a little bit further away, but there is a good mix of sunny and shady areas, and places for kids to play.  There are also trails nearby for hiking, and camping sites too.
Teal- I LOVE the IU Outdoor Pool!  I have great memories of the one summer of college I worked as a lifeguard and taught swim lessons. They have lap swimming in the mornings and then open it up for recreational swimming in the afternoon, and have a separate shallow pool for the little ones.  My favorite part is the diving well.  They usually open up the 1, 3 and 5 meter platforms for jumping...it's the only pool in town where you can jump off a board that high!
Ryan- I like to go to Grubb Ridge trail head in Deam Wilderness and hike off-trail (north) to Monroe lake.  There are countless "private beaches" along the shoreline.

Erin- The IU Outdoor Pool is my favorite.  It's got a great pool deck with lots of chairs to layout out and good music over the PA system!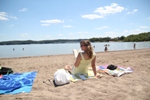 So many options!  There are several other public swimming pools and beaches worth checking out, including Bryan Park pool (an excellent family option with water slides and zero-depth kiddie pool), Jellystone Park (they have a cool new splash zone) and Riddle Point Park at Lake Lemon (an excellent beach with less traffic than the Monroe Lake options.)  So the question is, where do you like to splash around?