Wednesday, September 10, 2014
Staff Picks: Tailgating
Categories: Indiana University
Ah, fall. It's got to be my favorite season, followed closely by Christmas (which is a season, thank you very much). I love pulling out the comfy sweaters, attending the plethora of fall festivals, watching the lush tree canopy that covers Bloomington turn to a fiery orange and red, and attending IU Football games. And maybe just as fun as the actual games is the tailgating. Even though we aren't the dominant football team in the conference (though I am every hopeful we will be, someday) we can tailgate with the best of them!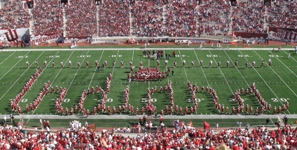 In celebration of this fantastic fall season and the glorious tailgating opportunities now available, our staff will share their tips for having a success tailgate. Now, some of our staff are not tailgating pros (it does take practice) so they're sharing some tips on other ways to enjoy football games while in Bloomington, even if you're not at the football game.
Jordan - I like to set up in the grass lot between Fess and Woodlawn. There are plenty of flat spots in that area, so it's perfect for playing cornhole and those other classic tailgate games, and just right for setting up a grill and cooking juicy burgers.

Mike - Tailgating in the grass lots is more fun for the kids, with more room to run and play. But even if you're sans kids, there's plenty of entertainment in people watching (those students put on a show). And I bring salsa con queso, veggie chili and 7-layer dip to go with my chicken wings. And good beer, like an icy cold growler of Ruby Bloom from BBC.

Teal - My favorite place to "tailgate" now as an alumna who lives in town is Nick's! You can go with the family and sit downstairs or head upstairs with your friends, and always order some Sink the Biz fries!

Erin - The best place to tailgate is in the RV lot near 17

th

and Dunn. I tailgate with my friends who have a vintage, gold Winnebago named Hoosier Gold. That's where the party is at.

Marcia - I don't tailgate much these days, but I enjoy the grassy areas over the paved or gravel areas.

(Note: there gravel areas are all gone, because IU Athletics paved the north lot this year. There are also some grassy areas in that newly paved lot- more places to play cornhole!)

You have to do a pitch-in too, so there's a good variety of food.

Laura - There is great atmosphere for tailgating no matter where you are around Memorial Stadium, but some spots are reserved so it's good to plan in advance

(see link at bottom of post

). My favorite spot is along 17

th

street, in the grass in front of Assembly Hall. And I keep the food and drink simple: a cooler with an adult beverage, plus snacks or a pot of chili kept warm on the grill.

Abby

(our newest staff member, let's see how well she answers her first blog question)

- If your favorite part about football is that it provides an excuse to consume tasty snacks and chilly beers, then you'll want to follow me to Yogi's on 10

th

Street. They have plenty of TVs to keep all the football fans engaged, but they also have a marvelous selection of beers on tap and some of the best wings in town.

(Not to shabby, Abby.)

Julie - I've tailgated on every side of the stadium and I think my favorite is between the stadium and Assembly Hall. Tons of people, you can watch the "Walk to the Rock", and watch the students across 17

th

Street act like, well, students. If I'm taking my kids, I like the lot between Assembly Hall and the tennis pavilion, it's a little less busy so we can spread out and not worry about traffic. And I pretty much always have some Upland beer on hand.

Ryan - I'm not much of a tailgate guy, but I've got a few tips to make it more fun: bring a hacky sack (mark my words, the hacky sack is making its return); don't forget the veggie burgers; leashed dogs make everything more fun; wear red or risk being on the wrong side of tribal retribution

(he's kidding, Hoosier fans are incredibly hospitable and friendly)

; bring a lawn chair for people watching; invite your crazy uncle, as 9:30am with a beer in his hand is when he really shines.
So there you have it, our favorite places to tailgate, plus a few other random tips and tricks. It's a fun time, and the entire game day experience has been amped up over the last few years, with some great programming, facility upgrades and general positivity beaming from the IU Athletics personnel.  It's pretty awesome, for hard core fans and those who just enjoy the atmosphere. Check out the IU Hoosiers football fan guide page for all the logistical details of attending a game, including costs, traffic patterns and where not to park. And make sure you sign up for our countdown to kickoff contest for a chance to win two tickets to a game this season!
Now, where do you tailgate or watch the game?