Staff Picks: The Best Things About Student-Free Summers in Bloomington
Categories: Wine & Culinary, General
Every May, something glorious happens to Bloomington: the students leave. Specifically, the large mass of energetic, creative, fun and sometimes overwhelming IU students. Those of us who live in Bloomington year-round take a collective deep breath that Monday in May after graduation. It's not that we dislike the students-after all, Bloomington wouldn't be Bloomington without IU and all those amazing students-but it's like having summer vacation as an adult. Things are just a little more chill. So I asked the Visit Bloomington staff to share their favorite things about Bloomington in the summer, and here's what they said:
Teal - Mother Bear's! It's so much easier to park and much less crowded once the students leave.

Julie - The Bluebird is great in the summer. I swear they book less cover bands, and instead get more original bands with a little more variety, and bands that are geared towards "older" people (like those of us over 25).

Mike - Breakfast at Village Deli on the weekends is much more relaxed (and faster, if you can believe that) in the summer, and I can drive down 10th Street any time!

Tosha - My favorite thing to do in Bloomington during the summer has less to do with the students being gone, and more to do with the warmer weather! Hiking at places like Little Africa, Leonard Springs, the Hoosier National Forest and Beanblossom Bottoms usually tops the list for my family - though outdoor dining is a close second (including frequent trips to the Chocolate Moose and local wineries).

Jordan - Sitting on the patio at Upland is something I look forward to each summer, and it's only a 10 minute wait versus the 45 minutes during the school year. It's also great to run through the beautiful IU campus and not weave in and out of students!

Laura - There's a 99% chance of getting outdoor seating at one of your favorite restaurants on the first try. Bloomington in general Is pretty relaxed, but in the summer, it is hard to describe the chillin' cool time to be had here!

Erin - I enjoy going to the IU Cinema and the Comedy Attic. Both are great places to escape the dog days of the summer and tend to be a little less busy than during the school year.

Ryan - Breakfast at the Runcible Spoon on a Saturday morning, a bike ride through (a quiet) campus, The Bishop Bar on a Friday night and a dog walk a the IU cross country course are my favorite summer (student-free) activities.

Marcia - There's no wait at restaurants...or anywhere! Everything is a little more accessible in summer.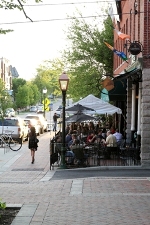 I'm seeing some common themes here. There's definitely less waiting and less traffic, which is nice, but there's also just a serene sense of calm, which makes you want to  get out and do things more often. And there's still plenty to do in summer, so it's a nice balance of active and relaxed.  If you've ever been in Bloomington in the student-less summer time, share your favorite experiences.


 Finding a table outside is a little easier in Bloomington in the summer.       Ahhhhhh.