Staff Picks - Weddings in Bloomington!
Categories: Wedding & Event Planning
Love is in the air, as are beautiful bouquets, fancy dresses and tuxes, and coiffed hair!  That's right, it's wedding season, a time when couples enter that holy state of complete insanity trying to plan the perfect wedding.  No, no, it's a time of romance, of love, of commitment, and yes, stress.  But if a couple can make it through the wedding planning stage, they're bound to succeed through the minor details of life. 
It's probably no surprise that Bloomington is a prime wedding destination, particularly for IU graduates who met their one-and-only on our beautiful campus.  So this month our staff shares their favorite wedding experiences in Bloomington.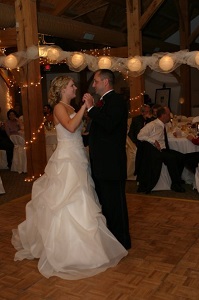 Julie - I've been to two gorgeous receptions at the IMU, in the grand Alumni Hall (and one used the Hall as the ceremony site as well) but my favorite wedding was (of course) my own. It was an outdoor ceremony at Eagle Pointe (very picturesque) and an indoor reception in their banquet hall. It was pretty, fun, and easy- chairs, linens and catering are all available on site.
Teal - My favorite place to attend a wedding in town has to be Deer Park Manor, it's right in the middle of Bloomington, but you feel like you're in the English countryside! I attended a wedding there last summer where they had a traditional Indian ceremony in the morning in the side yard, with another ceremony taking place early evening in the pool room. Deer Park will put a cover over the pool so it can be used as a dance floor for receptions or ceremonies. Then we headed to the backyard for the reception where we had a huge tent covering the tables to shield us from the sun. They can provide tents on site since you never know what the weather is going to do here in Indiana! The expansive grounds leave plenty of room for you to have both a ceremony and reception, without resetting everything or feeling crowded. The landscaping and beautiful 1950's manor provide the perfect backdrop for gorgeous photos and a perfect wedding day!
Abby - Even though farm weddings are trendy, I still like them. I've been to two weddings at two different farms in Bloomington - The Stables and Sycamore Farm - and they were both divine. Indiana is an agricultural state so it felt very appropriate, but both venues are so clean and new that they feel like a hip, Ikea version of the goat farm I used to live on (sans the goats). Bonus: they provide great space for a contra dance.
Pete - My fiancé and I are getting married next spring at IU Auditorium. We chose IU Auditorium because of the location on campus, we were able to have the ceremony and reception at one location, and because of how the staff operates leading up to and on your wedding day. They go out of their way to help coordinate all of your vendors for the event, and the icing on the cake is IU Auditorium provides a staff member for the bridal party for any needs they may have as well as the groomsmen and any needs they may have. They also use these two staff members to help make sure the bride and groom do not see each other before their planned time.
Mike - I went to a fabulous wedding at the Buskirk-Chumley Theater. The bride

 and groom exchanged nuptials on stage and afterwards we celebrated with music, dancing, food and drink throughout the theater. Plus food trucks were set up outside in the street!
If you are planning a wedding in Bloomington, contact our services coordinator Teal Betz.  She can provide "must avoid" dates, block hotel rooms, provide welcome materials for guests and a list of local vendors.  Basically she can lessen the stress and make the happily ever after start before you even take your vows.  Happy planning!