Summer Fun: Paddleboarding!
Categories: Outdoors, Family Fun
There are few times that a new adventure sport shows up in the outdoor world. If you recall the mountain biking revolution of the 80's, you can begin to understand the waves being made by the twenty-first century equivalent - standup paddleboarding. With its short learning curve, versatility on flat and moving water, and peaceful workout, paddleboarding's popularity has exploded all across the country.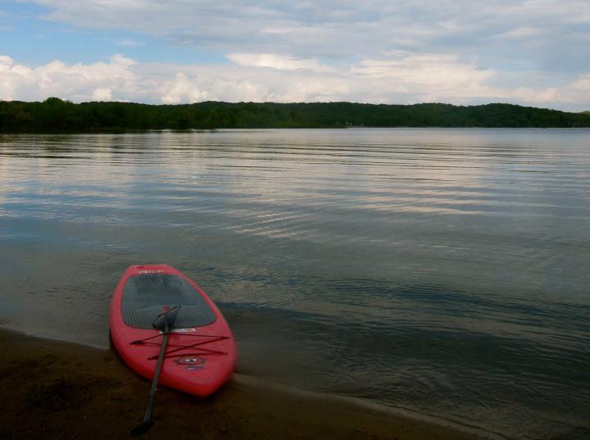 There are a few reasons why I've come to enjoy paddleboarding here in Monroe County. The first is our proximity to open water. Lake Lemon, Monroe Lake, and numerous smaller bodies of water lie within thirty minutes of Bloomington.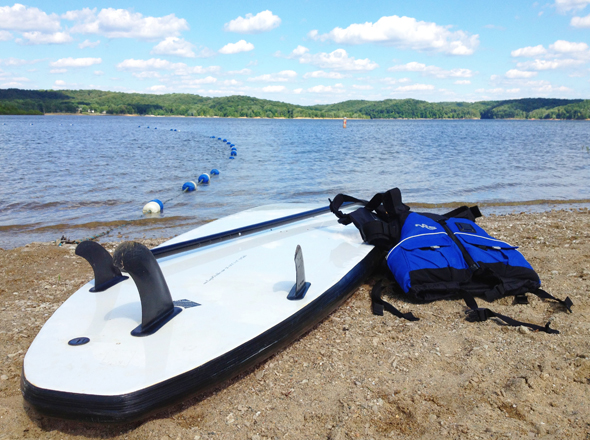 The second reason is the summer heat. As the temperature climbs, my motivation for outdoor aerobic exercise plummets. Being someone who has rarely been able to enjoy a workout with a roof over my head, summer often becomes my downtime. With paddleboarding, the low impact complete body movement of paddling while standing on an oversized surfboard is the perfect option on a hot day. Hopping on and off of a board is as easy as it gets. Paddle, dive off, swim, remount, and repeat.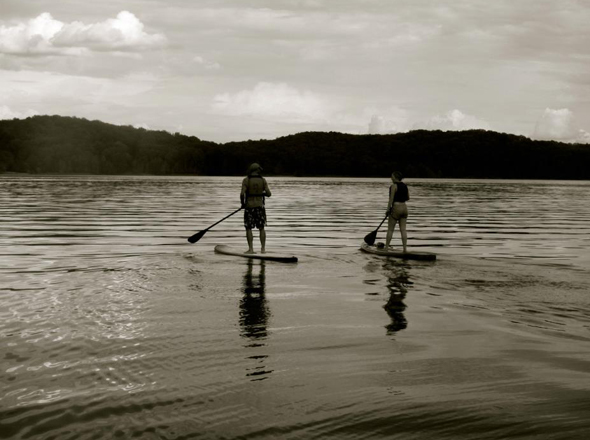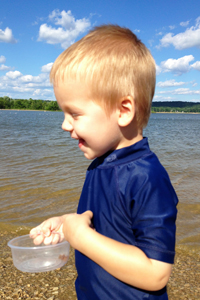 The third reason I enjoy paddleboarding is a two-year-old named Nelson. My son, Nelson, simply loves sitting on the board, seemingly floating only inches from the water. With the board nearly 11' in length and 2.5' wide, there's plenty of buoyancy to bring along my favorite 30lb passenger.
There are a few things to know before you go:
On DNR and state park lakes and reservoirs, paddleboards are classified as non-motorized boats. Purchase and affix an annual

non-motorized boat permit

to your board.

You'll need a PFD at least attached to your board, if not simply worn.

Paddle outside of designated swimming zones.

Fun is mandatory. Standing up is optional. If you are more comfortable staying on your stomach or paddling from your knees, do it! In fact, paddling on your stomach is a good practice until you get into deeper water to avoid falling off into shallow water.

There are only a few locations that sell or rent paddleboards in southern and central Indiana.

IU Outdoor Adventures

, located in Eigenmann Hall on the Bloomington campus, rents a fleet of various size and shape paddleboards. This can be a safe option to understand your board preferences before taking the plunge and purchasing one. The nearest location to purchase a paddleboard is at the recently opened

REI in Indianapolis

.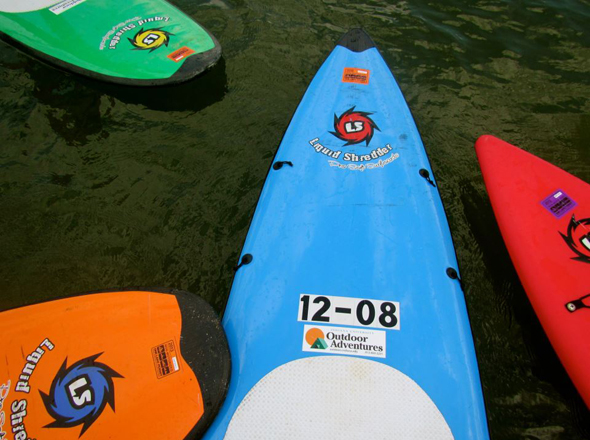 Special thanks to our guest blogger, Dustin Smucker for enlightening us about paddleboarding opportunities in the area. Dustin is the Programs Coordinator with Indiana University Outdoor Adventures. When he's not working, you'll find this outdoor enthusiast in pursuit of local, kid-friendly adventures with his family.