Taste of Bloomington: A "Taste'tastic" Event!
Categories: Arts & Culture, Family Fun, Wine & Culinary, Live Music
Fun, family, friends, good food, charity, community, awesome entertainment-those are a few of the great things you get when you visit the Taste of Bloomington.
I love the Taste of Bloomington for all of the reasons listed above, and especially community. This yearly event has to be the best at bringing the Bloomington community together, from young to old, from rock-n-roll to country fans, and certainly a community that loves to taste a wide variety of good food and enjoys a diverse group of music performances. The Taste is not just for adults, it's an event where families can bring their children for fun activities from community partners like WonderLab and Bloomington Park & Recreation. They have face painting, a bounce house and of course plenty of music for kids to dance to.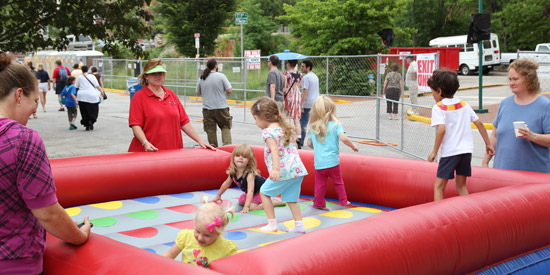 One of the best things about the Taste is that it gives back to the community. A portion of the proceeds from the Taste of Bloomington will benefit the Hoosier Hills Food Bank and the Community Kitchen of Monroe County, to terrific organizations that provide food to those in need. Try good food, give good food!
You have to admit, if you live in the Bloomington area you're spoiled with having the opportunity to experience so many great restaurants. This yearly event gives residents and visitors a chance to taste food from new local restaurants as well. Of course I always go back to my favorite Taste participants that attend every year, to have their best item and try a new menu item that they might be presenting. When it comes to food, the Taste offers about any type of food you can think of: BBQ, Asian, Mexican, Greek, and many others. I should also mention there are plenty of wonderful, delicious, sweet desserts from Bloomington and Monroe County vendors.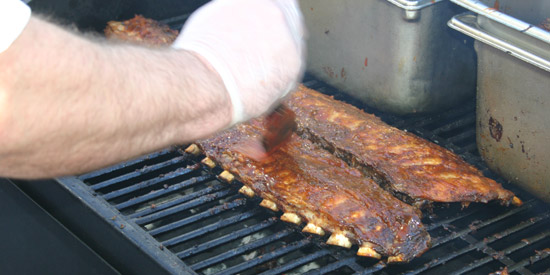 Fun and friends go hand in hand with the Taste. Going to the Taste of Bloomington gives me a chance to catch up with friends I haven't seen for a while or some that I might have seen the night before. I love meeting new people and make new friends. You couldn't ask for a better event that does just that. New community members, families visiting IU for Freshmen Orientation, professionals for conferences, artist for the Arts Fair on the Square, you'll find them all checking out the Taste. The musical entertainment Taste offers is awesome!  I enjoy dancing so the Taste gives me the chance to put on my dancing shoes and be "Gene, Gene, the Dancing Machine".  Maybe dancing to a polka, doing a little two stepping or just air jamming to a local rock band, at the Taste you will definitely find your taste in music.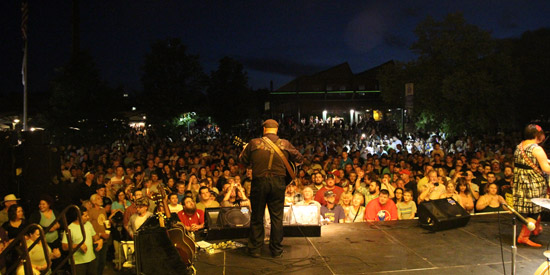 Wherever or whenever I visit another place and I'm asked about Bloomington, Indiana, I always tell them "Bloomington is a small town with a big town taste".  It offers almost anything a major city can offer; a great and diverse community, a top notch university and schools, beautiful and breathtaking surroundings... and it offers one of the largest and best food tasting events in the state, The Taste of Bloomington. This community event is what I call "Taste'tastic!"
Special thanks to our local guest blogger, Gene Harrawood, for this great post. Gene is a long-time Bloomington resident, IU alum and member of the Taste of Bloomington Planning Committee.