The Banana Tree at the BPP
Categories: Arts & Culture
The Banana Tree is a hysterical new comedy by well-known funny people Dan Castellaneta and Deb Lacusta. Both have a longstanding background of improv with the notable group, Second City, and both have written multiple episodes of The Simpsons. What's even cooler is that Dan is the voice of the single most iconic cartoon character of our generation, or at least my generation: Homer Simpson. So these guys both know comedy!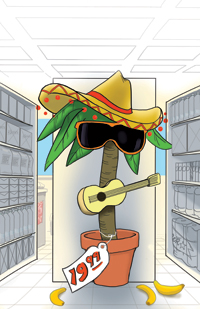 What's most exciting is that this show is going to be born and raised in Bloomington. It's not a play that just happens to be written by two notable playwrights that we just decided to produce. As with all Bloomington Playwrights Project shows, these playwrights are joining us in the production process and will be here in Bloomington to work on making the script better and better. How cool is that?! It's cool. It's very cool. Oh, and Dan Castellaneta is going to play the voice of the Banana Tree!
I don't want to give too much of the plot away since a lot of the fun comes with the ridiculous surprises, but overall the show is about Angela, a convenience store clerk who dreams of being Las Vegas' first African American female magician. But after a series of hilarious run-ins and blunders, Angela finds herself in the middle of a robbery, a kidnapping, and at the mercy of a criminal mastermind that also happens to be a telepathic banana tree. A telepathic banana tree! You don't see that every day. Or any day. 
I especially love that the show takes place in a convenience store - we're going to have a fully stocked store that will be opened before the show where you can shop for concessions! I don't know of any other theatre in the world that's done that! The initial design rendering (below) from our Scenic Designer, Shane Cinal, shows what the set will look like. This design is an early draft so it's missing many of the details that you'll see when it's complete, and of course it's missing all of the snackage. 
Ultimately, The Banana Tree is going to be one of the funniest shows I've ever produced or directed. The cast for this one is truly amazing and we've got a hysterical script to work with. Rarely do you know that you've got a hit before the show opens, but for this one, I know it before we've even started rehearsals. It's going to be fun times in Bloomington when The Banana Tree is open!
Special thanks to our guest blogger, Chad Rabinovitz, for telling us all about this exciting new production. Chad is the Producing Artistic Director for the Bloomington Playwrights Project, the only professional theater in Indiana that is focused solely on new plays.