Monday, November 13, 2023
Bloomington's Coziest Cuisine
Categories: Wine & Culinary
Winter is officially here, and with it comes cozy cuisine inspired by the season's warmth (or lack thereof) and holiday-infused flavors at our local eateries. If you're looking for Bloomington's best season specials and where to find them, you've come to the right place. This is by no means an exhaustive list of every winter-themed dish, drink, and dessert in B-Town, but it'll set you on the right path.
COFFEE & TEA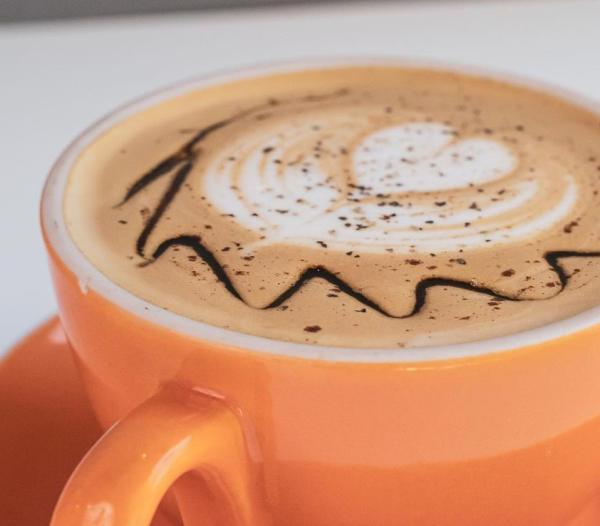 Photo by Needmore Coffee Roasters
Not ready to give up the outdoors just yet, check out Needmore Coffee Roasters and opt for one of their signature Lattes. The Campfire, made with sweet liquid smoke, marshmallow, milk and chocolate, will surely warm you right up. Or try the Hilltopper which combines maple syrup, cinnamon, clove and milk for a cozy sit by the fireplace feel. Looking for other options? Head to Hopscotch Coffee for a sweet & spiced Gingerbread Latte, or make a trip to Crumble Coffee & Bakery for an Eggnog Latte.
Those who prefer tea over coffee should try the Chocolate Cherry Tea from Cup & Kettle Tea Co.  Each coffee shop and teahouse offers an assortment of seasonal specials each year, some of which are new creations and some are favorites that make an appearance each winter!
 
BAKED GOODS & SWEET TREATS
What's winter without a delicious baked treat? Bloomington's bakeries, coffeehouses, and cafes all carry an incredibly tasty assortment of seasonal goodies. Try a Maple Pecan Cookie or Sweet Potato, Zucchini & Goat Cheese Hand Pie from Two Sticks Bakery, whos menu changes weekly, or a Snowflake-shaped Sugar Cookie, a Chocolatey No Bake, or a Special K Chewie from Sugar & Spice. You really can't go wrong anywhere you go — like we mentioned above, every bakery and cafe in town offers a variety of special winter treats that go well beyond what we can list here! 
Some people will tell you, you can't enjoy ice cream during the colder months, but we believe ice cream season is every season. Several local ice creameries agree, offering an assortment of winter-flavored scoops for ice cream lovers to enjoy. Head over to the Chocolate Moose for a Butter Pecan or Grasshopper scoop (don't forget to ask about their vegan options) or for seasonal flavors of Persimmon or Candy Cane ice cream stop in at Jiffy Treet. No matter where you choose, before you order, check out what other seasonal flavors are offered — there usually quite a few!
 
SOUPS, STEWS & HEARTY FOODS
The cozy cuisine doesn't stop at coffee and sweets in Bloomington. If you're looking for something on the savory side, you can't go wrong with Cajun Meatloaf, Seafood Gumbo, or Pot Roast from Uptown Cafe. Taste of India is another fantastic spot to warm up with cozy flavors — their authentic curry, tikka masala, and vindaloo dishes are some of the best international plates in town.
Looking for restaurants that offer seasonally-inspired menus? Look no further than Cardinal Spirits and The Elm. Both restaurants' charcuterie boards are a must — trust us. Cardinal Spirits' grilled cheese and tomato soup is an old classic, and each plate on The Elm's menu is a seasonal delight. 
Winter is also peak soup season, and most restaurants in Bloomington offer an assortment of soups, stews, and chili. Janko's Little Zagreb serves a delicious Cream of Mushroom, and Southern Stone offers soup flights in which you can try three of their wildly tasty rotating soups (which include but aren't limited to Roasted Tomato, Asparagus, Mushroom, and Potato Poblano varieties). If you like to try the chili at every establishment you visit, Bub's Burgers & Ice Cream offers an out-of-this-world cup or bowl, and Lennie's Voo Doo Chili is quite famous as well. 
 
WINE, BREWS & COCKTAILS
We've covered all the food bases, but now we need to shine a light on the incredible cozy cocktails, wines, and beers produced by local brewers, vintners, and distillers. Cardinal Spirits, Bloomington's only distillery, rolls out  seasonal cocktails each year. Try their Stick Season or Plum Sour, all made with craft-distilled liquors, their cocktails are just as beautiful as they are delicious.
You'll find a wide variety of winter-flavored beers at Bloomington's four breweries. Switchyard Brewing Co. offers over 15 rotating beers in addition to a few other seasonal releases. Metal Works Brewing Company offers a Dr. Hops Pumpkin ale, and don't miss Upland Brewing Co.'s Bourbon Barrel Teddy Bear Kisses brew, a variant of the original Teddy Bear Kisses. With over 13 of their beers available and guest taps as well, you'll find something at The Tap to enjoy. There's a huge variety of seasonal beers to try in B-Town, so add winter beer crawl to your to-do list! 
Several restaurants roll out seasonally-themed cocktails as well — be sure to browse menus online before you choose where to feast on winter flavors during your stay in Bloomington.
While we aren't able to list every single cozy winter dish in B-Town, we can point you toward our Restaurant listings tool if you'd like to discover more seasonal specials and browse regular menus. There are many, many, many winter flavors waiting to dazzle your taste buds during your stay in Bloomington!

LOOKING FOR MORE OF B-TOWN'S BEST FLAVORS? CHECK OUT THESE BLOGS: