Monday, February 19, 2018
The Best Winter Dishes in Btown
Categories: Wine & Culinary
When the snow starts to fall in Bloomington, we rely heavily on our unique local restaurants to keep us warm and cozy. Here are a few of our favorite dishes around town that are sure to warm you up this winter. 
This is by no means an exhaustive list of restaurants in town. Check out our restaurant section for all of Bloomington's eateries. 
 
Tomato Basil Soup at Bucceto's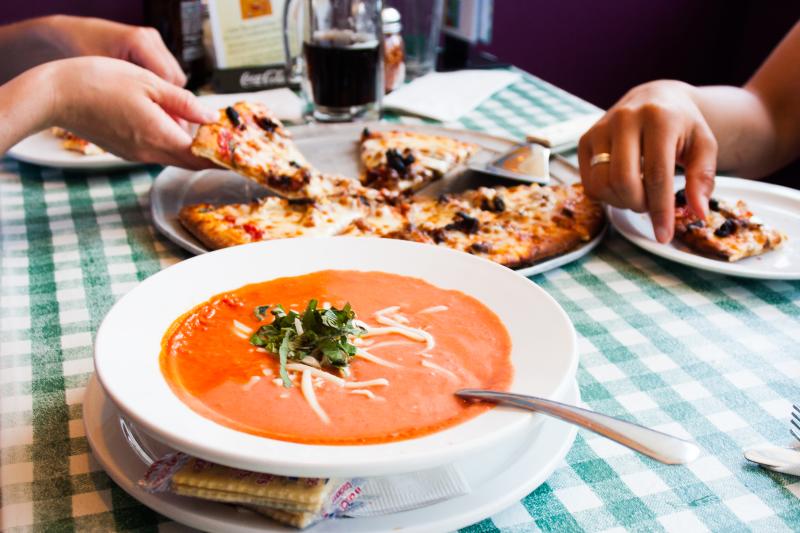 Bucceto's soup has a rich roasted tomato flavor and fragrant basil are poured into every bowl. Seriously it is so good. If you can't decide just order pizza and the soup, or at least some breadsticks. 
 
Kha Pad at My Thai
Khao Pad is great anytime, but the heat of the dish is especially good on a cold day. It's a fried rice dish with Chinese broccoli, onions, tomatoes, green onions, eggs, and your choice of protein, plus customized spiciness. FYI three peppers at My Thai is screaming hot.
 
Celtic Stew at the Irish Lion
Blarney Puffballs and a bowl of the Celtic Stew at the Irish Lion is the BEST non-alcoholic winter warmer in Bloomington. If you are looking for something a little harder to go with your stew, make sure you ask to see their impressive list of whiskey. 
 
Ramyum at Korea Restaurant
Nothing will warm you up faster than the Ramyum dish on the lunch menu at Korea Restaurant on 4th Street! This vegetarian ramen noodle dish comes out piping out in a giant bowl and is spicy to boot. For all the carnivores out there, add pork. Come for the food, stay for the K-Pop music videos playing in the dining room.
 
Hot-n-Spicy Saganaki at Trojan Horse
If flaming cheese dip won't warm you up, we're not sure what will. After the saganaki, try one of Trojan Horse's classic gyros piled high with a delicious blend of savory lamb, beef and spices and Zaziki. If you're vegetarian get the falafel or the V.I.P. 
 
The Runcible Spoon
The Runcible Spoon is in a cozy converted house that is the perfect spot to spend a snowy weekend morning. The Veggie Bennie (2 eggs, spinach, tomato, cheese, and Hollandaise sauce on an English muffin) with a side of home fries (amazingly savory herbed potatoes that will ruin all other home fries for you) is the perfect winter breakfast that will keep you satisfied all morning long. Their coffee is imported and roasted on-site, with unlimited refills. Split a pitcher of mimosas with friends for good measure.
 
Southern Gentleman at Function Brewing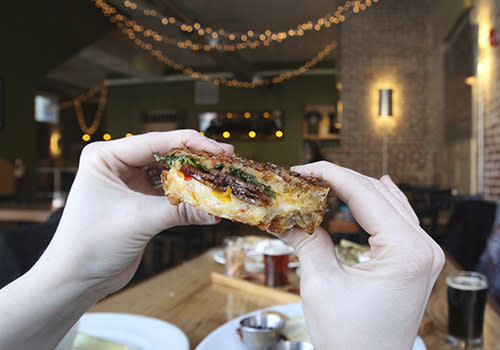 Function's cheesy creation is perfectly balanced oozing with two kinds of cheese, candied bacon from Smoking Goose, arugula, and pickled peppers on crusty jalapeño cheddar bread. Get it with a side of blue cheese slaw (tangy and more cheese duh) and their milk stout to finish it off.