Wednesday, January 20, 2016
The Best Winter Dishes in Btown
Categories: Wine & Culinary
When the snow starts to fall in Bloomington, we rely very heavily on our fantastic local restaurants to keep us warm and cozy. So to help you out on your next cold-weather visit, we asked our staff to recommend the best dishes in Btown to enjoy during the winter. Some of our staff couldn't resist including more than one favorite because (spoiler alert) we all really like food.
Carol: A bowl of the Celtic Stew at the Irish Lion is the BEST non-alcoholic winter warmer in Bloomington. And for breakfast, the steel cut oatmeal at Michael's Uptown Café "builds a fire in your tummy to start the day off right" as my mother used to say.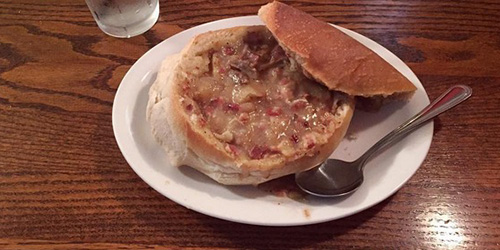 Julie: Khao Pad from Esan Thai. I could eat this pretty much once a week (or more) year-round, but the heat of the dish is especially good on a cold day. It's a fried rice dish with Chinese broccoli, onions, tomatoes, green onions, eggs and your choice of protein, plus customized spiciness (I never go above three, and it's screaming hot!)
Erin: Darn Good Soup is made to fill your stomach and your soul with warm deliciousness on cold winter days. Lentil spinach is my personal favorite, but Chicken Tortilla is a close second. The staff always has smiles on their faces and if you stay to eat inside the restaurant, the music they have playing is usually fun and upbeat.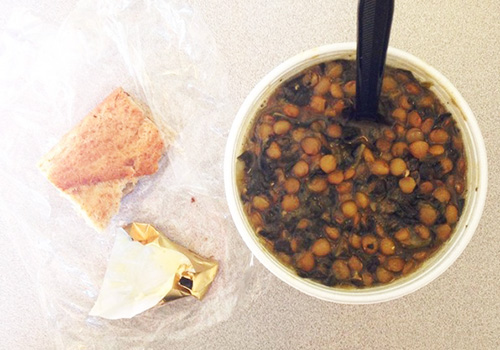 Laura: The grilled ham & cheese at the American Legion is my go to on a cold day, add extra crispy French fries and you will be in heaven. The Legion is open to the public during lunch hours. 
Café Pizzaria is the place to go for a 7" pie with many topping choices. My favorite is sausage, onion, and jalapeño. Add the famous salad with mozzarella and house dressing (creamy Italian) and you will be set. Don't let their name fool you -- from Stromboli to burgers they have much more than just pizza!
Abby: Hands down, it's the Southern Gentlemen from Function Brewing on 6th Street. It's a perfectly balanced hot sandwich oozing with candied bacon from Smoking Goose, two cheeses, arugula, and pickled peppers on crusty jalapeño cheddar bread. Get it with a side of kettle chips and their coffee milk stout for a soul-warming dinner. 
Pete: Asuka is a great option for some hot food in the winter, not only because you can warm up by the giant flame from the hibachi grill, but because the food is cooked fresh right in front of you and placed directly on your plate.  The hibachi chicken dinner is a must, you get to watch the chef cook the white rice into fried rice (scrambled egg and all), and grill your chicken and vegetables.  Don't skip out on the "yum-yum" sauce, personal recommendation is to ask for the "yum-yum" sauce as all three.  (They'll know what you mean).
Teal: Nothing warms me up faster than the Ramyum dish on the lunch menu at Korea Restaurant on 4th Street! This vegetarian ramen noodle dish comes out piping out in a giant bowl, and is spicy to boot.  For all the carnivores out there, I recommend adding pork to it.  Come for the food, stay for the K-Pop music videos playing in the dining room!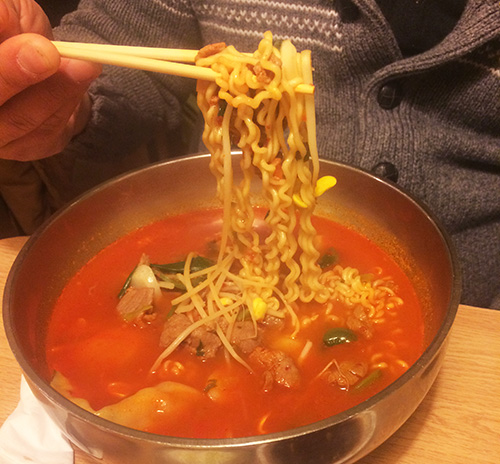 Danielle: My favorite winter dish is as much about the atmosphere as it is about the food. The Runcible Spoon is in a cozy converted house that is the perfect spot to spend a snowy weekend morning. My go-to breakfast is the Tex-Mex Ranchero Omelet (salsa, sour cream, avocado, cheddar cheese, spinach, and tomatoes) with a side of home fries (amazingly savory herbed potatoes that will ruin all other home fries for you). Their coffee is imported and roasted on-site, with unlimited refills. Split a pitcher of mimosas with friends for good measure.