The Greatest College (Pizza) Weekend
Categories: Indiana University, Wine & Culinary, The IU Student Perspective
Guest blog by Sydney Tilford, Director of Marketing for One World Enterprises
Part of Bloomington's immense charm is the plethora of diverse events the wonderful community has to offer. But none is like Little 500, a special weekend in April, rout in tradition, with a palpable energy different from the rest. And that's not just because Pizza X is a proud sponsor with an annual (and totally cool) commemorative cup, mind you. Organized and executed by Indiana University Student Foundation to raise scholarship money for IU students who deserve it, Little 500 is more than a bunch of students riding bikes in an oval.
Trade the bike for a car with an LED-lit topper, and you've got Pizza X's race of the weekend. The Greatest College Weekend also happens to be the Greatest Pizza Weekend. Just another reason to love it.
Our race begins as the lights go down on Bill Armstrong Stadium, and spectators disperse to continue the celebration (read: tradition). As the calls start to come in, our team thinks… we've been training for this all year. It's go time.  Everyone has their station. Everyone knows how long each leg of the race should take. From phone call to the customer's door. Do we know our pizza record? Of course. Will we beat it? Let's hope so. Will we be ready either way? You bet.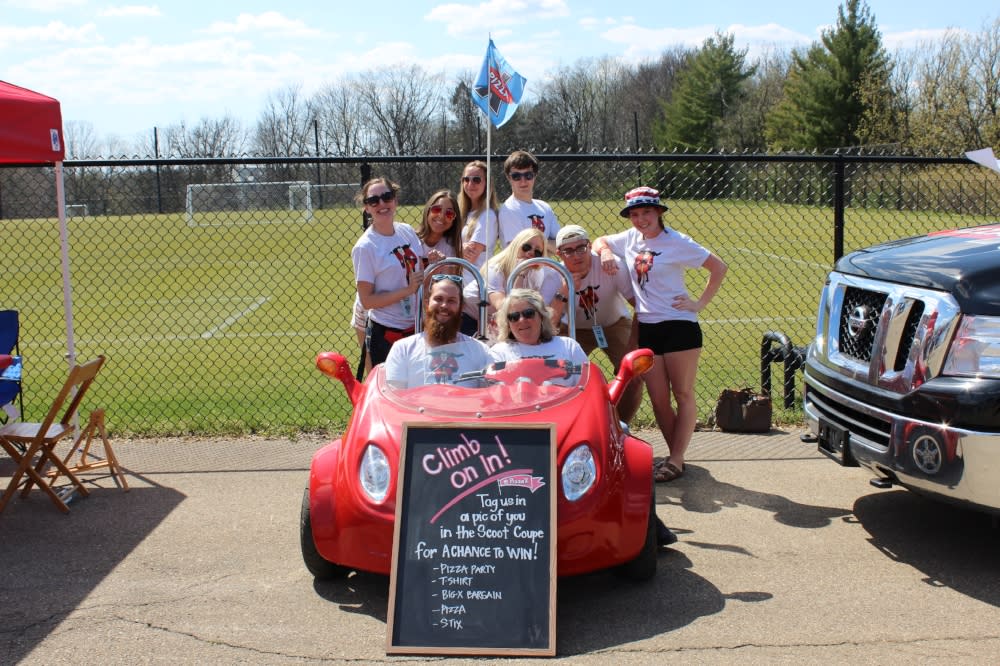 Just like a Girl Scout troop, we are always prepared. Our team knows there will be some road blocks along the way. Gaggles of college students walking arm-in-arm to the next house, Pizza X cup in hand...thanks for the love! Getting stopped for rides to the next party (which we can't do, so thank goodness for Uber!) Still we work hard to make our time, with perfect product and form.
And as soon as the excitement starts, it's over. When the clock strikes 5 (am), we have our own celebration. We may be sore and tired after churning out about 7 tons of dough, but we've crossed the finish line, victorious. Let's all raise a Pizza X cup to another epic Little 500 weekend.