Thursday, February 20, 2014
The Perfect Excuse for a Family Weekend in B-town
Categories: Arts & Culture, Family Fun
Grab your family - kids, parents and grandparents included - it's Indiana Heritage Quilt Show time in Bloomington, Indiana! It's the perfect excuse to bring a couple of generations together to appreciate the artistic beauty of this time-honored tradition and share all the fun and excitement of a Bloomington getaway.
Historically, quilting has long been a catalyst for bonding among friends and families through shared experiences, quilting bees and the passing down of skills and knowledge from one generation to the next. Let the Indiana Heritage Quilt Show become the catalyst for some family bonding among your loved ones! The show takes place March 6-8 at the Bloomington Covnention Center and will feature an amazing variety of quilted works on display, on-site vendors, quilting workshops and several unique exhibits at attractions located throughout the community.
The show itself features several categories of quilts vying for more than $12,000 in cash and prizes. In addition, there will be a special exhibition of works by artist Nysha Oren Nelson, who will also be serving as an artist in residence throughout the show to provide live quilting demonstrations and answer questions.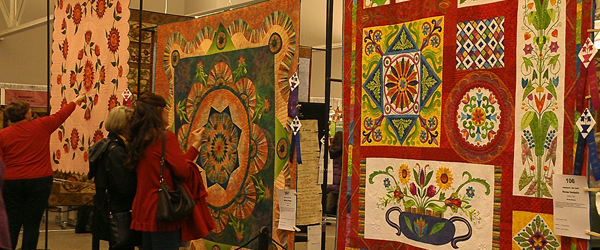 Additional quilt related exhibitions and events in the Bloomington community can be found at the following attractions:
Farmer House Museum will host an exhibit exploring how textile arts have impacted family life in Monroe County and been passed down as family traditions.
Monroe County History Center will present "Cracking the Code: Quilts from the Mid-19th Century," exploring how quilts were once believed to have been used to aid travelers on the Underground Railroad. The exhibit will examine different patterns and their purported meanings across different regions.
Mathers Museum of World Cultures will present a special event on Sat., March 8, at 1 pm. Native American quilts will be highlighted in a "bed turning," a traditional event in which quilters would gather to share their work. As each quilt was shown and discussed, it would be "turned' so the next could be seen.
Old National Bank Gallery will display an exhibit featuring the Art Quilters of Bloomington. The exhibit will highlight a variety of art quilting styles.   
WonderLab presents "Art Quilts by Beth Schnellenberger," a collection of ten original quilts designed, pieced and hand-quilted by Beth Schnellenberger from Jasper, Indiana. The heavily stitched, contemporary pieces of fiber art feature strong geometric shapes, high contrast and bold colors.
Wylie House Museum will exhibit several quilts from the Wylie House collection, as well as others borrowed from friends of the museum. Both 19th and 20th Century quilts will be on display and all will be traditional patters, pieced and quilted by hand.