Monday, February 18, 2013
The School for Scandal - Ticket Giveaway
Categories: Indiana University, Arts & Culture, B-town Giveaways
Our modern culture is obsessed with gossip and gleefully feeds on scandalous behavior...
...and 200 years hasn't changed a thing! Such is the way of the world. Richard Sheridan's comedy, The School for Scandal, has been delighting audiences since its first performance in 1777, sending up a fashionable society whose wheels are greased by gossip and scandal. 
Indiana University Theatre & Drama presents this scandalous comedy beginning this weekend. The show runs through March 2. Believe us, The School for Scandal is one class you won't want to skip!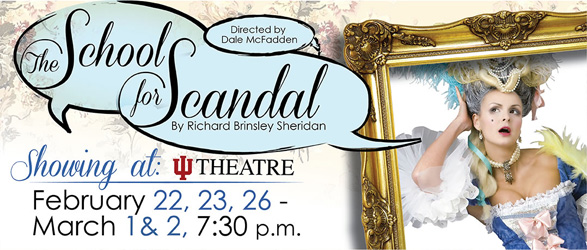 Here at Visit Bloomington, we love it when we hear people talking about B-town and all it has to offer! So, we're giving away two free tickets to see The School for Scandal later this week. Simply leave us a comment and tell us what's so great about Bloomington! Be sure to share your comment on your Facebook page and you'll be entered to win! 

Winner will be chosen at random from all comments received and notified on Wed., Feb. 20. Good luck!