Tuesday, September 24, 2019
Plan the Ultimate Fall Road Trip to Bloomington, Indiana
Categories: Indiana University, Family Fun, The IU Student Perspective, Wine & Culinary, General
Bloomington and IU sports are forever intertwined, and there's no time like the fall to experience them both in peak season. For many, fall means one thing: football. When the leaves begin to turn, and the band starts marching, football fans flock to Bloomington to partake in the thunderous roar of Hoosiers in their element. Whether or not you bleed cream and crimson, these next few months are the perfect time to fall in love with Bloomington—for the first time or all over again. 
Morning Fuel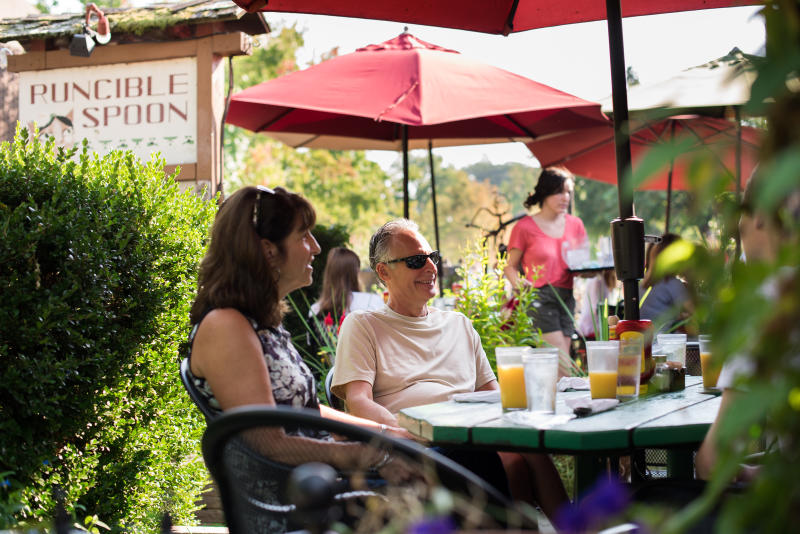 Champions need their breakfast—even if they're just championing from the stands. If you've returned to tour your old stomping grounds, Village Deli and Runcible Spoon for sit-down service and classic morning staples are likely at the top of your list. For a grab-n-go option, revisit iconic Square Donuts or the city's first scratch bagel shop, Bloomington Bagel Company Downtown. For heartier eaters, be sure to try the hulking breakfast burrito at Soma Coffeehouse to fuel you through the day.
If you're looking to see what's new on the Bloomington brunch scene, get a table at The Inkwell, known for avocado toast & show-stopping house-made pastries or Bedräk Cafe for smoothie bowls and breakfast tacos. For a quick pick-me-up, small-batch roastery Needmore Coffee Roasters offers small bites and all manner of caffeine to keep you going strong.
RELATED CONTENT: BLOOMINGTON'S BEST BREAKFAST
 
Daytime Sights
Bloomington never looks better than in the prime of the autumn season, so make an effort to get out and see the town before (or after) game time. Hop on an electric scooter and explore the sites off the B-Line Trail, including one of many farmers' markets happening every Saturday. Take photos at the quintessentially-Bloomington Sample Gates before touring the Old Crescent, home to IU's most historic campus buildings. If you want to go a little further into Bloomington, stop by the Fowler Pumpkin Patch to choose from thousands of pumpkins, take a hayride, visit the petting zoo, or get lost in the corn maze (and see our full outdoor fall bucket list here). No matter where you go, however, don't forget to get game-ready and commemorate the trip with an IU sweatshirt from The Indiana Shop.
RELATED CONTENT: PHOTO-WORTHY FALL FOLIAGE
 
Get Some Grub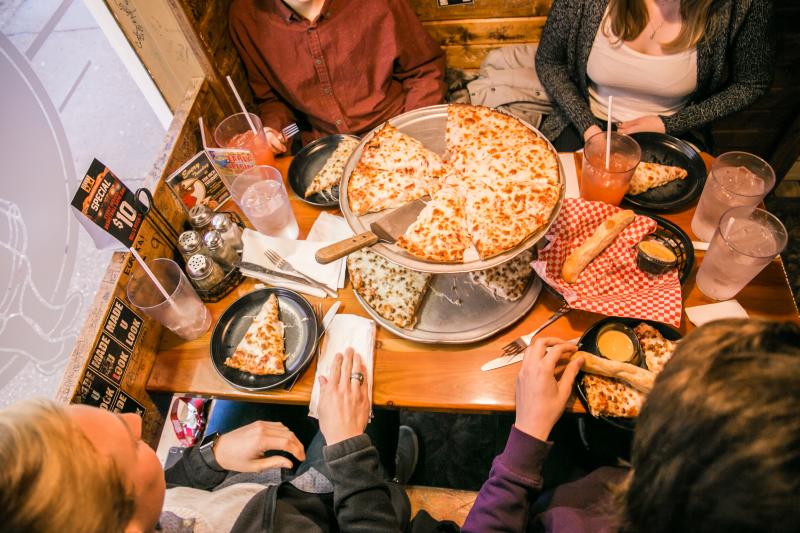 There's no shortage of delectable dinner options in Bloomington—both classics and new favorites. If you're in the mood for pizza, Mother Bear's has been serving up award-winning slices since 1973, or try Lennie's on Kirkwood for a wood-fired take on an old standby. Janko's Little Zagreb has long been a go-to for steaks and an expansive wine list. If you're looking for something casual and classic, BuffaLouie's is a great place to go. They have wings, burgers, and tons of IU memorabilia to hype you up for the game. Added perk: it's only a 20-minute walk from the stadium. Or, skip dinner altogether and head over to Memorial Stadium for some proper tailgating food.
RELATED CONTENT: BLOOMINGTON'S BEST PIZZA
 
It's Game Time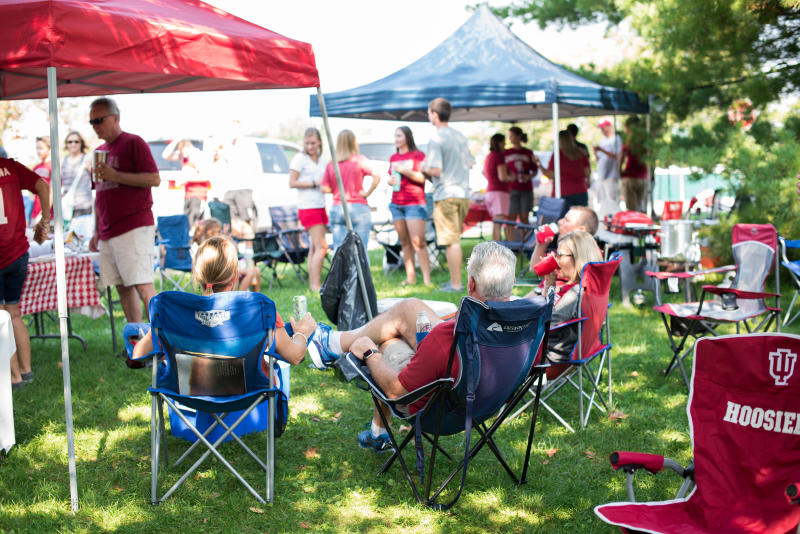 What would football be without tailgating? Come to any IU home game, and you'll find the rich tradition of IU tailgating alive and well in the lots surrounding Memorial Stadium (more details here). Meet everyone from traditionalists grilling hot dogs and playing cornhole to lavishly catered setups arranged by Blockparty, but expect everyone to be donning their cream and crimson best. Come early, grab a plate, and soak up some legendary Hoosier Hospitality.
 
After Party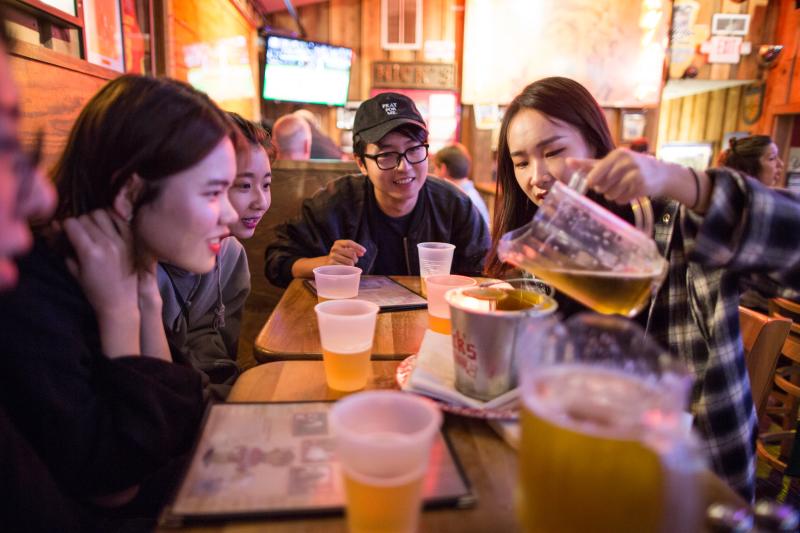 Keep the Hoosier spirit alive long after the final throw. Head to hometown favorite, Nick's English Hut, to try your hand at a game of Sink the Biz, or Upstairs Pub for darts, pool, and a great view of the bustling street below. If you're looking to explore the latest additions to the Bloomington nightlife scene, stop by Atlas Ballroom for top-shelf liquor and service. The new taco and tequila joint, Social Cantina, boasts a selection of more than 125 Tequilas and Mezcals (a perfect smoky libation to compliment the autumn ambiance). When you just need to pop-a-shot, head to the relaxed atmosphere of Video Saloon for pool, darts, and, yes, pop-a-shot. In the mood for some live music? The Bluebird, The Bishop, Blockhouse Bar, and Orbit Room all regularly host bands that will have you feeling nostalgic for late college nights. And if you're craving something sweet in the wee hours after closing, Baked of Bloomington serves up cookies until 3 am.
RELATED CONTENT: FAVORITE BLOOMINGTON DIVE BARS
 
STAY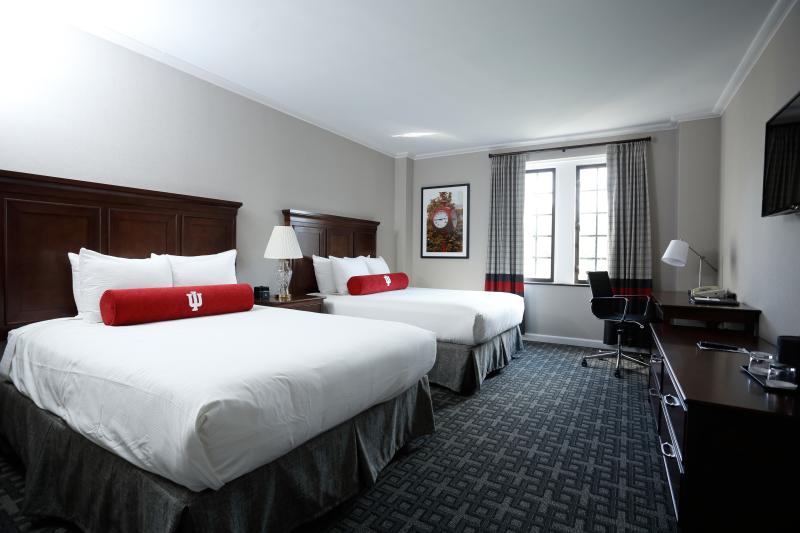 There's plenty of options in town to suit all tastes, but book early because spaces fill up quickly around game days.