Tuesday, January 27, 2015
Valentine's Day 2015 in beautiful Bloomington
Categories: B-town's Rainbow Flavor, Arts & Culture, Wine & Culinary
Whether you're booking a romantic weekend for two lovebirds or a Galentine's Day like they do in Pawnee, you've come to the right place. We're keeping track of all the Valentine's Day events and promotions that we hear of.
Read below for events, and click here to see special lodging discounts at area hotels (scroll down the page a bit).
Did we miss anything? Post it in the comments or email abby@visitbloomington.com.
Oliver Winery
February 14-15
All nine wineries on the Indiana Uplands Wine Trail are participating in this special Valentine's Day event! This is a weekend for chocolate lovers -- each winery on the trail will offer chocolates paired with wines, including chocolates from Peacetree Mountain Truffles and Stone Wall Kitchen. No tickets necessary.
The Back Door
February 14
Celebrate the two-year anniversary of Bloomington's gay club! Special performances from Sasha Belle (RuPaul's Drag Race), Rich Mocha, drag kings, burlesque ladies and your own Smoove and Nicci! Giveaways at the door, free photo booth, special prizes throughout the night, and gifts for special purchases! As always, round out the night with a fabulous dance party.
The Comedy Attic - Beth Stelling
February 12-14
Spend your Valentine's Day laughing out loud with comedian Beth Stelling, who returns to the Comedy Attic for three nights. She made her TV debut a few years ago on Conan, and has appeared on Chelsea Lately, The Pete Holmes Show and @midnight, and has written for MTV's Ridiculousness.
Arthur Murray Dance Center - Valentine's Dance and Guest Gala
February 12
Enjoy an evening of dancing, live music and refreshments. Invite your friends or main squeeze for a Guest Group dance class from 7:30-8:15pm, followed by general dancing until 9:30pm. $10 per person
IU Opera - Alcina
February 6, 7, 13 & 14
Handel takes us on a magical mystery tour to an island ruled by Alcina and Morgana, evil sister sorceresses. Alcina seduces every knight she encounters. But when she tires of them (which she always does), she transforms her victims into everything from rocks to roaring lions. However, the tables are turned when Alcina finally falls in love -- and the man she wants rejects her!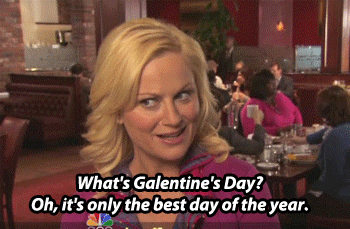 Bobby's Colorado Steak House
February 13-14
Special Valentine's Day dinner options include a 6-oz. filet mignon, 8-oz. lobster tail, and 8-oz. slow-raosted prime rib at a flat rate of $32.95 per person. A dinner option for two ($35.95 per couple) includes your choice of an 8-oz. New York strip steak, 8-oz. prime rib, five-cheese lasagna, chicken garlic linguine, broiled haddock with blueberry pineapple salsa, salmon oscar, or stuffed trout. All meals include baked potato, pasta marinara, or the vegetable of the day, plus soup and salad bar and a sweetheart dessert for two. Reservations: 812-332-7552
Indiana University Art Museum - From the HeART
February 13, 1:00 pm
Participate in a paper flower activity and card-making station while you enjoy live music and a special performance of the balcony scene from Romeo and Juliet -- the IU Department of Theatre's upcoming performance!
IU Latin American Popular Music Ensemble - Valentine's Day Concert
February 13
Blueline Gallery - Fading Traces open studio event
February 13
Bring your friends or make new ones at this evening of collaborative art. Participate in a blind drawing exchange, painting/collage madlibs, and collaborative sculpture surrounded by live music from Mighty Brother. Free admission, but $5 donations are encouraged. Email art@bluelinestyle.com with questions
Serendipity Martini Bar - Valentine's Day Dinner
February 14
A special Valentine's Day Menu: One free drink; appetizer (spinach dip or hummus & pita); your choice of beer cheese soup or iceberg salad; an entree of veggie lasagna, chicken montrachet, marinated flank steak in a Bloody Mary reduction sauce; and dessert choice of carrot cake or warm chocolate brownie with rum whipped cream & caramel sauce. $40 per person or $75 per couple. Reservations: 812-330-6688
(photo credit: NBC)