Tuesday, February 28, 2017
Bloomington Wedding FAQs
Categories: Wedding & Event Planning
Wedding season is upon us and we want to help you plan your big day. From the engagement shoot to your wedding after party, Bloomington is a wonderful place to get hitched whether you're an IU alum or not.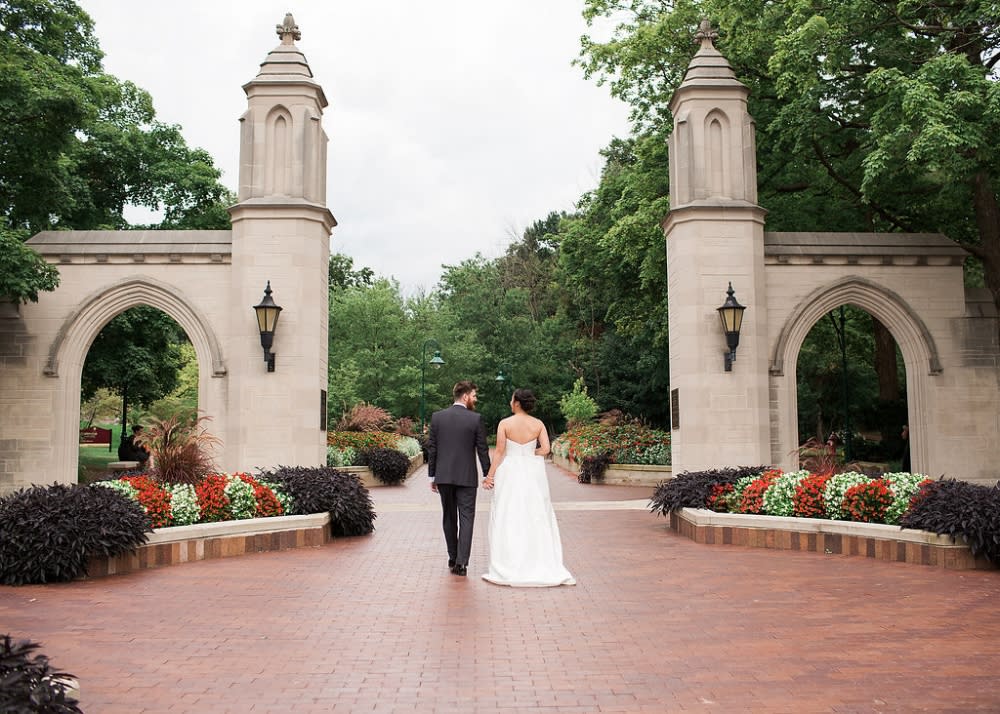 Photo: inBloom Photography
Perfect Places to Get Engaged / Engagement & Wedding Photo Shoot Locations 
Rose Well House- An IU tradition through & through, it's said that kissing at the Well House at midnight is a rite of passage for Indiana University students. A woman was said to be a "true coed" after this. Many students still continue this tradition today. Whether it's a noon or midnight, this is popular place for alumni to get engaged.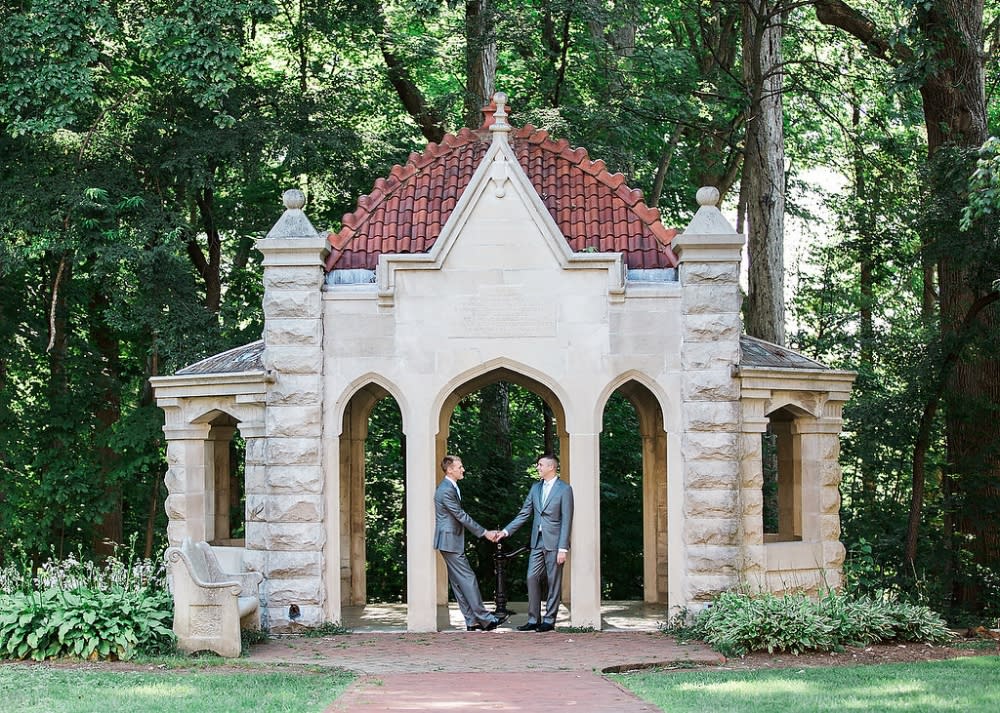 Photo: inBloom Photography
Assembly Hall- This one might take a little planning, but why not declare your love for everyone to see. If you're both hardcore IU basketball fans then put on your best candy stripe pants and head to Assembly Hall. You'll have to plan ahead to make this happen but it is possible to get on the court to take some pictures.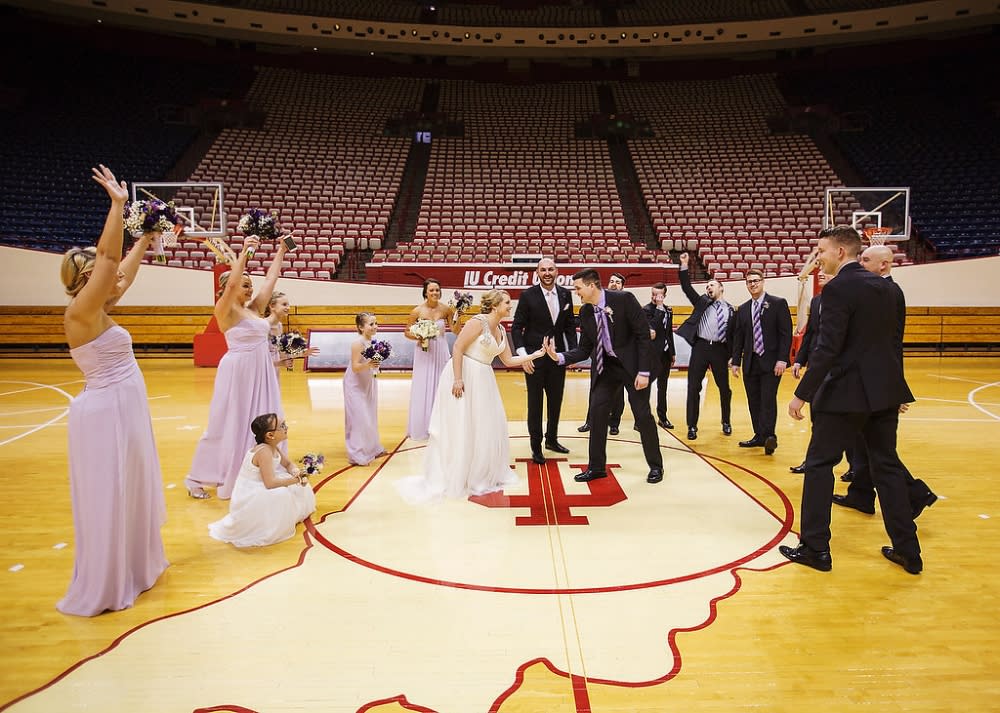 Photo: inBloom Photography
Dorm Dining Hall- Did you meet during your college years? Reenact your first date and pose for pictures in your dorm dining hall.
Sample Gates-  The Sample Gates is another one of those Bloomington/IU landmarks. It's so iconic, and is where downtown and campus meet. It's no wonder that so many milestones are captured on film there, from graduation to proposals, and weddings to family photos. In the spring you'll find red and white tulips popping up everywhere, in the fall mums can be found in the flower beds surrounding the Sample Gates.  On a sunny, clear day you can see the top of the courthouse.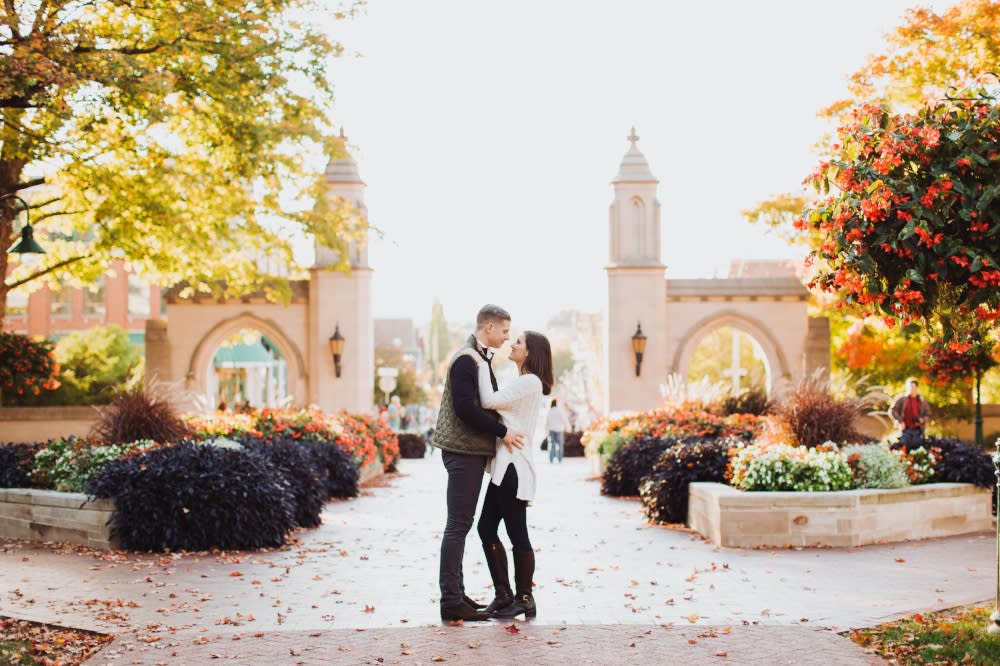 Photo: Courtney Sinclair Photography
Cox Arboretum - The arboretum on campus in spring or fall makes for a gorgeous backdrop. 
Oliver Winery & Butler Winery - Wineries were made for proposals and engagement shoots. Oliver is always expertly landscaped and Butler has their vineyard right there at the Winery. Both have beautiful grounds, and you can sip wine while someone takes your picture. Win, win.
Canopy of Lights - Nothing is more magical than over 100,000 lights twinkling over the downtown square as it softly snows.  Propose on the courthouse lawn, or perhaps in the courthouse in front of the 40 foot Christmas tree that reaches towards the stained glass rotunda.  Then warm up with a hot chocolate and celebrate with drinks and dinner downtown!
Monroe Lake - This goes best with a weekend getaway, a picnic, and perhaps some hiking or kayaking. Make it a weekend you'll never forget!
Hickory Ridge Fire Tower - Fall, sunset, overlooking the Hoosier National Forest. It doesn't get any more romantic than that. Bring a couple glasses and your favorite drink so you can toast to your new life together!
Monroe County Fair -  For this one we suggest taking a ferris wheel ride at the local county fair, there's just something about sunsets and nighttime proposals. For optimal results, propose at the top of the ferris wheel, overlooking the fair. Everything seems so far away, and it's just the two of you on top of the world. A fun, quirky photoshoot at the county fair while you ride the rides and eat carnival food, it doesn't get any better than that.
Where to Host Your Rehearsal Dinner 
If you're looking for a restaurant to host your rehearsal dinner, we've got a number of places in town with private or semi-private rooms.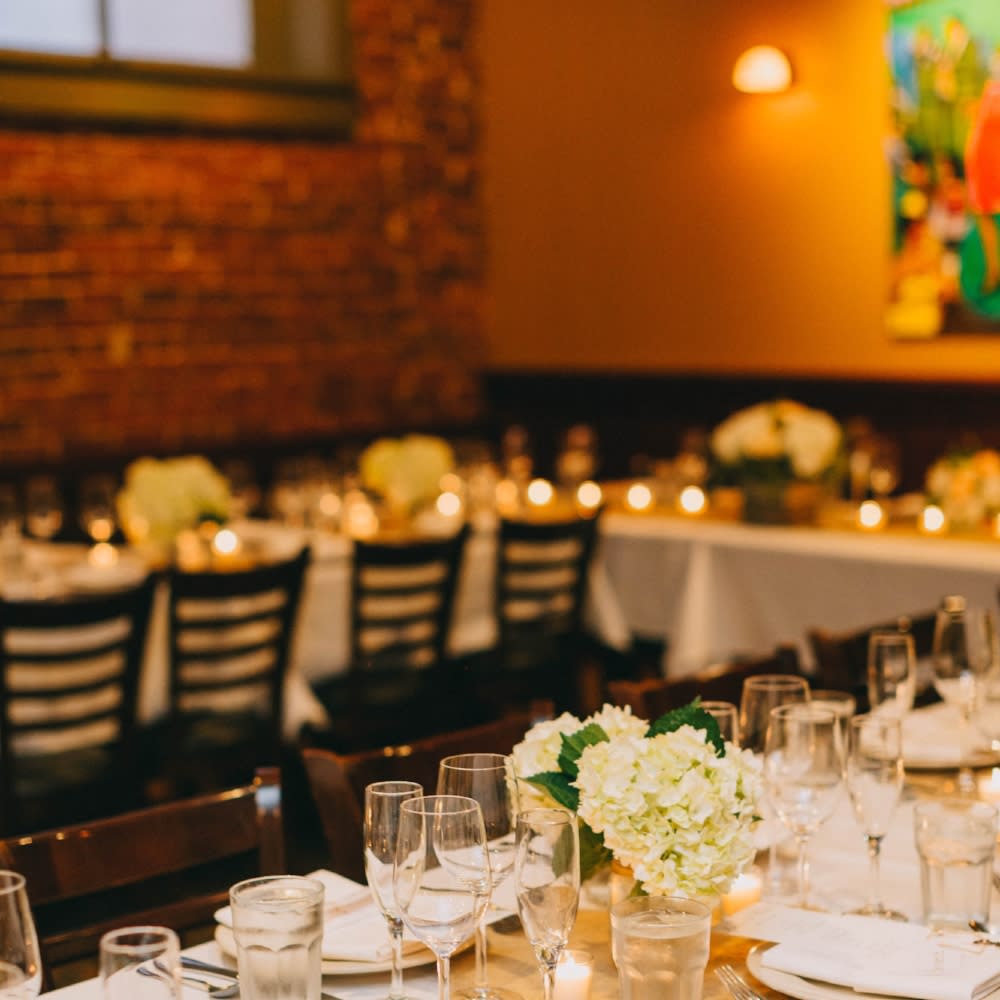 Photo: Courtney Sinclair Photography
Finch's Brasserie
Want something a little more casual?  Try these local, Bloomington favorites:
Where to Get Married in Bloomington
On Campus: Whether you're an IU alum or not, campus is the PERFECT place to get married. It's beautifully landscaped year-round, and there are plenty of places to hold your ceremony or reception.  
Indiana Memorial Union - One of our top picks of course is the Indiana Memorial Union, conveniently attached to a hotel on the Indiana University campus. We highly recommend the Tudor Room or Alumni Hall for a reception at the IMU. For your ceremony we suggest the Whittenberger Auditorium, or if the weather permits The Secret Garden (trust us on this one).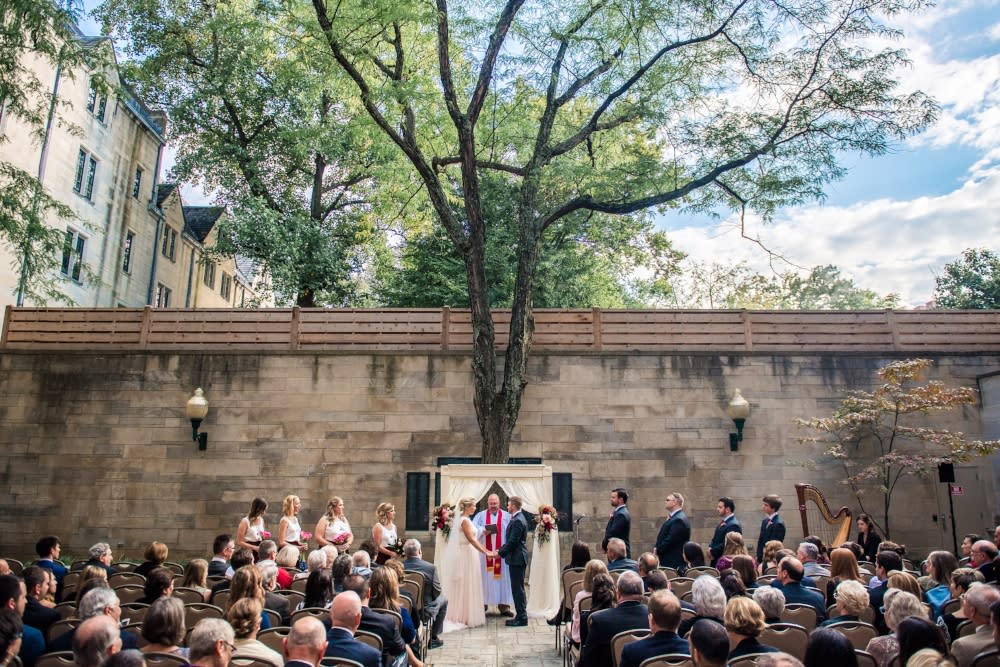 Photo: TALL + small Photography
Beck Chapel - great for smaller ceremonies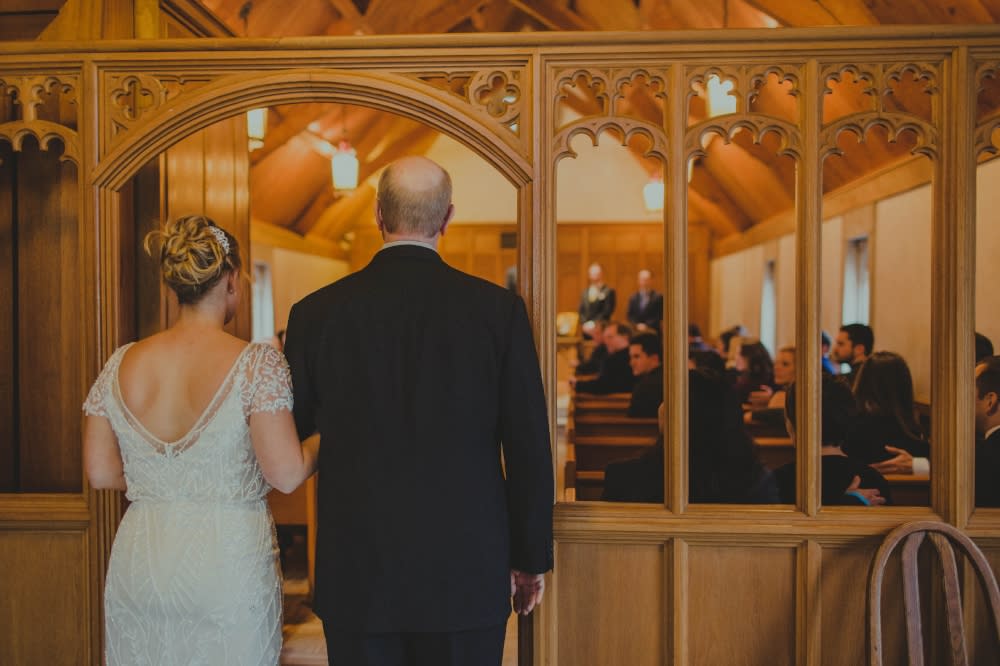 Photo: Courtney Sinclair Photography
IU Auditorium - another favorite spot on campus for weddings is the IU Auditorium. It's set up lends itself well for hosting both your ceremony and reception with the Hall of Murals and the Grand Foyer. Plus you get the benefit of the Showalter Fountain for some beautiful photos.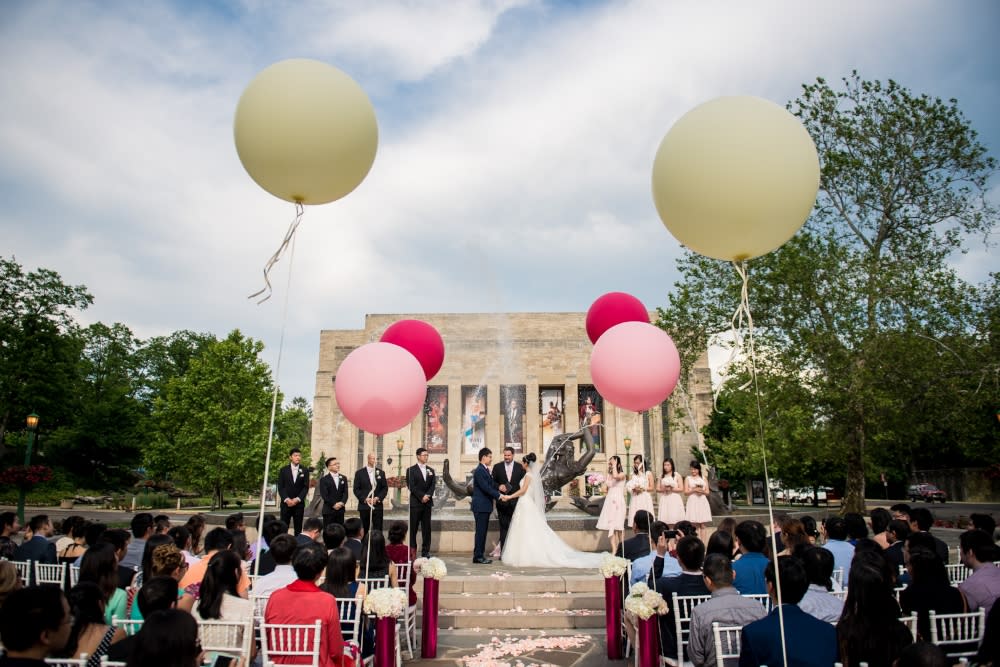 Photo: TALL & small Photography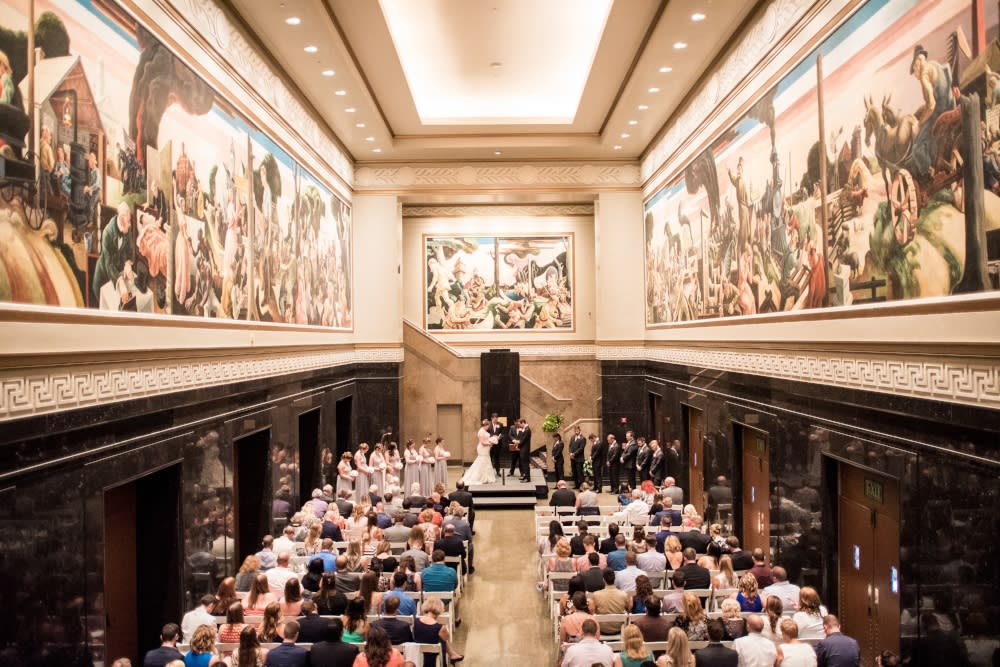 Photo: TALL + small Photography
Off Campus - If you're looking to get married off-campus we've got plenty of suggestions for you too.
Monroe Convention Center - conveniently located downtown, the Convention Center is a great option no matter the size of your reception with multiple rooms to choose from. We love the industrial-looking high ceilings in the Great Room upstairs with a great view of downtown. 
Deer Park Manor is located in the middle of town but with an expansive property that will make you think you're in the English countryside. Deer Park is great for outdoor ceremonies and receptions.They offer tents to cover your guests from the sun and bad weather.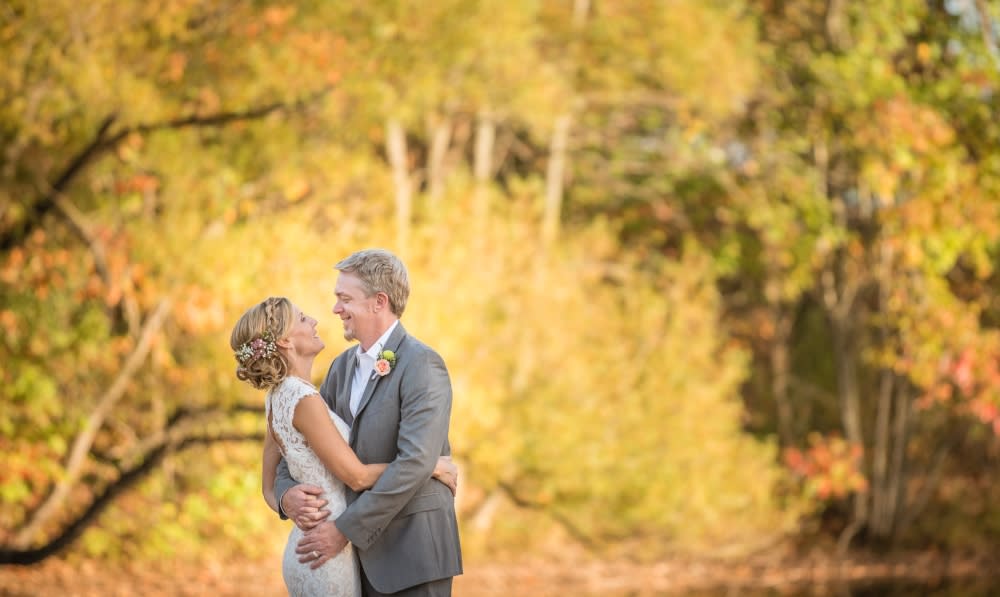 Photo: Maximillian Tortoriello Photography
Sycamore Farm - maybe a barn wedding is more your style? We've got multiple options but our favorite has got to be Sycamore Farm. It's been beautifully renovated with all the modern updates you could ask for. This venue works well for an outdoor ceremony in the yard and reception in the barn. The farm is also home to a friendly donkey and horse that love greeting guests. What more could you want?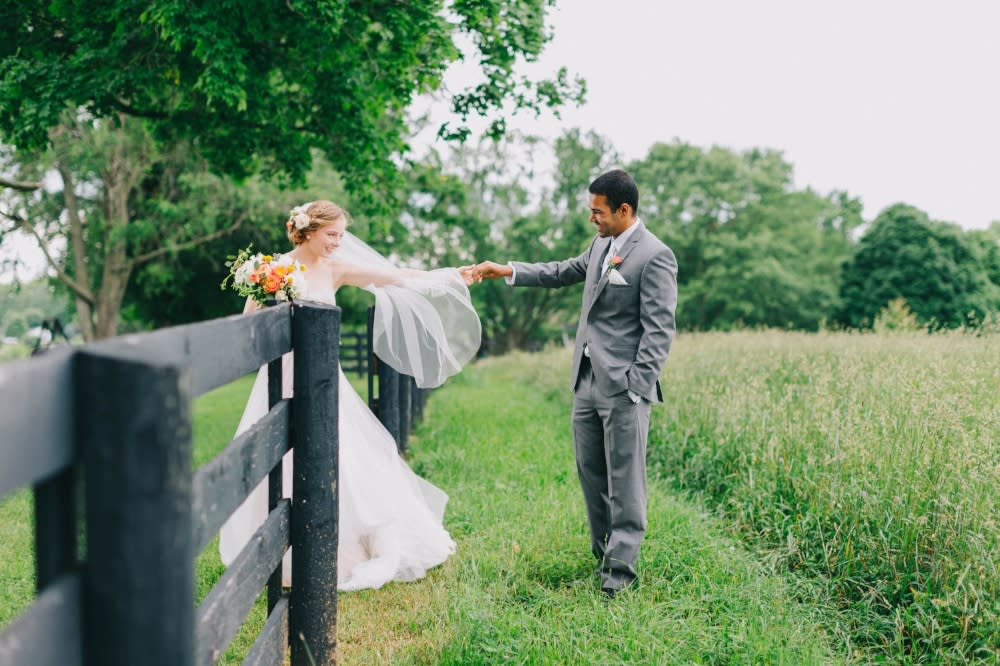 Photo: Courtney Sinclair Photography
Wonderlab Museum - for the young at heart, this venue is perfect. You can rent out the whole museum for your wedding, with the option of having an outdoor ceremony in the beautiful garden. 
Wedding After Party Ideas
For the IU Alums: you can take your after party to Kirkwood at KOK or Nick's! Celebrate with all your friends and family and show them where you REALLY spent most of your undergrad ;)  Both places offer you the option of reserving or renting private spaces and offer full menus to cater your event. 
Want to dance? Think about renting out The Back Door or The Root Cellar to keep the party going! These two places offer fun, funky atmospheres, great drinks, and music guaranteed to get everyone on the dance floor.
Karaoke more your speed? Start working on that duet with your honey and head over to Bear's Place or the Office Lounge to sing your little hearts out.
Want something a little different? Try Classic Lanes bowling alley or how about bowling, billiards, and arcade games at the IMU? If you're really feeling old school you could take your after party to Western Skateland and relive everyone's childhood of hanging out at the skating rink.
Need help with planning your wedding? Let us help. Visit Bloomington has connections to businesses, vendors, and professionals across the county, and we are happy to provide you direction on all these topics and more. Contact Teal Strabbing, Visitor Services Manager, to get started.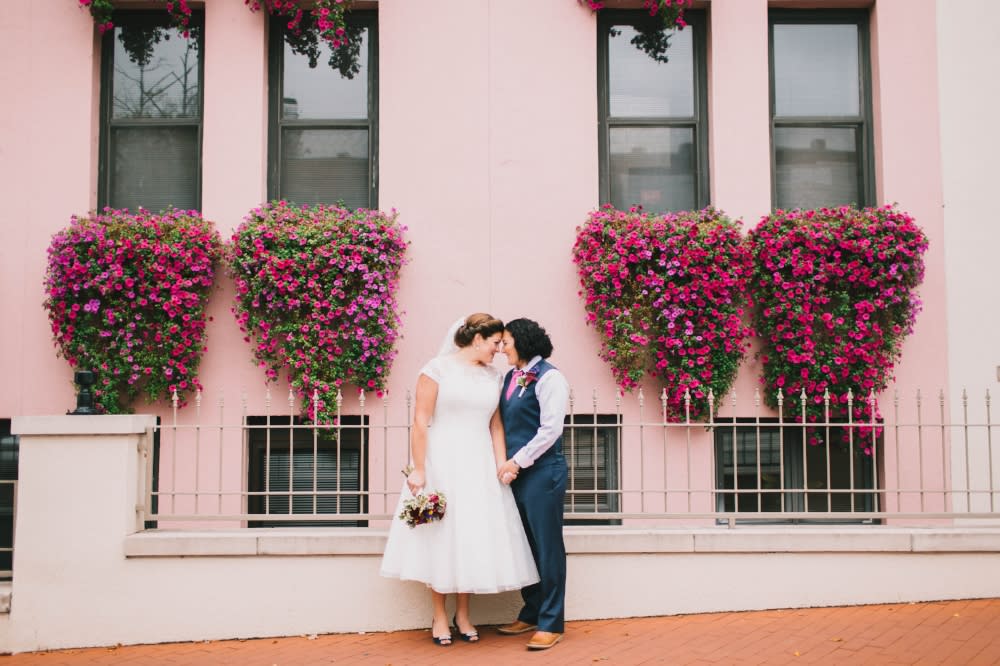 Photo: Courtney Sinclair Photography