Week of Chocolate, 2014
Categories: Arts & Culture, Wine & Culinary, Festivals
Perhaps Bloomington's most anticipated winter festival, the annual Week of Chocolate, is almost here! What better to take your mind off the cold temperatures outside than lots of yummy chocolate, right? 

The Week of Chocolate is a week-long community-wide festival that takes place each year at the end of January. It has been in existence for over 10 tasty years and brings together several local nonprofit organizations to host a variety of chocolate themed events throughout the week. All funds raised at each event go directly to the agency putting on that specific event. See the list below for a complete list of events scheduled for this year's Week of Chocolate, January 25 - February 1.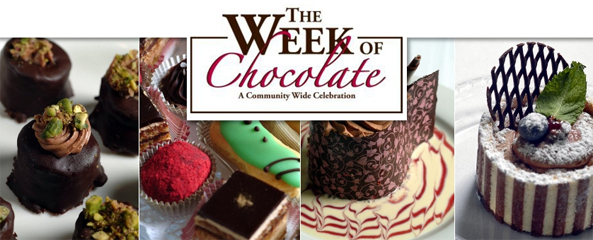 Sundaes on Saturday
Jan. 25, 1-4 pm
The Monroe County History Center invites you to design your own custom made sundae with locally made Harzell's Ice Cream and learn about the history of ice cream making! All ages are welcome.

 

The Art of Chocolate Gala
Jan. 26, 5:30-8 pm
The signature event of the Week of Chocolate, The Art of Chocolate is held at the IU Art Museum and created by LIFEDesigns. Enjoy an elegant evening filled with decadent desserts and beverages from popular local restaurants, live music, a silent auction and more.

Chocolate Bingo
Jan. 27, 6-10 pm
The Bloomington Moose Lodge #1081 invites you to attend an evening of chocolate bingo - each winner will receive a delicious chocolate treat in addition to their cash winnings and a scrumptious meal is provided for all. Chocolate Bingo is open to all ages.

Posh Ganache
Jan. 29, 6:30-8:30 pm
Mother Hubbard's Cupboard invites you to join them for a cooking class! Participants will learn how to prepare, dip and roll delectable chocolate truffles. Tasty appetizers and local wine will be on hand for inspiration and each participant will take home samples of the evening's creations.

Chocolate Prom: A Prom for Everyone
Jan. 31, 8-11 pm
Rhino's Youth Center and All-Ages Club invites everyone to dress up, grab your dancing shoes and invite all your friends to this one-of-a-kind prom. Enjoy a variety of free chocolate treats and dance the night away to live music. Formal dress is optional.