Monday, September 28, 2015
Welcome Home IU Alumni!
Categories: Indiana University
Some of us are lucky enough to call Bloomington home year round. Others made Bloomington their home for just a handful of years while they studied - and grew up, and broadened their horizons, and fell in love, among other things. Bloomington was a temporary stop for most IU students, but likely one that made the biggest impact on their lives. So every year, IU and Bloomington invite these adopted sons and daughters back for a celebration, a reunion, a homecoming.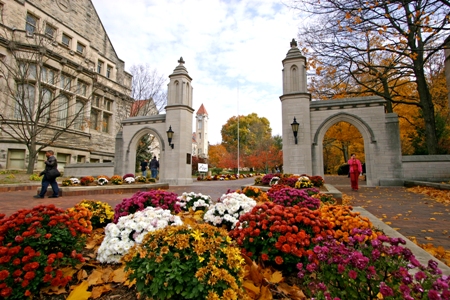 Fall in Bloomington & on the IU campus is breathtaking.
The 2015 IU Homecoming weekend (October 16-18) is one of the most exciting in recent years for a few reasons, not the least of which is the football team. The Hoosier football team is off to a hot start (4-0 at the time of this posting) so this season is starting to pay off for the undeterred loyalty of Hoosier fans. The excitement building this season will reach epic proportions during Homecoming weekend, with so many alumni filling the stadium. But there is more- much more- to this weekend than the big game. Let's cover all the things you can and should do that weekend, with a few tips and tricks from yours truly, a shamelessly self-proclaimed expert on IU Homecoming.
Getting Here: Give yourself extra time to get here whether you're coming in a day early or on game day. Traffic is annoying on a typical football weekend, but this is Homecoming and there's miles-long construction on Highway 37 that will give you headaches. You might consider coming in from the east or west on Highway 46 too. It'll take extra time too, but the scenery is superb at least you'll be moving. Check out the gameday traffic patterns for how to get around while in town.
Staying Here: Hotel rates are going to be higher than average, and they fill up fast. In fact, there are probably only a handful left at the time of this posting. But don't despair - the Bloomington Visitors Center keeps track of which hotels have rooms available, and things do change between now and the big weekend. Give us a call and we'll help you find a place. And if rooms are truly sold out, we'll help you find a place nearby. Call 800-800-0037 and we'll help you out.
Get Spirited: The IU Alumni Association has added a new element to Homecoming this year with their spirit stations. Stop by the IUAA DeVault Center, the SpringHill Suites by Marriott or the Indiana Shop between 10am and 4pm on Friday, October 16 to meet up with other alums and pick up some sweet IU swag. Nothing gets me pumped like getting free stuff! Two of these locations are downtown, and if you haven't been to Bloomington in a while, the parking meters might surprise you. Check out our parking page for more details on the meters and some free options downtown.
Get More Spirited: Later on Friday evening, the IUAA organizes a family-friendly parade and pep rally. The parade takes place on Kirkwood Avenue on the blocks leading up to the Sample Gates then north on Indiana Avenue for a couple of blocks. It starts at 5:30pm, but this also takes place downtown so make sure you arrive early to find a parking place for your car and your butt. A lot of people sit or stand right on the curb, but a lawn chair is certainly more comfy so feel free to bring one. The parade usually last around an hour, and is followed up with a pep rally at the Sample Gates. It's a big old block party full of people who love IU as much as you.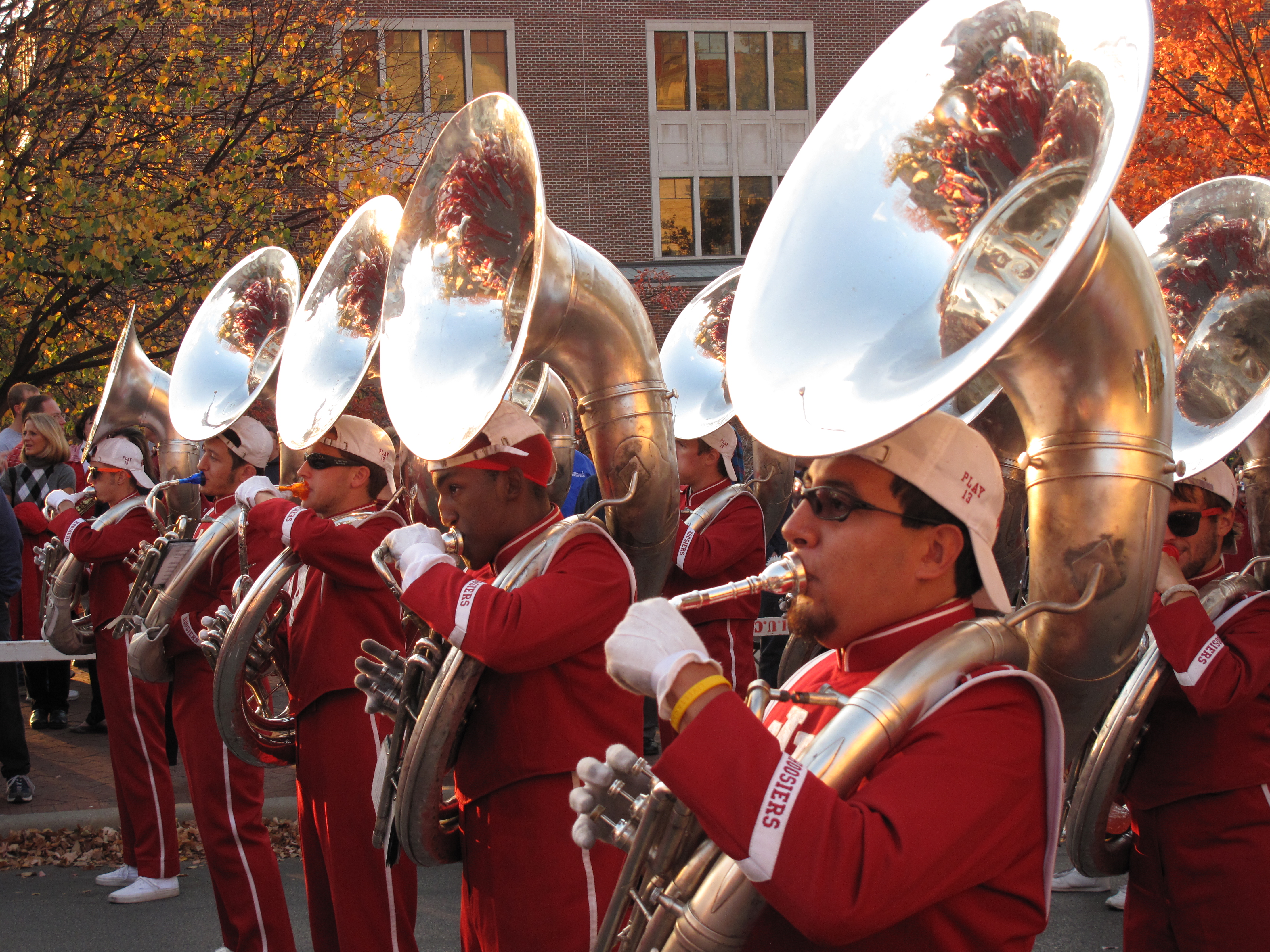 It wouldn't be a parade with out the marching band!
Have Some Spirits: More craft beer, wine and spirits flow through Bloomington than water through the Jordan River (the one on campus). You'll find plenty of local favorites on the menus at restaurants and bars in town, or you can hit the production facilities for tours and tastings. Learn about all the breweries, wineries and lone distillery here.
Game Day: Tailgating is a proud tradition for IU fans, and the scene around the stadium has become an outright party the last few years. If you're a young alumni, you might enjoy the rowdy student fields. If you're a not-so-young alumni, you might consider hosting your own tailgate at your actual tailgate, or hit up Hoosier Village, hosted by IU Athletics. They have music, kids activities and food and drinks (even the adult kind) available for purchase. It starts at 12:30pm and ends at 3pm, just in time to head in for kickoff. Check out our tailgate tips for more helpful info.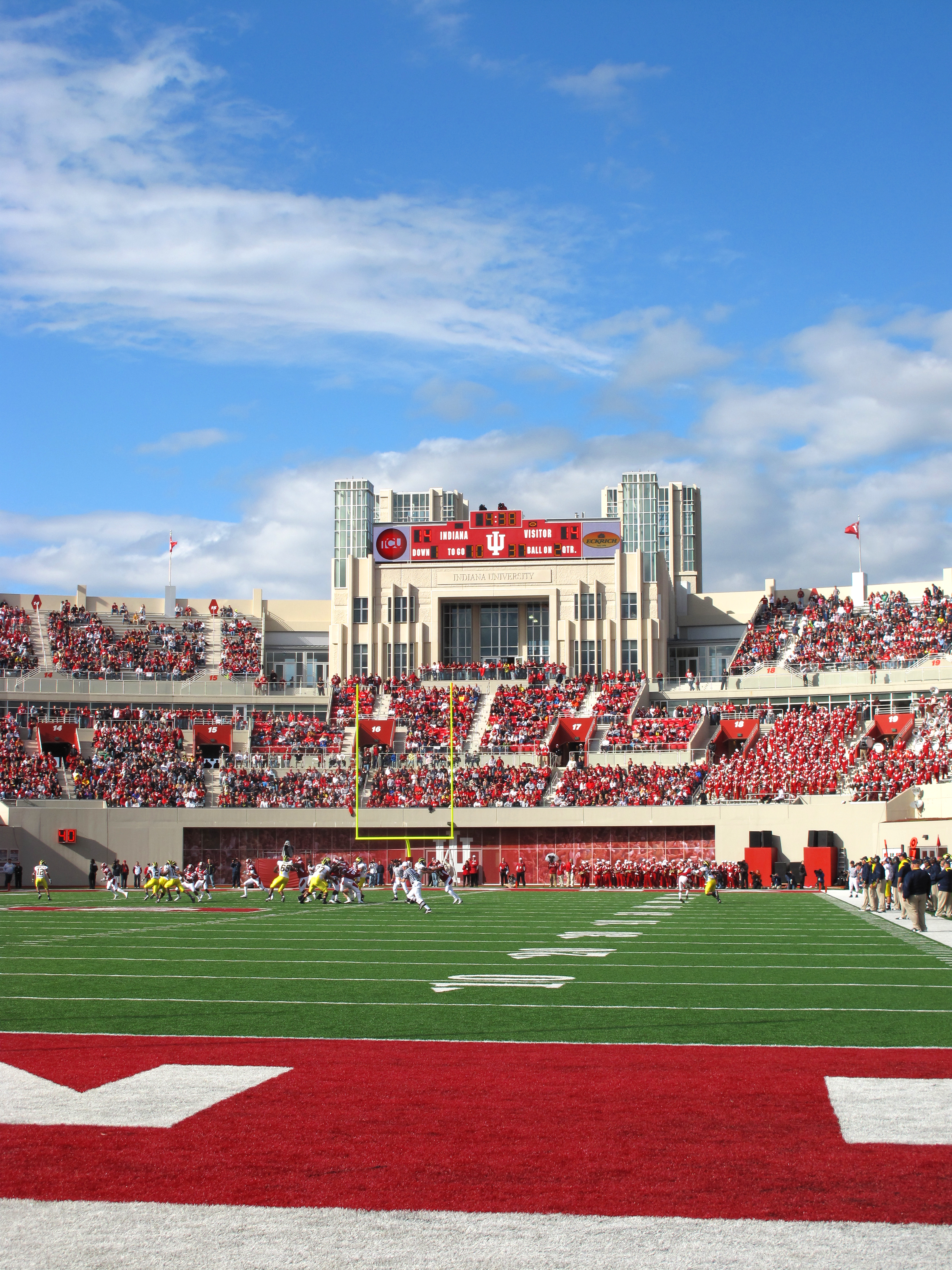 Post Game: Since the game starts at 3:30pm, it should end right at dinner time. How fortuitous. You gotta hit the old favorites like Nick's, Uptown, Trojan Horse, Mother Bear's and Lennie's. But try some of the newer (or new to you) restaurants that are becoming the new favorites, like Finch's Brasserie and Sweetgrass, or some of the international restaurants like My Thai Café, Anatolia or Taste of India. Check out the restaurant page for more options.
It's going to be a great weekend in Bloomington and on the beautiful IU campus. Enjoy it all and make new memories to go along with those you made as a student. Welcome home Hoosiers.